Sugar Hill Farm by The Bohemian Chemist

| Photo by Nikolas Zvolensky
Sugar Hill Farm by The Bohemian Chemist

| Photo by Nikolas Zvolensky
Welcome to Thrillist 50, your guide to fun and adventure in 2023. Think of it as your comprehensive roadmap for checking out exciting events and new attractions coming over the next 12 months, going on bucket-list trips, reconnecting with yourself and your community, expanding your mind, and of course, experiencing the flavors we're most excited about this year. There are so many reasons to live like there's no tomorrow. Start here.
One of California's most worthwhile road trips lies along State Route 128 West. Head toward Fort Bragg/Mendocino from the 101 Highway, and you'll arrive in a verdant stretch of California farm country known as the Emerald Triangle. Here, miles of wine vineyards, fruit orchards, and hidden cannabis farms stretch to the horizon.
Situated three hours north of San Francisco, Mendocino's cool, foggy nights and hot, sunny days create ideal growing conditions for exceptional sun-grown cannabis for decades. Renowned for its vineyards and apple orchards, the Anderson Valley is a picturesque destination for cannabis lovers seeking repose and paying homage to lands that have cultivated this plant since the 1970s. It's also the only place in the world where you can stay at a luxurious, cannabis-friendly, Mediterranean-style inn with an on-site dispensary and outdoor consumption lounge, all within proximity to several California wineries.
Pack your bags and your preferred paraphernalia, and let's go on the ultimate road trip to weed and wine country.
Before you go
Anderson Valley is a rural area, and it's best to call ahead at least a week in advance to make sure places are open. Many restaurants in the valley are closed on Mondays and Tuesdays, and often between 2 to 3 pm. Most businesses close around 8 pm, and often for months at a time during the slower winter months. Some winery tasting rooms are by reservation only.
Another essential piece of advice from Anderson Valley locals: Be sure to brush up on your boontling—a regional dialect from the 1890s created by Boonville locals who wished to keep conversations private and confuse outsiders. Mostly spoken by working men of the era, much of the 1,600 word vocabulary is centered around drinking and burlapping.
Wherever you wind up, remember that life moves at a different pace here. The best brightlighters—that's boontling for anyone not from Boonville—are always patient and tip well.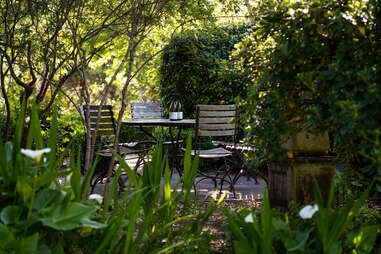 Where to stay
In Philo, The Madrones is a one-of-a-kind experience nested between sun-drenched vineyards and towering redwood forests. Past a stately wood gate is an art deco villa complete with spacious guest suites with sweeping vineyard views, a restaurant, wine tasting rooms, and a cannabis dispensary.
An alluring smoky scent floats from the kitchen as the chef, Jason, prepares dinners in the restaurant's wood-fired oven, and, in the garden, you might run into Blanche, a friendly white pusseek and the innkeeper's feline assistant, wandering between the olive trees and statues. Blanche might even lead you to a secret garden where you can follow winding paths lined with rose bushes to cozy conversation corners and gazebos tucked among the foliage.
While no smoking is allowed in the guest rooms, visitors may freely consume cannabis in the lounge's rustic outdoor spaces, beneath a canopy of Spanish moss and twinkling cafe lights. To reserve unique culinary cannabis experiences, check the calendar for Cannabis Tasting & Tour Weekends with guest cannabis chefs and tours of The Bohemian Chemist's cannabis farm with proprietors Jim Roberts and Brian Adkinson.
What to buy
The Madrones' on-site Bohemian Chemist dispensary specializes in cannabis, skincare, and wellness products made with sungrown flower. Products are displayed in polished wood cabinets sourced from a Hungarian pharmacy from the early 1900s. The apothecary offers a selection of flower, prerolls, and vapes from Jim Roberts and Brian Adkinson's cannabis plants, as well as topicals, tinctures, edibles, THC-infused beverages, cannabis seeds, and skincare products.
Some of the products we recommend include:
Bohemian Chemist prerolls, vape pens, or estate-grown flower
Potli Sriracha and Dream Honey
Rose Delights Turkish delight-style edibles
Kikoko cannabis-infused tea and botanical mints
Artet canned sparkling cannabis drinks
Green Bee Botanicals eye cream and massage oil
Mary's Medicinal transdermal patches for deep pain relief
A Cosmic View THC-v Pink Boost Tincture
Where to eat and drink
Stop in at Disco Ranch Wine Bar & Specialty Market in Boonville and talk to owner and frati genius Wendy Lamer, who can share recommendations and charming tidbits about all the wines on her shelves.
Pick up picnic essentials or reserve a tasting menu experience at Bewildered Pig, which carries a selection of "faux-mage," or handmade plant-based cheese, and medicinal mushroom cookies made with local candy cap, reishi, lion's mane, and cordyceps mushrooms, as well as flax and pecans.
Go wine tasting and sample brut rosés and bubblies at Roederer Estate, or enjoy a fun and memorable experience at low-key Toulouse Vineyards. You can also stop in for a sparkling wine brunch and house-made cheeses at Pennyroyal Farm, or walk next door to taste Goldeneye Winery's bold, fruit-forward wines. Reservations are highly recommended when visiting any winery.
Before cannabis and wine, the region was known for its apple orchards. At Gowan's Heirloom Ciders, you can taste cider fresh from the orchard while sitting in an adirondack chair in the shade of hundred-year-old apple trees.
Craft beer more your speed? Visit Anderson Valley Brewing Company, the world's first solar-powered brewery, for a taste of its Boont Amber Ale and award-winning Holy Gose. The dog-friendly, 30-acre beer park also features an 18-hole disc golf course.
Walk amongst giants in Hendy Woods State Park, an 80-acre, ancient redwood grove along the Navarro River. Pay $8 for a day-use pass at the ranger station, and drive to The Discovery trail where the park's oldest, 300-feet-tall redwood trees form cathedral-like groves that scatter broken sunlight across sparkling spiderwebs and moss-covered tree trunks.
Christina Wong is a culinary cannabis writer, creator, and baked baker in Los Angeles. She's the Founder and CEO of Fruit + Flower Co. and writes Fruit + Flower Unfurled, a weekly newsletter for culinary cannabis enthusiasts. Her work has been featured in
High Times,
Cherry Bombe, CannaCurious, and Kitchen Toke
magazines
.