Why 'Beer for Women' Won't Solve Sexism in Beer
Mtsaride/Shutterstock (edited)
It's no big secret that the beer world is dominated by dudes. Walk into any American craft beer event, from a giant festival to a local tap takeover, and you're immediately confronted with a sea of men, all sipping and sniffing and waxing poetic about hops and grain. That this distinctly bro-y environment -- not to mention decades of sexist branding (anybody remember Deep Ellum's "Dallas Blonde: Goes down easy" campaign? Yikes.) -- might deter some women from getting into the scene is pretty obvious. TLDR; sexism sucks, especially when it keeps people from discovering the wonder that is craft beer. So how do we fix it?
Master brewer and longtime industry consultant Kristi McGuire thinks she has a solution: High Heel Brewing, a new Missouri-based brewing company marketed explicitly -- and exclusively -- to female drinkers.
The brand's name says it all, a statement made only more clear by the hop-topped stiletto logo (which to me looks more like an artichoke ice cream cone, but whatever). According to a recent USA Today article, High Heel will begin hitting the shelves in Florida, where it's brewed by contract brewing startup Brew Hub, as soon as June, 2016.
The company's two debut offerings, the fruit-based, cider-like Slingback Perry Ale and a hopped-up, 8.4% ABV IPA called Too Hop'd to Handle, feature brightly colored packaging meant to appeal specifically to lady drinkers. The whole thing is already causing quite a stir among the good folks of craft beer.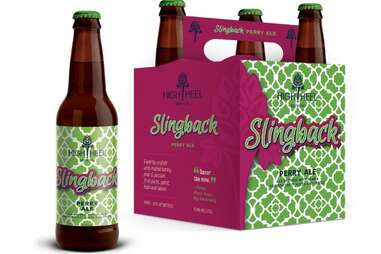 "I don't believe that there is anything inherently wrong with drawing attention to a woman-run company in a male-dominated industry or even kitschy femmey branding -- that's their choice, galling as it may be," says Brooklyn-based Lineup Brewing's Katarina Martinez. "It is, however, problematic to assume that your female audience wants a different product than your male audience. That's just as offensive as men assuming that women know nothing about beer and mansplaining DIPAs."
Julia Davis, a brewer at a major Chicago craft brewery we've agreed to leave out of this, put things in simpler terms: "There's already a beer for women. It's called, 'whatever fucking beer we want to drink.'"
Look, making the beer world a more inviting place for everyone is an indisputably positive move -- the issue here lies in how a company decides to go about it. National groups like the Pink Boots Society, Barley's Angels, and Girls Pint Out have been working towards gender inclusivity for years while more and more craft breweries are coming out as actively opposed to misogynistic marketing and discrimination in the workplace.
And, contrary to McGuire's assertion in USA Today that "[t]here's plenty of women out there who would say (a women-owned brewery) is an overdue idea," women are getting into the game like never before, with OG female-run breweries like New Belgium, Stoudt's, Full Sail, Lost Coast, and Lazy Magnolia welcoming a generation of newcomers that counts Golden Road, Throwback Brewery, Blue Canoe Brewing Co., and the GABF award-winning Grimm Artisanal Ales -- as well as countless others -- amongst its ranks. While High Heel isn't the first brewery aimed at female consumers (see: Chick Beer), McGuire's venture is coming across more as an annoyingly cutesy marketing ploy than an honorable quest to end sexism.
"What really bothers me is their disregard for those of us women that have already been owning and running breweries," says Laurisa Milici, who, along with partner Rob Pihl, has headed up NYC's Radiant Pig Craft Beers since its 2013 launch. "I shouldn't have to make our logo pink to get respect as a woman in the industry, nor name a beer after an over-the-top female stereotype to get women to drink our beer. Beer is beer, anyone should be able to drink it no matter who brews it or what you name it."
Me, I'm all for making craft beer more accessible to anyone that falls outside of the straight-white-dude scene, but why not make a brand that works against gendered stereotypes rather than reinforces them? That approach only makes an already cliquish industry even more segregated. We don't need six-packs shaped like purses, we just need more badass, outspoken, non-straight-white-dudes making delicious beer, spreading the word that reproductive organs don't determine a person's beverage preference and encouraging change from the inside.
At the end of the day, I take comfort in remembering that from its very start, marketing has never played a primary role in a craft brewery's success. And if the rise and fall of countless craft upstarts over the past few years has taught us anything, it's that if the beer is good, people will drink it. If the beer is bad, people won't -- no matter what type of shoe graces the packaging.
Sign up here for our daily Thrillist email, and get your fix of the best in food/drink/fun.
Meredith Heil is a staff writer for Thrillist. She's repping for the girls who taking over the world. Follow her at @mereditto.