6 Women-Led Wine Startups You Need to Know
Meet some of the trailblazers shaking up the wine industry.
Growing up in the restaurant industry, I found that the higher I climbed, the greater the gender disparity. When I became a sommelier at 21, the certification landed me in the old boy's club of the wine world. Then I became a partner at Cote, a Michelin-starred restaurant in NYC, and found that not everyone in the industry was as keen to invest in women as our proprietor was.
Out of all of the Michelin-starred restaurants in New York, only 17% of the wine buyers are female, and almost none of them are owners. Now more than ever, voting with our dollars goes a long way. Just 2.2% of venture capitalist funding goes to women-led start-ups and only 4% of wineries in California are owned by women.
As wine buyers, we can move the needle by supporting underrepresented groups and small start-ups that, especially during a pandemic, need our help. Here are six women-led wine startups that you need to know (and are sommelier-approved!).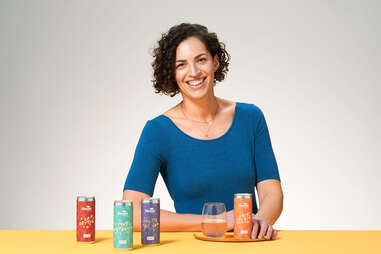 After having kids, Hilary Cocalis found herself wanting to enjoy a single glass of sparkling wine in the evening, without having to open a whole bottle. She couldn't find a sparkling wine she liked in a single glass format, so she decided to make it for herself. The experienced marketer, who previously worked as the VP of Marketing for Ballast Point Brewing Company, took her knowledge from home brewing and what she learned about traditional sparkling wine making practices to test out a can-conditioned wine. This resulted in four varieties: a sparkling white, rosé, and red, plus a still. But perhaps most important is the sustainability component. Passionate about the environment, Cocalis wanted to make sure that all the wine was sourced from organically farmed grapes in California's Central Coast, then contained in single-use, fully recyclable aluminum cans.
Stoumen grows and makes natural wines in California. The quantities are tiny and many sommeliers rush to secure their bottles upon release. After working on a small farm in Tuscany, Martha was inspired to come back to the states and make "honest, delicious, quality wines more accessible—we should all get to enjoy the pleasure and beauty of well grown and well-crafted food and wine," she says. Stoumen has three investors in total, two of which are also women (Janisha Sabnani and Lauren Locke-Paddon). "Research the sh** out of the industry," Stoumen advises before building your own brand. Most important to her was showing that her wines are made by a real human and not formulated in a factory. Her next project, a truly craft hard seltzer made with organically farmed fruit and homegrown herbs called Close the Loop, reimagines what happens when a natural wine goes sideways (real talk: most winemakers don't talk about this and will just bury bad wine in a blend or sell it on the bulk market). Instead, Stoumen distills failed or too-funky ferments into a brandy to fortify the seltzer, a creative (and tasty) alternative.
This mother-and-daughter team self-funded their own dream to create dry, real rosé, in California. Melinda is a wine business veteran and her daughter, Michèle, is an international supermodel (one of the few professions in which women outearn men). Their first vintage was released in 2008, back when consumers still needed to be educated, "that California rosé could be dry, delicious and worth drinking!," they say. A small operation, Lorenza grapes come from old vines in Lodi, completely own-rooted and head trained. This lends more concentration and substance to the final blend, an homage to Domaine Tempier, the iconic estate favored by any sommelier worth their salt. Even when the pink boom happened a few years ago and they watched other brands blow up, they remained steady and slow, taking a long-term approach. "We want to be around for a while, not a flash in the pan," according to the duo. This summer they are launching a subscription wine club and continuing a "love affair with bubbles."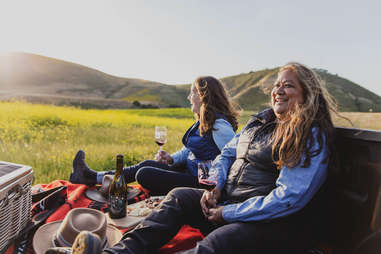 Tara Gomez, Winemaker of Kitá Wines and Co-Founder, President, Co-Winemaker of C2D, and Mireia Taribó Co-Founder, CFO, Co-Winemaker of C2D
Tara Gomez is the first Native American winemaker in the US and is producing a range of acclaimed wines on Chumash land in Santa Barbara under their tribe's label, Kitá. Gomez also has a side project, Camins 2 Dreams, with her Catalan partner, Mireia Taribó. While Kitá is a reflection of her tribe's land and story, with C2D they are more experimental. With both of their parent's backing, Taribó and Gomez started small and slowly built the brand. They both share a love of science, chemistry, and farming which comes through in this passion project. "It takes a lot of patience, hard work, and dedication," they say, and this year they're releasing a limited production of a Grüner Veltliner Pét Nat as well as Grenache and Graciano.
Ramona, a line of wine coolers by Jordan Salcito, is one of the most successful restaurants to riches stories. She has over 10 years of experience in restaurants like Daniel, Eleven Madison Park, and most recently ran the Momofuku beverage empire. She saw a void in the marketplace of canned beverages that weren't beer (this was way before White Claw, FYI), specifically ones that were wine-based. She created a business plan for her passion project and found backers, half of whom were women. As a sommelier, she was drawn to working harvests, from Burgundy to California, and says that "wine production experience made me better at my job." Now, it's her full-time focus. She's always experimenting, and in a few weeks will formally launch "dry grapefruit," a drier low-alcohol version of their original recipe.
"You have to hustle for your dreams," Arce says, a sommelier turned entrepreneur who now owns an eclectic handful of wine concepts sprinkled around the West Village. While restaurants are now shuttered (in the traditional sense at least) during the pandemic, Arce swiftly flipped her businesses into a to-go and retail model. Through her four restaurants, you can order items like the "caviar sandwich kit" and "Champagne roulette." Wines from her already-affordable menus are now available at record prices. Her success, even during hard times, she credits to bringing other people into the fold. She says, "Making something bigger than yourself depends on how well you surround yourself with people who have skills you don't have." Also coming soon from Arce: a jewelry line and a book through Rizzoli.
Victoria James is the Beverage Director and Partner at COTE in NYC and recently received a James Beard nomination for "Outstanding Wine Program." Victoria's name has appeared on many no­table lists:
Forbes'
"30 Under 30,"
Food & Wine
's "2018 Sommelier of the Year,"
Zagat
's "30 Under 30,"
Wine Enthusiast
's "40 Under 40," W
ine & Spirits
' "Best New Sommelier." She is the author of
Drink Pink
, A Celebration of Rosé
(HarperCollins) and
Wine Girl
, The Obstacles, Humiliations, and Triumphs of America's Youngest Sommelier
(Ecco/HarperCollins). She is also the co-founder of Wine Empowered, a non-profit that diversifies the hospitality industry by offering tuition-free wine classes to women and minorities.