Want to Work in a Brewery? Here's Advice From People Who Do.
Working at a brewery seems like a dream job on par with quality assurance specialist for Ben & Jerry's. Thing is, life among the tanks is a lot more than sampling beer and wearing ironic novelty T-shirts. If you're serious about wanting to get wort on your arms, heed this advice from folks who spend their days manning the mash.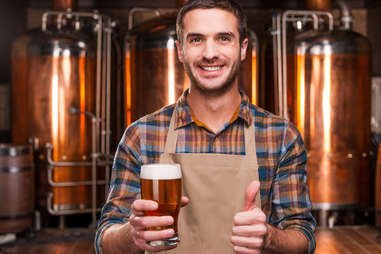 Make friends with a brewer, and be willing to learn
"Show initiative and don't be afraid to talk with brewers. This is a very 'social' industry, especially after a few beers. I can teach most anyone to brew, but if you can rip apart and fix a pump while doing 100 other things, I want to talk to you."
-- Brant Dubovick, head brewer, DryHop Brewers (Chicago, IL)

Get ready to multi-task
"There's always something going on at the brewery. Expect long days of brewing, along with supply chain management, staff training, quality control, accounting, human resources, marketing, maintenance, and more."
-- Robert Poitras, owner, Carolina Brewery (Chapel Hill, NC)

Be willing to start at the bottom
"I get requests all the time from people with no experience who want to be a brewer or sales rep, but what we actually need is a keg cleaner who is reliable and willing to work his or her way up."
-- Jason Santamaria, co-founder, Second Self Beer Company (Atlanta, GA)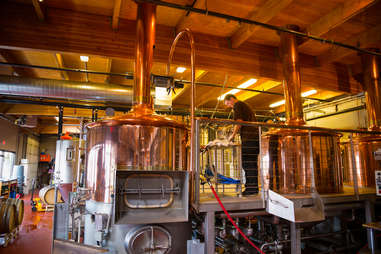 Be prepared to be amazed
"Because you're making beer! That is magic stuff. You put together different ingredients and it comes out beer! Also women like us and guys want to be like us."
-- Mark Carpenter, brewmaster, Anchor Brewing (San Francisco, CA)

Expect to experience lulls and chaos at work
"There will be times where it looks like all hell is breaking loose. Especially when you are trying to grain out and start your sanitation cycle on a fermenter or the heat exchanger or knocking out and pitching yeast. However, there are times you are cleaning or doing lab work when it's pretty chill."
-- Dubovick
Stop dreaming of just sitting around and drinking all day
"The workdays are long and competition is now everywhere with the boom of craft beer, so we're always working to get better. Our industry is also unfairly heavily taxed and regulated, which reduces margins and requires a lot of paperwork."
-- Poitras

Forget about being glamorous
"Ninety-nine percent of the time you'll be hot, cold, wet, covered in sweat, covered in wort, covered in yeast, covered in beer, pissed off, pissed on, stressed, poorly paid, and ready to quit."
-- Dubovick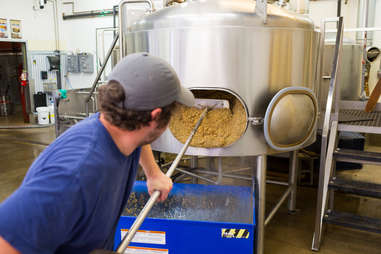 Don't expect your work to ever end
"Running a brewery means working with many different people who have different schedules. On the brewing side, you're at the mercy of the beer. If the beer is ready a day early or five days late, you need to adjust and be able to make changes on the fly. I think it's exciting and fun because you never know what each day will bring."
-- Santamaria

Learn the virtue of patience
"A typical beer is a 21-day turnaround from 'grain to glass,' as we call it. Sixteen hours to brew (we brew two batches back-to-back), 10-15 days in fermentation, 5-10 days in finishing, a day for package, then it's ready to drink."
-- Santamaria
Be prepared to think about beer constantly
"If making beer is what you do, it's something you think about all the time. If you find a flavor or a smell that you really like, you think, 'How could I make this into a beer?' If you meet a new brewer, you end up talking about making new beers. It's always part of your day."
-- Rob Strasser, general manager, 21st Amendment Brewery (San Francisco, CA)

Get ready to embrace your inner Cinderella and clean like a maniac
"It's a lot of cleaning. Like, a lot of cleaning. If the space isn't clean, you can't make good beer."
-- Santamaria

Remember to love your job
"When people find out I work for 21st Amendment, they always say, 'Wow, that must be nice!' I always say, 'Yup, it sure is.'"
-- Strasser
Sign up here for our daily Thrillist email, and get your fix of the best in food/drink/fun.