This Man Who Rounded Up Beer from Every World Cup Country Is the Real Winner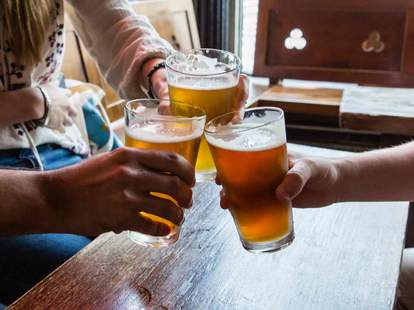 Germany is out in the first round. People hate Messi. The South Koreans are heroes. America never even made it to begin with.
2018's World Cup (you know of soccer, aka football, aka a game that's astonishingly underappreciated in the States and staggeringly popular literally everywhere else) in Russia has been full of more surprises than a Matryoshka dolls filled with liquid nitrogen. 
But, despite 3.2 billion people traditionally tuning in to watch the beautiful game on its biggest stage (that's almost half the global population, if you're keeping track at home), only one, lone man is truly doing it right. 
His name is Gus. And he decided to purchase a beer from all 32 participating countries in the 2018 World Cup. When a country is eliminated, he drinks the native, corresponding beer in solidarity. 
Gus is doing it right. Be like Gus.
"My friends and family think it's a little bit foolish, they think it's a waste of money, but it's the World Cup, it's beer, you've got to get excited," Gus, a UK native, toldMirror Football.
He makes a good point.
But snagging 32 beers and sucking them down is not as easy as it seems. He's been preparing for this moment since Brazil's tournament in 2014. And he spent the months leading up to this year's Cup anxiously following the countries that qualified. When the Netherlands and the States failed to make it, he was bummed. He likes their beers. But when he realized he needed to find beers from Panama, Costa Rica and -- most difficulty -- Saudi Arabia, he was worried.
Luckily, he had a friend who was backpacking through South America help him snag a bottle of Panama Lager (from Panama, duh) and a bottle of Imperial from Costa Rica. And, he had another friend traveling through North Africa pick up a bottle of Sakara Gold. It pays to have well traveled friends. Especially when it comes to beer. 
In other cases, he had to get a little creative.
Oh no, had to go to Barcelona for Uruguay and Paris for Senegal and Tunisia. Took a lot of time, effort and research

— Gus (@ballstothis) June 13, 2018
Saudi Arabia proved to be the most difficult challenge -- as, inside the country, it's illegal to drink, create, or import alcohol.
In a Maradona-esque miracle, he managed to secure a Saudi brew (non-alcoholic, but it still counts).
Put out a "help me get a Saudi beer tweet" got retweeted by a guy with 50k followers, @TAbugharsa in Libya saw it, said he gets Saudi beer all the time and that he could DHL some bottles over. Like the hero he is, he only went and bloody did it. My hero.

— Gus (@ballstothis) June 13, 2018
And now, after he has gathered his brews, Gus' only imperative is to sit back, and drink the fermented fruits of his labors, accordingly.
Hey, at least he gets to enjoy a nice Krombacher lager from Germany, a little early this year. (Too soon? Sorry.)
He may not look happy.
But I'm sure he actually is.
We salute you Gus, and hope more passionate fans follow your lead in 2022. Hopefully then, an American brew will join your ranks, too.
Oh, and in case you were wondering (or playing along at home!), here's the full list of beers that Gus acquired:
Russia - Baltika 3
Brazil - Skol
Iran - Delster
Japan - Hitachino Classic Ale
Mexico - Dos Equis XX
Belgium - Hoegaarden
South Korea - Hite
Saudi Arabia - Hillsburg Regular
Germany - Krombacher 
England - Meantime London Lager
Spain - Mahou
Nigeria - Guider
Costa Rica - Imperial 
Poland - Zywlec
Egypt - Sakara Gold
Iceland - Einstock White Ale
Serbia - Jelen 
Portugal - Sagres
France - Kronenbourg 
Uruguay - Patricia 
Argentina - Quilmes 
Colombia - Club Colombia 
Panama - Panama Lager
Senegal - Biere La Gazelle 
Morocco - Casablanca
Tunisia - Celtia
Switzerland - 1936
Croatia - Garden Brewery Pale Ale
Sweden - Pistonhead
Denmark - Carlsberg 
Australia - Coopers Sparkling Ale
Peru - Cristal 
Sign up here for our daily Thrillist email and subscribe here for our YouTube channel to get your fix of the best in food/drink/fun.
Wil Fulton is a staff writer at Thrillist and a passionate doer of other stuff. For more info, you'll have to do a free background check.