The 7 strongest beers in the world that you can buy right now
Most people these days consume beer solely for the health benefits, but for those who want to be intoxicated by more than just the lure of immune system boosts, there's a whole group of experimental brewers pushing the ABV of beer to ludicrous new heights. A new champion was just crowned -- here's what you need to know about that one, plus six other mutant brews, and links to the wonderfully shady international online shops that sell them.
Name: Snake Venom
Brewer: Brewmeister
Origin: Scotland
ABV: 67.5%
Price:$80
What it tastes like: It has a nose of alcohol, whiskey, and hops, but mostly just alcohol. Read more here.
Name: Schorschbock 57
Brewer: Schorschbräu
Origin: Germany
ABV: 57%
Cost:$273
What it tastes like: Reportedly does a serious throat-burn number on the way down, despite conforming to the water/barley/hops equation of the German Beer Purity Law.
Name: Armageddon
Brewer: Brewmeister
Origin: Scotland
ABV: 65%
Price:$96
What it tastes like: Much like the relationship between Bruce Willis and Liv Tyler, the crystal malt and flaked oats give Armageddon a touch of sweetness.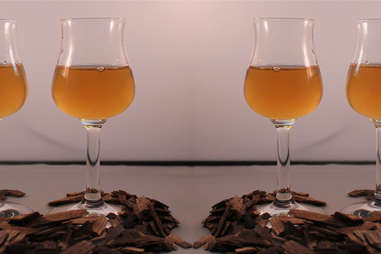 Name: Start the Future
Brewer: Koelschip
Origin: The Netherlands
ABV: 60%
Price: $48
What it tastes like: Little English language literature exists on the flavors of the Future, but Google Translate calls it "the worst beer in the world."
Name: Esprit de Noel
Brewer: Baladin
Origin: Italy
ABV: 40%
Price:$38
What it tastes like: Wooden and chocolatey finish from three years aging in genuine North Pole oak barrels.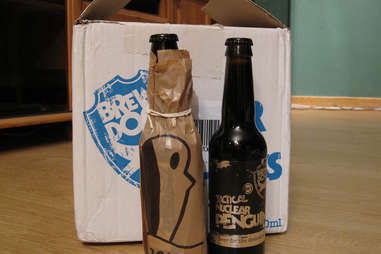 Name: Tactical Nuclear Penguin
Brewer: BrewDog
Origin: United Kingdom
ABV: 32%
Price:$64
What it tastes like: This Imperial Stout ages in two different types of whiskey casks to give it a serious taste of barrel char.
Name: Black Fist
Brewer: Mikkeller
Origin: Denmark
ABV: 26.1%
Cost: $42
What it tastes like: This stout sees the inside of 10 different bourbon barrels, so basically it tastes like Kentucky.