Death is inevitable. It happens to our beloved pets (RIP Splinter the mouse). It happens to trends. And it happens to beloved cocktails. Or at least it should.
There are some cocktails out there that bartenders wish would die a swift death. Some are overhyped. Some are mainstays. But if you see your favorite drink on this list, know it's on some bartender's hit list.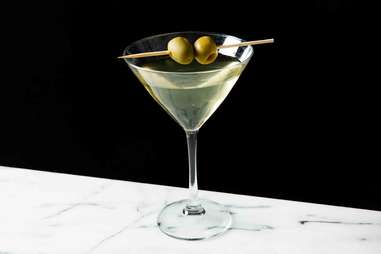 Dirty vodka martini
"It's nothing but a watered-down neutral grain spirit with neon-green salt water added to it. It's inherently flavorless and awkward and no attempt to make it better has ever really stood out. You can make your own brine, you can add various bitters, tinctures, liqueurs, and so on... but they all kind of suck. This drink needs to go away, but it can leave the blue cheese olives behind. Those are fantastic in gin." -- Chris Morris, head bartender, Hunky-Dory Tavern (Houston, Texas)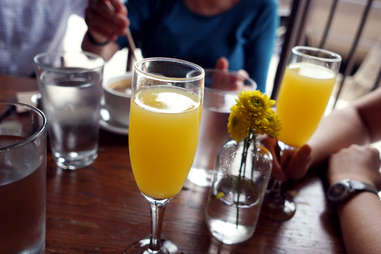 Mimosa
"Mimosas are just the worst drink. Most of the time the orange juice sucks and the sparkling wine is just whatever the bar is trying to get rid off. I think the mimosa is just an excuse for people who have never had the opportunity to try good sparkling wine to drink Champagne." -- Ezra Star, general manager, Drink (Boston, Massachusetts)
The Aviation
"We were all so excited by the prospect of finally tasting this elusive classic 10 years ago when half the ingredients (creme de violette, maraschino liqueur) weren't available to us. But now they are, we've tried it, and it tastes like an old lady's underwear drawer." -- Jeffrey Morgenthaler, author and bar manager at Clyde Common & Pepe Le Moko (Portland, Oregon)
"Dry" martini
"Back in the dark ages of bartending (the '80s) people started getting their martinis without dry vermouth, because everyone thought vermouth was terrible -- because no one stored it properly. Not only is cold, diluted vodka or gin in too large a quantity depressing, but it also makes you look dumb because a 'dry' martini should actually have extra vermouth instead of none." -- Jeremy Johnson, bartender/owner, Meta (Louisville, Kentucky)
The lemon drop
"The lemon drop martini (vodka, triple sec, lemon, lots of sugar) is not a martini to begin with; and it's for people who are scared to drink something adventurous… like a real martini, made with gin." -- Paul Gustings, bartender, the Empire Bar at Broussard's (New Orleans, Louisiana)
Blood & Sand
"I love Scotch, sweet vermouth, cherry Heering, and orange juice. But all together in one drink? I find it unbalanced and downright repulsive." -- Benjamin Krick, beverage director, Juniper Tar (San Antonio, Texas)
Amaretto sour
"This drink serves no purpose in life. I can't even understand the concept of it. Amaretto is fantastic in desserts and in other classic cocktails such as the Godfather… but to add a slight nuttiness to whites, citrus, and simple seems a really bizarre combination that I just can't get behind. I would pay a substantial amount of money to never make one of these again." -- Nick Dolby, bar manager, Double Zero (Atlanta, Georgia)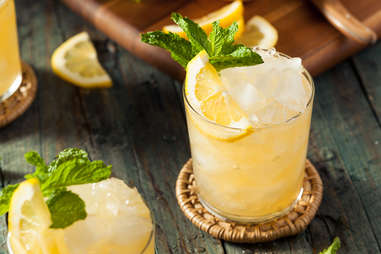 Muddled fruit cocktails
"If what you want is the fresh juice of your melon, peach, or blackberry, juice it first, preferably using a press, then add just the juice to your drink. Otherwise the volume of juice you end up adding is completely inconsistent from fruit to fruit and bartender to bartender, and you end up with fibrous chunks of compost swishing around in your glass." -- Jennifer Colliau, bar director, The Interval (San Francisco, California)
Boilermaker
"A boilermaker is a shot dropped into a beer -- drunk all at once. They're so last year. However, a shot served with a beer (aka a Happy Meal) enjoyed separately is a beautiful and special thing." -- Alex Gregg, owner, Moving Sidewalk (Houston, Texas)
The Moscow mule
"The Moscow mule is a drink that needs to die. The vodka does nothing to enhance the ginger beer other than add alcohol. A great cocktail is about a spirit and its blending components becoming more than the sum of its parts." -- David Kravitz, beverage director, The Smith (New York City, New York)
Sign up here for our daily Thrillist email, and get your fix of the best in food/drink/fun.
Anastacia Uriegas is an Austin-based food/drink/culture writer who learned about death thanks to her mouse, Splinter. Follow her to deep meditations on duality and mortality @anaurie.