The 7 Worst Drinks, According to a Bartender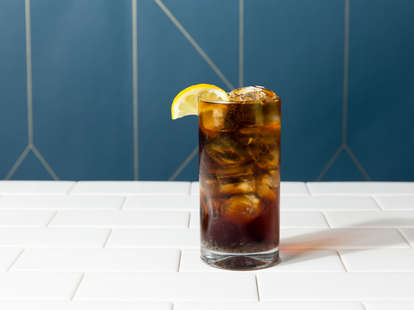 Cole Saladino/Thrillist
Cole Saladino/Thrillist
Bartenders have a tough job -- when they're not dealing with some truly terrible people, they have to serve drinks that are objectively awful. To find out exactly which drinks are actually the worst drinks, we spoke to Patrick Williams, beverage director at Punch Bowl Social, a nationally expanding bowling alley/fun-time palace with an crazy cocktail program. And while he says you should "drink whatever you want -- no one can tell you what to enjoy," he also thinks you should be brought out of your booze comfort zone. Here's what not to order, and what to get instead.
Lemon Drop
"It's the quintessential bachelorette party drink. Or if you're at an at-work function, the one lady who doesn't get out much -- this is her drink," says Williams. "I call it the bachelorette drink because when some women get in groups, it's all lemon drops. It tastes like sweet lemonade. If you have the right products and you use fresh lemon juice and a good triple sec, orange curacao, and a nice vodka, you can pull off a decent Lemon Drop. The fact that it's called for without seeing it on a menu... it's like the apple martini. People just have the assumption that every bar can make those because it's so great."
What to order instead: Tom Collins (gin, lemon juice, simple syrup)
Rum and cola
"You can see the theme here. It's drinks where there's no thought put into them," says Williams. "Some people have been drinking this for 20 years. That's what they drink. Try something different! Rum is a sugar-based distillate, it's already sweet in its nature. And adding high-fructose corn syrup on top of that -- it's an unhealthy drink in my opinion."
What to order instead: Dark & Stormy (dark rum, ginger beer)
Almost anything called a "-tini"
"That's not a real martini. More specifically, the drink that unfortunately has still not died off: the appletini," Williams explains. "The '90s and early 2000s steakhouse cocktail menus all had versions of this drink. Due to its relatively easy production and only needing some form of dyed green apple schnapps, consumers could order them anywhere. They could even call for them when the drink wasn't listed on a menu. I would gather that a guest that orders an appletini enjoys sweeter drinks, doesn't like to taste the spirits in those drinks, and doesn't get out much."
What to order instead: Southside (mint, lemon juice, simple syrup, gin)
Mimosa
"It's a super-popular drink -- everyone loves it. It's part of brunch culture. And I've never been a fan because usually it's lower-grade sparkling wine. It's never quality wine to start with," says Williams. "People like the value of it -- like, when they get it bottomless. They're drinking a bunch of them, they're going overboard. And it takes a lot of work to keep filling them up and do the bottomless thing."
What to order instead: "The French 75 is a classic drink that every bar can make. It's basically a Tom Collins (gin, lemon juice, simple syrup) topped with sparkling wine. It's a light drink; there's not a whole lot of alcohol to it, and it's good for the morning."
Amaretto sour
"This is the drink where if someone orders it, we ask for their ID one more time," Williams laughs. "A lot of times it's just amaretto and sour mix. It's another safe one. It's too cloyingly sweet, and is not a balanced drink."
What to order instead: Whiskey sour (whiskey, fresh lemon juice, simple syrup, Angostura bitters, egg white)
Long Island Iced Tea
"It's a lot of booze, but usually the lower-shelf stuff -- the well products," Williams warns. "It gets thrown into the glass with not a lot of care or effort."
What to order instead: Punch Bowl Social Portland's Fiji Island Iced Tea (vodka, gin, rum, triple sec, pomegranate syrup, white IPA float)
7 and 7
"I call it the quintessential wedding drink," Williams says. "It's like, 'I don't know what to order at the wedding. I don't know what [the bar] will have.' A lot of times they'll put whatever whiskey they have and soda. There's so many other options. It's the drink of someone who doesn't get out much, someone who doesn't want to try new things. Someone who doesn't want to try a proper cocktail, like even a whiskey on the rocks. What I don't like about it is it's safe."
What to order instead: Old Fashioned (whiskey, Angostura bitters, orange slice)
Sign up here for our daily Thrillist email and subscribe here for our YouTube channel to get your fix of the best in food/drink/fun.
Lee Breslouer
is a freelance writer who believes a whiskey sour can cure any ills. Follow him for tweets written completely sober: @LeeBreslouer.