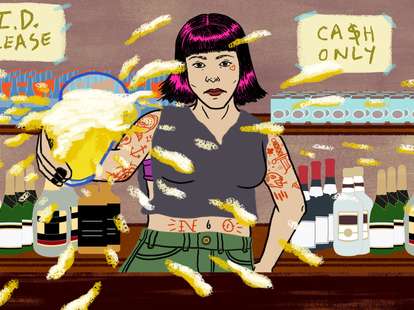 In the world of sex and dating, bartenders are frontline anthropologists. They've seen it all: the professional Tinder dater who's in it for the free drinks. A literal turd on the dance floor. Bathroom sex galore. But what's the romantic phenomenon they most regularly witness unfolding on the other side of the bar? The failed pickup.
Starting a conversation with a stranger is tough; it's a rare dating-world unicorn who can deliver a rehearsed pickup line without sounding like a complete douchebag. That's why most people who give advice on how to pick up women come across as skeezy bottom-feeders. Barkeeps know this all too well -- their bar floors are littered with the detritus of poorly conceived openers. From eye-rollingly cheesy to borderline offensive, here are some of the most misguided pickup lines according to bartenders.
Being way, way too forward
"I've never been into pickup lines. If you want to talk to someone, just go introduce yourself. Not being a thirsty d-bag is the best pickup line you can use. I once saw a random guy ask a random girl, 'When was the last time you were properly fucked?' which of course immediately led to him being escorted out of the bar. He didn't even get to find out the answer. But possibly the worst of all was recently when a woman attempted to take off her sweater and accidentally took off her shirt too, and then asked me repeatedly to 'fuck her in the bathroom' while I was working." -- Freddy Schwenk, Bar Sovereign, Nashville
Using a pun
"I may not be Fred Flintstone but I sure will make your bedrock. I use this one often. Never works." -- David Shenaut, Raven & Rose, Portland
Using so many puns
"I actually heard a couple reminiscing last night about the pickup lines the gentleman had used to initiate conversation with the young lady. He started off with, 'On a scale of ugly to smokin', you're pretty hot.' This was followed up with, 'Why don't we go back to Myspace so I can Twitter your Yahoo before Googling all over your Facebook.' It evidently worked because they are now married and had a great story to tell.
"The real bummer is I don't hear pickup lines anymore because people have already exchanged pickup lines on a dating app by the time they get to the bar. Or they're just too awkward to initiate conversation so they try to buy drinks and send them down the bar, which I've never seen end well." -- Stuart Jensen, Curio, Denver
Bragging about something that you can't actually brag about
"These two were obviously on a first date and had met online. The guy kept telling the girl that people constantly tell him that he looks like Ryan Gosling. He must have literally thrown that into the conversation like 30 times and he didn't look anything like Ryan Gosling. He was in his mid-30s, slightly overweight, and balding. He was like, 'Maybe it's my bad-boy attitude, I don't know.'" -- Jason Eisner, Gracias Madre, Los Angeles
Being trashy. Literally.
"One of the most aggressive pickup lines I've had thrown at me was a few months ago. It's a seemingly normal night and in walk two girls -- probably early 30s and fairly attractive. They had definitely been drinking for the better part of the day. Not too much banter was exchanged but I kept catching one of them staring at me every time I looked over. Not like an inquisitive who-are-you stare but an I-wanna-lock-you-in-my-basement-and-play-dress-up kinda stare. Once my avoidance tactics had run out, I was finally summoned over. She asked me what time I got off that night and I told her I had to shut down the bar. To which she said: 'Well how about you just take me out back now and fuck me behind the dumpster?'
"Wow, the dumpster? That's your go-to? The office, the bathroom, and keg cooler are all viable options, but this little angel went right for the dumpster. I declined with a joke that she obviously didn't find too funny, because she started to call me an asshole and was dragged out by her friend shortly after." --Teddy Nixon, Bar Mash, Charleston
Getting between a girl and her food
"This guy walked up to a girl having a snack and a cocktail alone at the bar and said, 'You should stop eating that before you make me lose interest and I stop hitting on you.' She gave him a death glare, took a huge bite, and slowly turned her back. He looked at the back of her head for a few seconds and just kind of lightly pshhh'd." -- Damon Boelte, Grand Army, New York
Saying something racist
"So a friend and I were out one night. She happens to be a beautiful Asian woman. We were hanging out and having fun when some garbage person in an ill-fitting suit walks up and, ignoring my presence completely, he asks her, 'Would you like me to teach you English?' Obviously stunned uncomfortable silence followed. Breaking the silence, she replied, 'Don't you think you should've asked me that in another language?'" -- Joe Schubert, The Whisky Parlor, Detroit
Saying something creepy
"I've had a guy at the bar ask me, 'Are you Angelina Jolie? Because I would love to raid your tomb.' And then there was the 65-year-old man who sat at the bar and wouldn't speak to me all night other than him telling me his drink order. But when he was paying his tab he said, 'You are sexy and you look just like my daughter.' I felt a little violated, and a bit worried for his daughter." -- Martyna Warzecha, Ironside Bar & Galley, Chicago
Trying -- and failing -- to be funny
"A couple of weeks ago I witnessed a horrible one. A guy had a few drinks and he was pretty annoyingly loud. I could kind of sense his desperation by that point. He said to a girl, 'You smell like garbage, can I take you out?' and then all I saw was a long, swinging slap to his face. I got the joke so it was pretty brutal to watch." -- Tenzin Conechok Samdo, Tavern Road, Boston
Following "expert" pickup advice
"There used to be this reality show called The Pickup Artist hosted by this cheese dick in a cowboy hat, whose calling was to teach poor antisocial souls how to pick up women in bars. One time at the bar I watched as a man approached a woman and said:
'On a scale from one to 10, how much fun are you having?'
And she said, 'I don't know, like an eight, I guess. Why?'
And then he grabbed her and tried to twirl her around and exclaimed, 'Now you're a 10!'
Her first response was to tell him to fuck off and then one of the door guys said, 'Hey, isn't that a line from The Pickup Artist?' and she started laughing hysterically. I think the door guy actually got her number that night.
"First of all, you should never go up and touch a woman in any way. It's creepy and it pisses us off. Second, don't use pickup lines. Just don't do it. If you do, I will immediately assume you are a one-dimensional, insecure lover. Also commenting on a woman's physical attributes, such as her legs or breasts, comes off predatory. Women tend to dislike feeling like an inanimate object whose sole purpose is for your viewing pleasure.
"As for that unfortunate soul, he fled the scene in a panic and ended up face-planting on the sidewalk and ripping his Ed Hardy tee." -- Lauren Holton, Turkey and the Wolf, New Orleans
Sign up here for our daily Thrillist email, and get your fix of the best in food/drink/fun.
Sarah Theeboom is a freelance food, travel, and lifestyle writer. In 1996 someone tried to pick her up by telling her she looked like Demi Moore; around 20 years later someone else tried to pick her up by telling her she looked like Rumer Willis. She actually looks like Bruce Willis. Follow her on Instagram or Twitter.