Here's Where You Can Get Cheap or Free Daiquiris on National Daiquiri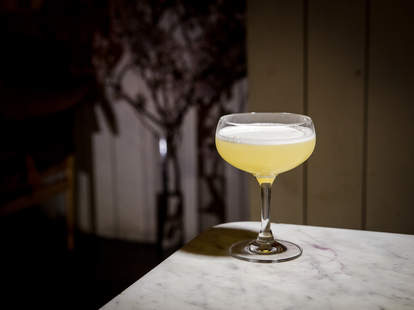 It's the middle of July and that means it's time for National Daiquiri Day. Recognized on July 18, the celebration of the classic mix of rum, lime and sugar arrives as a refreshing breeze, albeit an artificially created one, in the heat of summer. But just because it's a made up holiday doesn't mean you shouldn't do everything you can to enjoy it. You can shake up your own Daiquiris, blend a fruity frozen version or, of course, hit the bar. If you're looking for a good deal, try one of these spots around the U.S. Whether you're looking for a legit cocktail den or a divey beach bar, there's a Daiquiri deal out there for you.
The Place: Nacional 27, Chicago
The Deal: $7 Daiquiris
The massive pan latin American restaurant is offering up classic takes on the Daiquiri for seven bucks all day long. Nacional 27 gets clubby as the evening goes on, so throw back a couple discount Daiquiris and dance the night away.
The Place: Tallboy Taco, Chicago
The Deal: $7 Daiquiris
Nacional's sister restaurant, River North's Tallboy Taco, has the same deal—seven dollar Daiquiris all night. In years past they've offered up some spicy takes on the traditionally tart drink, like a habeñero ginger version.
The Place: The Wayland and The Lost Lady, NYC
The Deal: 2 for 1 Daiquiris
The sister New York bars are offering a mini bar crawl of sorts. If you buy one of the summer rum cocktails at The Lost Lady, you'll get a token for a free Daiquiri at The Wayland just a block away.
The Place: Bar Belly, NYC
The Deal: $9 Pineapple Daiquiri
Since reopening this winter, Bar Belly has been bringing happy hour fans in for one dollar oysters, but for Daiquiri Day they're offering something extra. From 5-7 p.m. they'll have their Pineapple Express Daiquiri (house pineapple rum blend, lime juice, pineapple syrup) for nine dollars.
 
The Place: Daiquiri Deck, multiple Florida locations
The Deal: Free Daiquiri with food purchase and a chance to win free Daiquiris for a year
The small south Florida chain of casual eateries and Daiquiri specialists churn out a massive number of sweet, frozen Daiquiris famous on the beaches of the Gulf Coast. On Daiquiri Day customers get a free drink when they purchase anything else on the menu. They can also enter a drawing that will happen around 7 p.m. on July 19 to win free Daiquiris for a year.
The Place: Prime Daiquiri, Houston, TX
The Deal: $3 Daiquiris from 1-4 p.m.
Another temple to the Frozen Daiquiri, Houston's Prime Daiquiri will offer three-dollar Daiquiris from 1-4 p.m. and four-dollar Daiquiri Jello Shots from 7-11 p.m. You can even get them at the drive-thru window if you're in a hurry.