18 New Orleans Bars & Restaurants That Are Open on Christmas Day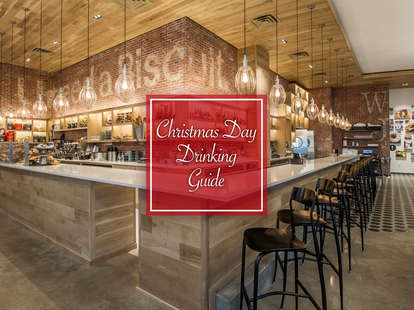 Drinking & dining out is a year-long affair in the Crescent City, so even on Santa's special day, you're always able to grab a great cocktail & a bite to eat. Here are some notable spots to choose from if you happen to be in need of a little stronger holiday spirit on the 25th...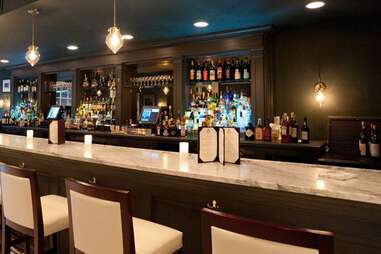 French Quarter
One of the newest (and coincidentally one of the oldest, weirdly enough) old Creole restaurants in the French Quarter will be open and ready to stuff you full of holiday cheer.

Warehouse District
Who wants wine and steak for Christmas? If the answer is you, you'll find it inside Harrah's.
Central Business District
Chances are things are going to get fancy and fun at Adelaide and the Swizzle Stick bar on Xmas day, should you find yourself hungry, thirsty, and in the CBD.

Central Business District
Chef Brian Landry's love letter to Gulf seafood might be just the perfect spot to share a festive drink. Excellent cocktails, and a stunning beer menu.

Leonidas
Sake for Christmas? WHY NOT? And to pair it, nothing says the holidays like sea urchin, salmon roe, and tuna tataki. Chiba is only open for dinner, 4pm to midnight.
French Quarter
The spectacular pairing of Nathan Richard's cuisine and a killer cocktail menu (fit for the Kingfish himself) will not steer you wrong down in the French Quarter on Christmas Day. Or pretty much any day, for that matter. All reservations are officially booked, but walk-ins are welcome and available.

Central Business District
Pop a bottle of bubbly and order the intimidatingly wonderful grand seafood tower ("Le Grand Plateau De Fruits De Mer", featuring a whole Maine lobster, 16 oysters, 12 shrimp, 10 clams, 16 mussels, king crab, and ceviche) for a truly special holiday experience on Xmas day this year. It will do you no wrong.
Central Business District and Uptown
If you happened to miss Chef Alon Shaya's special Chanukah menu at Domenica, don't fret; both his original outpost in the Roosevelt Hotel and the new Uptown slice spot will both be serving beer, pies, and pillowy garlic knots on the 25th.
Central Business District
John Besh is no Grinch when it comes to his restaurant group, all of which pretty much open on Christmas day, including his flagship, August. (Editor's note: after getting some updated information, it looks like August will be open on Christmas eve, but sadly closed on Christmas day this year).
Uptown
Famously, many of the Besh Group restaurants stay open 365, and thank goodness that's true for Shaya, which is going to be serving up its Israeli food fit for peasants and magi alike.
French Quarter
Chefs John Folse and Rick Tramonto are making sure their beautiful baby is going to be pleasing fancy folks on the 25th.

French Quarter
Should you find yourself in Lacombe, LA for some reason -- or are looking for a good reason to visit -- Besh's elevated country spot out there won't let you down come Christmas.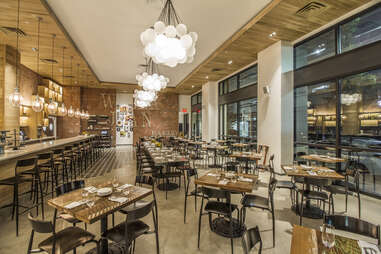 CBD
The best new bakery in NOLA isn't wholly closing up shop for Christmas, thank goodness. However, it's only open until noon, and you need to place an order in advance on its website if you want to get in on the hot baked action.
CBD
Chef Nina Compton's popular new spot will be feeding the masses on the 25th with its elegant Creole/Caribbean fare, and it has a killer prix-fixe menu that you'll want to check out, just in case you happen to burn your goose.
Uptown
Because Jung's is known for its upscale Chinese, you know it's going to be killing it on Magazine St come Xmas day for the Uptown set -- and really, anyone else who likes Chinese on Christmas, which should be everybody, right?
French Quarter
It's a Caribbean Christmas for all at SoBou, and if you're looking for some wonderfully festive cocktails, and maybe an alligator corn dog, this is where you're headed.

Gert Town
Jewish Christmas means one thing, and that's Chinese food. If you're a member of the tribe and you'd like to continue this hallowed tradition (or if you just like roasted duck and lo mein), Five Happiness is the place you're going to head for all your dumpling and noodle needs. (Note: if you're more than a party of five, it will behoove you to make a reservation well in advance.)
Sign up here for our daily New Orleans email and be the first to get all the food/drink/fun in the Big Easy.
Scott Gold is a writer in New Orleans who will definitely be eating Chinese on Christmas. Follow him @scottgold.