New Orleans' 9 Bad Decision Bars
Thrillist
Thrillist
New Orleans has more bars per capita than any other US city, which means it also has more bad decisions per capita than any other US city -- so long as you go to the right place. The place where "Alright, just one more Jagerbomb" turns into "Oh my god. Where are my pants?" The Bad Decision Bar. The Crescent City has at least nine, and here they are: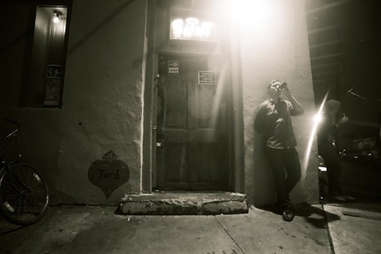 Lower Garden District
The Saint is what happens when professional metal musicians decide to open a bar in the Lower Garden District, and it's about what you'd predict. It should go without saying, but you probably don't want have intimate relations with anyone in the bathroom at The Saint unless you want to wind up Googling "infectious disease specialists in the NOLA area," which you will.

Uptown
There are three things you have to know about Ms. Mae's, other than the fact that Saints defensive coordinator Rob Ryan habitually stops there for a Rolling Rock after a win in the Superdome. First, it doesn't close (and if that isn't a warning shot in the direction of your decision-making abilities, nothing is). Also, it's known to be one of the cheapest bars in the city (warning shot numero dos!). Finally, there's a posted list of shame featuring those who have crossed the line at some point and gotten themselves 86'ed. Seriously... imagining what it might possibly take to get tossed out of Ms. Mae's, you do NOT want to be on that list.
French Quarter
There are a number of questionable bars on Bourbon St -- most of them are fairly sketchy, for that matter -- but there's something existentially troubling about a place that features 900 slushy machines filled with candy-hued frozen daiquiris loaded to the gills with cheap ethanol. These are great during a leisurely summer afternoon, on occasion, but if you start pounding them, you'll see firsthand what "Cajun Eggnog" tastes like in reverse.
French Quarter
Karaoke can sometimes be fun in small groups with a few close friends. Then there are karaoke clubs like the Cats Meow, where you'll find a teeming phalanx of sweaty humans just hoping to get loaded enough to blurt out their rendition of "Sweet Caroline" at top volume into a microphone, and you will be one of those people. Nothing good will come out of a trip to the Cats Meow. Nothing. Step away from the mic.
Uptown
An innocent hope in heading to The Boot, which is essentially on the Tulane University campus, might be to chat up some fascinating, comely undergrads. In fact, the bar's own website declares, "If you are eager for cheap drinks along with hot girls who are enjoying them, then this is the place for you." Believing this is the first of your many bad decisions to come.
Bywater
In a list of bars known for impeding one's proper decision-making abilities, the bar that has a TOILET THEME is probably going to be up there.
Bywater
Having naked people around invites a certain sort of clientele, and you'll surely find it at the Country Club's "clothing optional" pool.
French Quarter
To quote an anonymous local, Tiki's is "not bad." It's just the place you go because the bartender you want to pork is closing up the Frenchmen St bar and you have to follow him/her there and get even drunker if you're ever going to have a chance at hitting that.
Uptown
It's one of the most heralded divey institutions in NOLA, and simultaneously one of the most reviled. An evening at F&M's might involve a number of scenarios, the most pleasant of which is merely dancing on the leopard-print pool table. Others involve bodily fluids.
Sign up here for our daily New Orleans email and be the first to get all the food/drink/fun in the Big Easy.