The Best New Orleans Balcony Bars
New Orleans is a city meant to be experienced as much as it is one meant to be observed. And sometimes visitors and locals alike need an occasional breather from the city's non-stop action. That's why balconies are a particular treasure. Upstairs outdoor seating (with libations in hand) can provide an excellent way to keep the party going while at a safe distance -- plus we know you all want to throw a strand of beads at least once during your trip. We've walked up and down countless flights of stairs to narrow down the balcony bars in town with the best drinks and views to take in parades, second lines, and plain old people watching.
$-$$
Garden District
Avenue Pub has long been a St. Charles Avenue staple -- somehow combining the best of both dive bar and craft brewery into one perfect two-story hideaway. Literally any time of day, on any day of the year, you can walk into the establishment, get recommended a killer pint, and post up on the wooden balcony with a great view of one of New Orleans' main streets. Get there early during Mardi Gras season for the best parade views, period. And don't forget to try one of the best burgers in town downstairs while you're getting a refill.
$
French Quarter
Santos is the little sibling to Lower Garden District's The Saint, with a couple big distinctions. First, it's in the heart of the French Quarter -- more specifically, the underratedly rowdy Decatur Street -- and it's got an upstairs landing to take it all in. Downstairs usually hosts some awesome punk and metal shows, while the second-story bar is often home to DJ nights and just some plain respite. The bar's got great prices, a raucous atmosphere, and a legendary framed portrait of Lemmy Kilmister.
$
Garden District
All right, so this one is kinda bending the rules of the list a bit, but hear us out. The Prytania Theatre is a beautifully renovated, old-school, single-screen theater with balcony seating that shows all manner of current and classic films throughout the year. There isn't a bar in the lobby, but it is BYOB, meaning you can bring the bar along to your seat for much cheaper than it would be pretty much anywhere else. Grab a six-pack and head upstairs for one of its late night Rocky Horror Picture Show showings, or mix your own Bloody Marys to tote up there for their Sunday morning classic film series. Either way, you've technically got an air-conditioned balcony with drinks, thus earning its place, as far as we're concerned.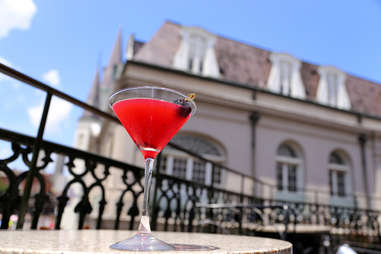 $$-$$$
French Quarter
The restaurant has occupied a prestigious corner of Jackson Square for nearly 20 years, but one of its best, relatively unsung qualities is the wraparound outdoor seating upstairs. In addition to tasty cocktails, patrons can order from the equally delicious menu while listening to various brass bands and musical acts that set up busking outside the cathedral. Stop by one of the fortune tellers on the square beforehand and get them to intuit which drink you should order. Oh, and did we also mention that it's haunted?
$-$$
Marigny Triangle
For years, Frenchman Street operated as a kind of hidden gem for New Orleans music lovers, providing some of the city's best jazz away from the Bourbon Street crowds. Recent years of overflow have kinda blown that secret, but that doesn't mean the music scene is any less worthy. Named after the city's map coordinates, 30°/-90° hosts pretty great live music every night, and includes both a back courtyard and upstairs balcony for additional ways to take in the evening. The bar also has some pretty killer happy hour specials, so get there early before the music starts to really make the most of it.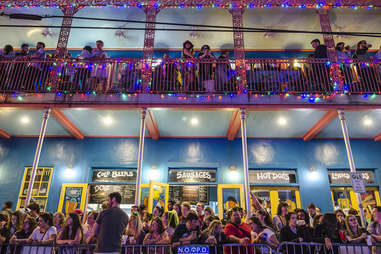 $
Marigny Triangle
Not far from 30°/-90°, the Dat Dog franchise's Frenchman Street operation is arguably its best, if only for a really solid, often underutilized wraparound patio with a panoramic view of the street action. As the name implies, Dat Dog also has the most inventive and tasty hot dog and sausage options in New Orleans, with countless combinations of meat, toppings, and sauce to choose from. The "Son of a Saint" dog is comprised of alligator sausage, grilled onions, tomatoes, jalapeños, Creole mustard, and bacon -- yes, you should order it to eat on the balcony. You're gonna need a moment to sit down and digest after finishing it, anyway.
$
French Quarter
This is a bar that really lives up to its name. A 24-hour, queer-friendly neighborhood bar, Good Friends often serves as a hub for locals and tourists during both Southern Decadence and Pride Week. There's usually some great dancing upstairs, along with pool tables below, and a solid balcony area to chill with your, y'know, friends. The Queen's Head Pub -- the upstairs area -- has slightly different hours than the rest of the place, but thankfully at any time day or night you can order one of its famous Separators -- like an extremely rich, boozy, chocolate McFlurry -- that is well worth the calories.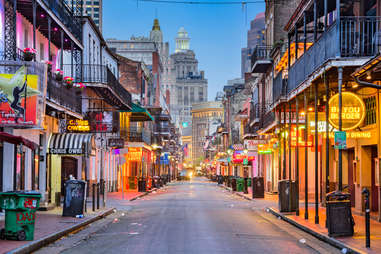 $-$$$
French Quarter
Not that we're trying to be rude or overly simplistic here, but the combination of tourist traffic, "N'awlins" decorations, and copious amounts of alcohol often tends to blend Bourbon Street bars together a bit. Really, though, if you're looking for that iconic balcony experience, you've got dozens of bars to choose from on the historically sinful thoroughfare. Tropical Isle features the notorious Hand Grenade (aka a hangover in a plastic cup), the R&B and zydeco bar Krazy Korner has a covered balcony if it rains, the Chris Owens Club has burlesque and Latin nights, and The Swamp features cover bands and all the balcony cliches you've heard about. We shouldn't have to tell you this, but we know as well as anyone what sides of people those balconies can, uh, reveal. Don't start being a jerk to anyone if you end up not taking in all the sights you wanted.
$-$$
French Quarter
Because this is Saints territory, after all, we'd be remiss if we didn't include at least one sports bar. American Sports Saloon is inarguably the granddaddy of them all in New Orleans, having been open in some for or fashion since 1897. Nowadays, it's far more modern than the "Saloon" in its name suggests, with tons of TVs turned to all manner of games, depending on the time of year. There are even private table areas with personal screens so you and your crew can watch the most obscure league matches. The place can get pretty nuts, if that wasn't already apparent, so reservations ahead of time are a good way to ensure you'll get a prime spot either inside, or out on their balcony if you need a halftime yourself.
$
Uptown
New Orleans is the sum of its historical parts, both the good, the bad, and, well, the weird. Take, for instance, the legendary Le Bon Temps Roule, a long-time 24-hour spot known for its raucous brass band and jazz shows, friendly neighborhood atmosphere, and oddly for being one of Lee Harvey Oswald's favorite drinking holes back in the 1950s. But don't let that bit of macabre history dissuade you from knocking back a few on the balcony overlooking Magazine Street. With happy hours lasting Monday-Friday from 11am-8pm and free oysters and music every Friday, there really is no reason to leave the place unless you're asked.
$
Uptown
How could we not include the bar with an eponymous name on the list? Luckily, Balcony Bar has more to offer than just a relevant name -- it's one of the best spots Uptown to chill out with friends while sipping one of the 50 beers available, including a bunch of local offerings on draft. The locale also includes a great cafe (hence the name) so you can nosh while catching a breeze on the second story and scoff at all the pedestrians below.
Sign up here for our daily New Orleans email and be the first to get all the food/drink/fun in the Big Easy.
Andrew Paul is a writer living in New Orleans with work recently featured by AV Club, GQ, Rolling Stone, as well as McSweeney's Internet Tendency and TNY's Daily Shouts. He loves drinking on balconies, despite his fear of heights. @anandypaul