New Orleans is a city that prides itself on its alcohol intake, and we do it better than just about anywhere else in the country. There are innumerable hokey, themed "N'awlins" bars to choose from, but with watered-down, overpriced booze, and generally sullen staff, drinking in the Quarter is a gamble. Before you realize the hard way that Hand Grenades are alcoholic abominations, swing by these local-approved neighborhood bars.
Recommended Video
The 'Game of Thrones' Pop-Up Bar Is Now Open in Washington, DC
1123 Decatur St
A slogan like "Nobody's ugly in The Abbey," might be a bit of stretch, but at least the owners of The Abbey Bar have tried to make good on their tagline -- a favorite story goes that, well before their recent breakup, Brad and Angelina got totally soused at this dive on the edge of the Quarter. So, while "nobody's ugly," some are undoubtedly less ugly than others. Regardless, The Abbey Bar is everything you could want in a dirt-cheap (emphasis on "dirt") watering hole. They've got $5 beer and shot combos, strange regulars, and even stranger passers-through. Also, a killer jukebox.
1239 Royal St
The undisputed cornerstone of Southern Decadence, New Orleans' gay pride weekend, Golden Lantern Bar is an extremely charming, queer community-catering locale near Esplanade Ave. The bar has offered some of the best Bloody Marys in the Quarter since 1964 and, like many entries on this list, Goe also generally in operation 24 hours a day, which is good to know when stumbling around the area in the wee hours of the morning. Be sure to check their calendar for rotating drag shows and other performances.
1201 Burgundy St
The gorgeous, gigantic mahogany bar is worth a look alone, but be sure to stick around for some of the friendliest drink slingers in town, as well as a decent pool table and dartboards. For those with late-night cravings, Cosimo's also features a great kitchen in the back with all manner of delicious, heartburn-inducing bar food. Cosimo's isn't open quite as late as some of the other entries on this list, but you'll probably need to turn in early after wolfing down one of their Cuban sandwiches, anyway.
820 North Rampart St
Even locals feel the need to grab a fancier drink now and then, and Bar Tonique offers just that. The bar's eclectic and extensive cocktail list requires multiple visits to properly sample in its entirety, and that's without factoring in their copious beer and wine selections. Bar Tonique's got a great communal atmosphere also includes a practically hidden-away back alcove, two fireplaces, and some seriously knowledgeable staff to suggest a proper stiff drink to warm you up as we head into the colder months of the year.
1107 Decatur St
Since 1974, Molly's has been one of the foundations of the Quarter bar scene, and is known for remaining open throughout the aftermath of Hurricane Katrina. Nowadays, it most often serves as a go-to spot for the French Quarter's service industry as a place to wind down, or turn up depending on how their shifts went. The bar also serves as a starting point for Molly's annual St. Patrick's and Halloween parades, as well as innumerable pub crawls and tours. While the bar food in the back is definitely worth trying, their signature frozen Irish coffee is a must.
1335 Decatur St
The origin to Spitfire's name is immediately apparent upon walking into the dive bar on any given night -- the giant model of an old-school fighter jet's nose, complete with rotating propeller, is fixed above the shelves of booze and beer. One of the more spacious local haunts in the area, Spitfire mainly caters to neighborhood locals and rockabilly townie types, but is welcoming to anyone who wants to stop in for a drink. Newcomers are advised to check them out on Wednesdays, which features "Vixens and Vinyl," a weekly showcase of burlesque and classic rock 'n' roll records spun by a house DJ.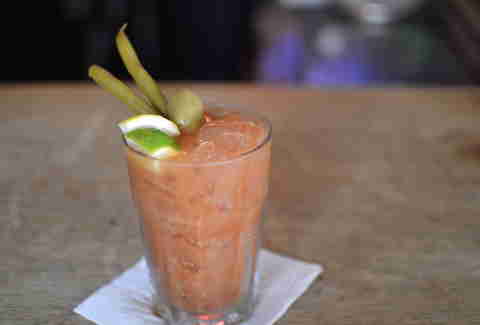 811 Conti St
Operating as a bar in some form or fashion since the 1950s, the Quarter's own Erin Rose is a local drinking dive staple known as a reprieve from the madness of nearby Bourbon St. That being said, "reprieve" is sort of a relative term, since Erin Rose is often its own kind of crazy, stuffed with locals, those in the know, and clueless tourists. The bar features its own delicious variation on the frozen Irish coffee, and, like any good traditional pub, includes Guinness and Harp on tap. When the Quarter gets a bit too much to take in, Erin Rose provides a refreshingly familiar alternative.
718 North Rampart St
Formed out of the figurative ashes of Flanagan's Pub, Voodoo Lounge is one of the newest additions to the local bar list. While generally a quiet place to drink, co-owner Cindi Richardson also uses the Lounge as a base of operations for her French Quarter Phantoms ghost tour, so be prepared for the place to quickly fill up with paranormal fans according to the tour schedules. In addition, the bar hosts a number of local recurring events ranging from drag shows to dance parties and everything in between. Definitely a great place to start out your night, and maybe hear a few spooky stories about the local deceased.
700 North Rampart St
Hands down, the best beer selection in the French Quarter. With a list featuring nearly 100 domestic as well as foreign bottles and drafts, Black Penny offers enough options to keep you coming back again and again -- and with the recent launch of the Rampart streetcar line, it's that much easier to return. The larger corner bar has only been open a little more than a year, but you wouldn't know it upon first visit. Black Penny has a lived-in feel that so many other bars try and fail to achieve. The perfect place to sit back with some friends over a few pints before heading out into the Quarter.
900 Chartres St
Harry's Corner is a staple of not just the Quarter, but New Orleans as a whole. It's a bare bones, no nonsense neighborhood dive bar with cheap drinks and a large local clientele. You know exactly what you're getting into upon first walking into the place, and we mean that in the best possible way. New Orleans, and the French Quarter in particular, offer a culture and lifestyle that is wholly unique to the area, but sometimes even the basics in a foreign town can be a wonderful thing.
Sign up here for our daily New Orleans email and be the first to get all the food/drink/fun in the Big Easy.
Previous Venue
Next Venue
Venue Description
1. The Abbey
1123 Decatur St, New Orleans, LA 70116
The Abbey is a 24-hour dive in the French Quarter that draws a constant stream of curious tourists, kooky locals, and bargain hunters to its dimly lit, funky space. It's the type of place where you can get a beer and a shot for just five bucks and find a lot of alternative and metal music on the juke. Whether you stay for the cheap drinks or the people watching, The Abbey has a way of sucking people in and spitting them out with a nice hangover, but the stories you'll tell will make it worth your while.
Previous Venue
Next Venue
Venue Description
2. Golden Lantern Bar
1239 Royal St, New Orleans, LA 70116
Widely accepted as the birth place of Southern Decadence, the biggest gay pride celebration in New Orleans, Golden Lantern Bar is known around town for showing its variety of guests a great time. Inclusivity is key here so between the drag shows, the warm welcome for your four-legged friends, and the fact that it's literally open all day and all night, you don't have to love dancing up a storm to enjoy yourself. There are also a lot of great, strong cocktails on the menu like the famous Bloody Mary loaded with all sorts of pickles and peppers.
Previous Venue
Next Venue
Venue Description
3. Cosimo's
1201 Burgundy St, New Orleans, LA 70116
You and your pooch can belly up to Cosimos' huge mahogany bar and order a cold craft brew or a cheap cocktail to wash down an order of greasy comfort food from the hearty American menu. While you're slurping back crawfish by the bucket, sinking your teeth into the crispy Boudin balls (Cajun sausage), or indulging in the rich Cuban sandwich with its perfectly melted cheese, you can rack up a game of pool, throw darts, or just chat up one of the genuinely friendly bartenders. Unlike some of its Quarter neighbors, Cosimo's is not open 24 hours … instead this relaxed neighborhood watering hole is rife with charmingly eclectic decor and a horde of colorful locals.
Previous Venue
Next Venue
Venue Description
4. Bar Tonique
820 N Rampart St, New Orleans, LA 70116
While tourists are welcome at Bar Tonique, it is in the French Quarter after all, this craft cocktail bar doesn't cater to out-of-towners and instead focuses on its encyclopedic cocktail menu. Of the 40 plus cocktails listed by classification and purpose (think "True Cocktails", "Sours," and "Punches"), the "True" East India Cocktail is high on our list of must-drink with its cognac, curaçao, Maraschino cherries, house-made pineapple syrup, angostura bitters, and lemon peel garnish. All visitors feel at home in this comfortable, den-like space whether you're seated at the wrap-around bar or snuggled up by the fireplaces during the cold season, and for those of you that consider yourself whiskey aficionados ... Tuesday's special is whiskey flights.
Previous Venue
Next Venue
Venue Description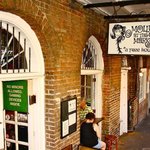 5. Molly's at the Market
1107 Decatur St, New Orleans, LA 70116
This French Quarter bar has all the makings of a divey Irish pub, plus so much more. Molly's is known for its frozen Irish coffee, an alcohol-laden coffee milkshake that's decidedly better than regular Irish coffee. It's the perfect place to day drink in NOLA as you watch the Decatur Street wildness ride past you.
Previous Venue
Next Venue
Venue Description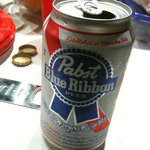 6. Spitfire
1135 Decatur St, New Orleans, LA 70116
If you find yourself on Decatur Street looking for a locals-heavy bar, mosey into Spitfire. This aviation-themed dive bar's beverage program gets as creative as the Zelda Fitzgerald, a gin fizz interpretation with house-infused lavender gin, blueberry jam, egg whites, orange flower water, half-and-half, and vanilla, but also remains as approachable as a good ol' can of PBR. After you've satisfied your thirst, spend some time mingling and take full advantage of Spitfire's pool tables.
Previous Venue
Next Venue
Venue Description
7. Erin Rose Bar
811 Conti St, New Orleans, LA 70112
A half-block away from Bourbon Street, this friendly Irish pub is covered in framed photographs, car parts autographed by drag racers, and other memorabilia from NOLA's glory days. Erin Rose is known for its Bloody Marys, frozen or hot Irish coffee, and its killer po' boys, such as its Dark 'n Stormy Po' Boy with rum-braised pork.
Previous Venue
Next Venue
Venue Description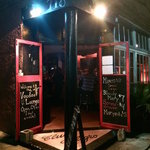 8. The Voodoo Lounge
718 N Rampart St, New Orleans, LA 70116
The VooDoo Lounge is more than just a 24-hour dive bar. Directed by the former owners of Flanagan's Pub, VooDoo is a meeting point both for tourists embarking on a French Quarter Phantom tour and for locals taking advantage of the joint's revolving whiskey and scotch selections or events like drag shows and dance parties. You won't find craft cocktails here; bartenders are much more interested in serving you a straight spirit that has the integrity to stand alone.
Previous Venue
Next Venue
Venue Description
9. The Black Penny
700 N Rampart St, New Orleans, LA 70116
The French Quarter's Black Penny is like a dungeon, but one filled with a ton of beer. Housed in a building from 1831, the space is generally dark apart from the marshmallow white leather banquettes that line the exposed brick walls. Skulk through the stone arches to the dark wood bar, and prepare for instantaneous thirst when you see the rows and rows of canned craft beers on shelves above. Helmed by the owner of Bar Tonique and former manager of Erin Rose, Black Penny features over 90 regional, American, and imported craft beers.
Previous Venue
Next Venue
Venue Description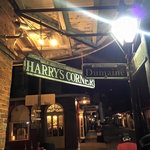 10. Harry's Corner
900 Chartres St, New Orleans, LA 70116
One of the best features of Harry's Corner is its corner location, making it prime people-watching real estate. Locals flock to Harry's for its cheap, robust cocktails and jamming jukebox. The bartenders are entertaining (if a bit salty), but note that the bar is cash-only. Quiet compared to most frenetic French Quarter haunts, Harry's is perhaps best known for being dog-friendly, meaning fuzzy four-legged friends can also indulge in in the bar's offerings. Well, some of them, at least.