New Orleans is a city that prides itself on its alcohol intake, and we do it better than just about anywhere else in the country. There are innumerable hokey, themed "N'awlins" bars to choose from, but with watered-down, overpriced booze, and generally sullen staff, drinking in the Quarter is a gamble. Before you realize the hard way that Hand Grenades are alcoholic abominations, swing by these local-approved neighborhood bars.
Recommended Video
Thrillist's Best (and the Rest): What's the Perfect Fast Food Meal?
1123 Decatur St
A slogan like "Nobody's ugly in The Abbey," might be a bit of stretch, but at least the owners of The Abbey Bar have tried to make good on their tagline -- a favorite story goes that, well before their recent breakup, Brad and Angelina got totally soused at this dive on the edge of the Quarter. So, while "nobody's ugly," some are undoubtedly less ugly than others. Regardless, The Abbey Bar is everything you could want in a dirt-cheap (emphasis on "dirt") watering hole. They've got $5 beer and shot combos, strange regulars, and even stranger passers-through. Also, a killer jukebox.
1239 Royal St
The undisputed cornerstone of Southern Decadence, New Orleans' gay pride weekend, Golden Lantern Bar is an extremely charming, queer community-catering locale near Esplanade Ave. The bar has offered some of the best Bloody Marys in the Quarter since 1964 and, like many entries on this list, Goe also generally in operation 24 hours a day, which is good to know when stumbling around the area in the wee hours of the morning. Be sure to check their calendar for rotating drag shows and other performances.
1201 Burgundy St
The gorgeous, gigantic mahogany bar is worth a look alone, but be sure to stick around for some of the friendliest drink slingers in town, as well as a decent pool table and dartboards. For those with late-night cravings, Cosimo's also features a great kitchen in the back with all manner of delicious, heartburn-inducing bar food. Cosimo's isn't open quite as late as some of the other entries on this list, but you'll probably need to turn in early after wolfing down one of their Cuban sandwiches, anyway.
820 North Rampart St
Even locals feel the need to grab a fancier drink now and then, and Bar Tonique offers just that. The bar's eclectic and extensive cocktail list requires multiple visits to properly sample in its entirety, and that's without factoring in their copious beer and wine selections. Bar Tonique's got a great communal atmosphere also includes a practically hidden-away back alcove, two fireplaces, and some seriously knowledgeable staff to suggest a proper stiff drink to warm you up as we head into the colder months of the year.
1107 Decatur St
Since 1974, Molly's has been one of the foundations of the Quarter bar scene, and is known for remaining open throughout the aftermath of Hurricane Katrina. Nowadays, it most often serves as a go-to spot for the French Quarter's service industry as a place to wind down, or turn up depending on how their shifts went. The bar also serves as a starting point for Molly's annual St. Patrick's and Halloween parades, as well as innumerable pub crawls and tours. While the bar food in the back is definitely worth trying, their signature frozen Irish coffee is a must.
1335 Decatur St
The origin to Spitfire's name is immediately apparent upon walking into the dive bar on any given night -- the giant model of an old-school fighter jet's nose, complete with rotating propeller, is fixed above the shelves of booze and beer. One of the more spacious local haunts in the area, Spitfire mainly caters to neighborhood locals and rockabilly townie types, but is welcoming to anyone who wants to stop in for a drink. Newcomers are advised to check them out on Wednesdays, which features "Vixens and Vinyl," a weekly showcase of burlesque and classic rock 'n' roll records spun by a house DJ.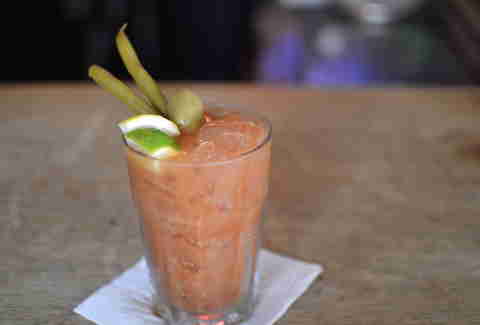 811 Conti St
Operating as a bar in some form or fashion since the 1950s, the Quarter's own Erin Rose is a local drinking dive staple known as a reprieve from the madness of nearby Bourbon St. That being said, "reprieve" is sort of a relative term, since Erin Rose is often its own kind of crazy, stuffed with locals, those in the know, and clueless tourists. The bar features its own delicious variation on the frozen Irish coffee, and, like any good traditional pub, includes Guinness and Harp on tap. When the Quarter gets a bit too much to take in, Erin Rose provides a refreshingly familiar alternative.
718 North Rampart St
Formed out of the figurative ashes of Flanagan's Pub, Voodoo Lounge is one of the newest additions to the local bar list. While generally a quiet place to drink, co-owner Cindi Richardson also uses the Lounge as a base of operations for her French Quarter Phantoms ghost tour, so be prepared for the place to quickly fill up with paranormal fans according to the tour schedules. In addition, the bar hosts a number of local recurring events ranging from drag shows to dance parties and everything in between. Definitely a great place to start out your night, and maybe hear a few spooky stories about the local deceased.
700 North Rampart St
Hands down, the best beer selection in the French Quarter. With a list featuring nearly 100 domestic as well as foreign bottles and drafts, Black Penny offers enough options to keep you coming back again and again -- and with the recent launch of the Rampart streetcar line, it's that much easier to return. The larger corner bar has only been open a little more than a year, but you wouldn't know it upon first visit. Black Penny has a lived-in feel that so many other bars try and fail to achieve. The perfect place to sit back with some friends over a few pints before heading out into the Quarter.
900 Chartres St
Harry's Corner is a staple of not just the Quarter, but New Orleans as a whole. It's a bare bones, no nonsense neighborhood dive bar with cheap drinks and a large local clientele. You know exactly what you're getting into upon first walking into the place, and we mean that in the best possible way. New Orleans, and the French Quarter in particular, offer a culture and lifestyle that is wholly unique to the area, but sometimes even the basics in a foreign town can be a wonderful thing.
Sign up here for our daily New Orleans email and be the first to get all the food/drink/fun in the Big Easy.