NOLA's Bartender of the Year Is Ready to Pour You a Drink (And Tell You a Story)
In a city of star bartenders, how do we choose one to be New Orleans' bartender of the year?
The New Orleans bar scene is full of bartending and mixology celebrities: Jeff "Beachbum" Berry, the industry's preeminent Tiki expert; Paul Gustings, who has worked for decades behind some of the French Quarter's best-known bars; or Abigail Gullo, who moved here from NYC and made her mark with her tremendous cocktail programs at SoBou and Compére Lapin.
There's also pre-Prohibition cocktail master Chris McMillian, who now has his own place, Revel Cafe and Bar; Kimberly Patton-Bragg, the tough redhead with a soft spot for bourbon and tequila, who just opened a new location of Three Muses Uptown on Maple St; the team of Neal Bodenheimer, Kirk Estopinal, and Nick Detrich who created the groundbreaking modern cocktail bar Cure and the "proto-Tiki" delights of Cane & Table; or T. Cole Newton, the wunderkind who built a bar that would pave the way for the casual craft cocktail movement in this city.
There are so many more world-class bartenders that could go on that list. And they've all been recognized time and again by local, national, and international press.
The decision for bartender of the year was made using three criteria: 1) taking a cocktail trend in the city and making it his or her own; 2) someone who has previously not received much press and/or acclaim; and 3) being a general badass with both cocktail and hospitality skills.
This still led to several contenders, but the instant popularity and New Orleans zeitgeist of Turkey and the Wolf -- a sandwich shop-meets-high-quality stoner-food joint -- made the case that the super-casual craft cocktail scene is here to stay. The woman behind the bar at Turkey and the Wolf, who makes seriously excellent cocktails without (God forbid) taking herself seriously at all, the lady that personifies the intersection of fun, food, and hooch, New Orleans' bartender of the year… Lauren Holton.
Nora McGunnigle/Thrillist
Telling stories through sips  
Every cocktail created at Turkey and the Wolf has to have a name with a story behind it.
"I come from a long line of storytellers," Lauren said right off the bat. "All of them are inspired by my mom, actually. She was a writer and a great storyteller. So I start with a story and go from there, [creating] the cocktail around that."
The unusual names, like Ma'am, Don't Be Hysterical, or Fred's in the Well, pretty much guarantee a conversation between bartender and guest. That result, along with paying homage to the wit and wisdom of her now-deceased mother, is the reason that Lauren encourages her staff to have fun and create memorable drinks that lead to memorable interactions.
"I want everyone involved in the cocktail-creation process. And that's what I try to do with all the bartenders -- I have amazing bartenders here, they're incredible. I want everyone to have free reign. Daddy's Day Out, Kate [Mirante] made that one. There's a story behind that one too," she said. "I want it to be funny. I want people to ask about it. I want it to make people happy."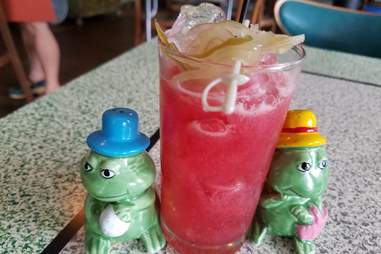 Nora McGunnigle/Thrillist
The rise of casual cocktails
The casual craft cocktail trend has been picking up steam since Cole Newton opened Twelve Mile Limit, a high-level cocktail bar where the vast majority of drinks were $6-7 and cheaper during happy hour. That trend continued in the Freret St corridor, where alcohol permit laws were relaxed to bring more restaurants and customers to the not-yet-revitalized area. Company Burger, Midway Pizza, Ancora, Wayfare, and High Hat Cafe are all super-casual restaurants with great -- and cheap -- cocktails on offer. Seven bucks gets you a rye mint julep at Company Burger, and Ancora has Italian takes on classic cocktails for $9.
It was the High Hat, on that same Uptown stretch, where Lauren first flexed her creative muscle in 2011 under the tutelage of manager Ryan Iriarte.
"We didn't have a huge liquor selection," she said, "so we just learned that we could make our own stuff and make it taste good. Make our own bitters, syrups. And with doing that, you make cocktails affordable."
Learning how to make bitters spoke to Lauren's past self as a chemistry nerd. "I just think it's so much fun. I grew up playing with kid's science kits, so it kind of reminds me of that." She added, laughing, "also, the first time we made our own tonic syrup, I don't know why that blew my mind, but I thought it was amazing."
Ryan attributes Lauren's success to her generosity, eagerness to collaborate, and team-minded attitude. "Lauren always had ideas," he said. "And we were able to communicate and work together really well. It was a great team, like Simon and Garfunkel." He laughs. "No, wait, that's way too serious. It was more like Abbott and Costello."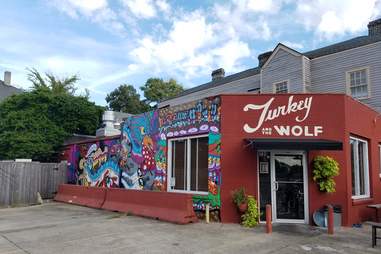 Nora McGunnigle/Thrillist
Starting from scratch
When Lauren left High Hat to take a road trip around the country in preparation for opening Turkey and the Wolf, she didn't take any of the recipes she created -- like the Ruby Hendrick's, a gin, ginger, and grapefruit concoction, or her Three Ladies margarita. Instead, she opted to start from scratch at Turkey and the Wolf.
Ryan said he admires her openness to new ideas and opportunities in building Turkey and the Wolf from the ground up. "There are no rules. They've taken growing up in the '80s to a whole new level, and just do whatever they think sounds good. People are usually too scared to do something like that."
In doing so, Lauren has created one of the most unusual yet approachable cocktail menus in the city. Take the Ma'am, Don't Be Hysterical, for example.
"I was basically on the phone with a credit card processing company and they were not getting me through to the manager. I was very calm, and in the middle of me just asking for the manager again, the guy said 'Ma'am! Ma'am, don't get hysterical.' Which of course led to me getting a little upset. I got the manager after that, so it all worked out. And it pissed me off so much I named a cocktail after it. It's a funny story to tell people, people ask about it all the time."
The drink itself seems standard enough to start with: gin, Campari, house-made blackberry syrup, lime, and… pickled Hatch peppers?
"Normally after I create a cocktail I make all the chefs try it, and ask them, what do you think would taste good in this? And they said pickled Hatch peppers, and it worked out wonderfully," she said.
The genuine desire to create a space that brings people joy is apparent with every aspect of the restaurant and bar. The philosophy is starting to pick up some steam with the casual cocktail influence.
"People don't want to sit in an environment where they're not comfortable," Lauren explained. "They want to have a good drink, they want to try new things, but some environments are so upscale, they're just not comfortable. People want to feel comfortable and in their own element. That's what I enjoy. So I love the movement toward more casual places. It's more accessible to everybody."
Lauren Holton and Nick Martin

| Courtesy of Turkey and the Wolf
Women take the wheel behind the bar
Another trend in the New Orleans cocktail scene that encourages Lauren is the proliferation of more women behind the bar. All of Turkey and the Wolf's bartenders are "badass women" -- Bazil Zerinsky (adding another gig to her already full plate, which includes El Libre and the Catahoula Hotel), Cassandra Montano, and Kate Mirante are each at the helm.
"I'm meeting more and more female bartenders. Before, I just didn't have that much experience working with other female mixologists. So it's been really fun and really exciting to get to know more of these up-and-coming women," Lauren said.
The future is a mystery to Lauren, although she hopes to open an additional, more bar-focused operation at some point. For now, though, she's happy to work and play and create with food and drinks and her co-workers.
Turkey and the Wolf will soon have special cocktail and random food pairings on certain nights, like a flight of chips & dips and a flight of cocktails.
"There are no rules. I like to think of this being like a big kid's area. We have bouncy balls. We order a ton of slap bracelets that we go around and slap on people. I want people to feel like they're a kid again when they come in here," Lauren said.
Sign up here for our daily New Orleans email and be the first to get all the food/drink/fun in the Big Easy.