Ever since our greatest scientists discovered a meal between breakfast and lunch, man has looked to the stars and wondered, "Where can I get the best boozy brunch deals in New Orleans?" Well, friends, you need wonder no more... we've rounded up the very best the city has to offer, all for your daydrinking pleasure.
French Quarter
Hustle on over to this bistro and get your hands on a cocktail gourmand's dream: a bottomless mimosa that comes complete with sparkling wine and local citrus juices, plus shrubs, tinctures, and bitters for $18. Brunch is Saturday and Sunday, 10:30am-2pm. Check out the two-course breakfast prix fixe for $25, or a variety of a la carte items to pair with mimosa heaven.
Warehouse District
This Caribbean-tinged hotspot is the perfect place to chill out over coconut French toast with pecan rum sauce, chicken & smoked mushroom hash, and/or $30 unlimited Pimm's cups. Yeah, it's damn good, y'all. 10:30am-2pm Saturday and Sunday.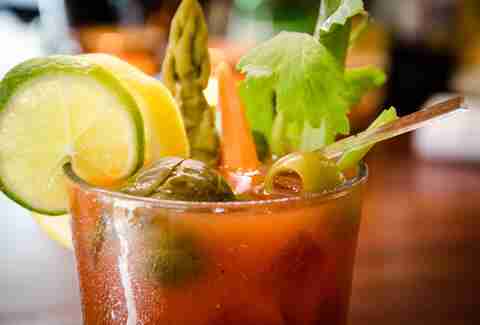 Uptown
Atchafalaya is famous for several reasons, all of which are relevant to the avid bruncher: 1) its famous Bloody Mary bar (which many say inspired the trend in New Orleans) starting at $8; 2) that it throws in live jazz, no extra charge; and 3) that it really does have one of the best brunch menus in the country. Open for brunch Thursday-Monday, though the live music and Bloody Mary bar are only on Saturdays and Sundays.
Uptown
Apolline not only offers bottomless mimosas for Sunday brunch from 10am-2pm for $16, but for the worst hangovers, $16 will also get you a double-shot Bloody Mary with boiled shrimp added to the traditional garnish of pickled vegetables. It's basically a health food.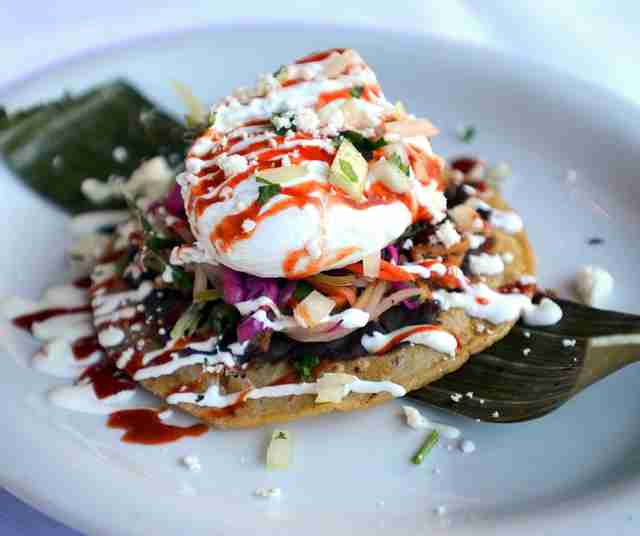 Uptown
This Mexican bistro has a Sunday brunch from 11am-3pm, offering up $15 bottomless house margaritas, mimosas, or Bloody Marys. (On Saturdays from 11am-5pm, you can also procure $15 bottomless margs to go with lunch, and/or think of it as a super-early happy hour.) Pair your endless booze with breakfast tacos, rinse, repeat.
French Quarter
On Saturday and Sunday from 10:30am to 2pm, you can get a brunch entree like Ya Ka Mein, Migas egg scramble, or yucca root & confit pork hash, accompanied by unlimited cocktails, for a total of $35. Here's the sitch: you need to show up before 2pm, but your bottomlessness only(!) lasts for a two-hour window. There are, however, six unlimited cocktails available -- mimosa, paloma, michelada, Bloody Mary, the punch du jour, and a "Basque mimosa," with alcoholic Basque cider replacing the cava. (Yeah, it's still a great deal).
French Quarter 
This offbeat tea- and pastry-centric restaurant has morphed into so much more since it opened, and has recently added brunch on Saturdays and Sundays from 11am-3pm, with $20 bottomless mimosas. There's no food purchase required by the restaurant to enjoy the bottomless mimosa, but with dishes like croque Benedict and steak & grits, you may feel it's necessary all the same.
Mid-City
Specialty cocktails here are already a steal at $6-8 -- plus, you can knock another dollar off while the Saints play (and get a dollar off all canned beer, as well). Brunch is on Saturday and Sunday, from 10am-2pm, with $5 mimosas and Bloody Marys. The menu focuses on "build your own" breakfast burritos and biscuit sandwiches, which can be customized with any combination of eggs, meats, sauces, vegetables, and cheeses.
Mid-City
Every Sunday from 9am-3pm, this neighborhood joint serves $15 bottomless mimosas, sangria, and Bloody Marys, alongside local dishes like grillades & grits, eggs cochon, and Katie's special crawfish beignet. But be warned: get there early or prepare to wait, because the line is unfailingly long and the restaurant bustling with merry brunchers.
French Quarter
One of the "grand dames" of creole cuisine and NOLA dining culture, Broussard's jazz brunch is set in a quintessential French Quarter courtyard, and it's really a great place to enjoy music-accompanied creole and creative dishes, including Napoleon Benedict, raspberry mascarpone pain perdu, steak & eggs Broussard, and New Orleans barbecued shrimp & grits... all while sucking down $12 bottomless mimosas. Show up any Sunday, from 10:30am-2:30pm.
Bywater
Two words: Drag. Brunch. Now every Saturday from 10am-3pm, get brunch with $15 bottomless mimosas -- and entertainment from the Southern Barbitchuates -- while dining on truffled mac & cheese, eggs Hussarde, fried green tomato eggs Benedict, or buttermilk fried chicken & waffles. There's brunch on Sundays too, although sadly without drag queen performances… they do have a build-your-own Bloody Mary bar, though, so there's that.

Sign up here for our daily New Orleans email and be the first to get all the food/drink/fun in the Big Easy.