10 LGBTQ Bars to Check Out in New Orleans, the Most 'Anything Goes' City in America
Every year, tourists swarming the Crescent City for Mardi Gras know to expect a raucous party, over-the-top costumes, and a whooole bunch of beads. What they may not know, is how Mardi Gras historically served as a critical outlet for self-expression -- and political resistance -- for the city's LGBTQ community.
Mardi Gras was the one day out of the year when cross-dressing in public was tolerated by police. During Carnival season, lavish parades and balls thrown by social organizations known as "krewes" provided the perfect excuse for the queer community to get together and dance, at a time when doing so was still very much illegal. Still, tensions with law officials ran high. The first gay krewe, Yuga, was formed in 1958; four years later, police raided the Yuga ball, arresting 96 krewe members for lewd conduct and disturbing the peace.
But that didn't stop the party. New gay krewes (Petronius, Amon-Ra, Armeinius) formed in Yuga's wake, creating glittering spectacles and secret societies that defied harsh anti-gay laws. These Carnival krewes undoubtedly sowed seeds for the LGBTQ rights movement years before Stonewall; above all, they helped establish this town's enduring reputation as a haven for creative expression and open-mindedness.
Every year on Labor Day weekend, New Orleans celebrates all things gay with Southern Decadence, a six-day, rainbow-drenched festival in the French Quarter. But even between festival season, there's no shortage of spots to celebrate the queer culture that makes New Orleans the anything-goes city it is today. While every bar in New Orleans is a welcoming one, a handful of beloved dives and dance clubs specifically cater to LGBTQ patrons of all stripes.
French Quarter
Two-story dance club anchoring the French Quarter's "Fruit Loop"
A major anchor of the LGBTQ bar scene since the 1970s (prior to that, it operated under the name Caverns), Bourbon Pub & Parade remains a top-ranking queer party destination. Four-on-the-floor house remixes of top 40 songs? Check. Wraparound balcony overlooking Bourbon Street? Check. Pretty boys dancing on the bar in their underwear? You better believe that's a check.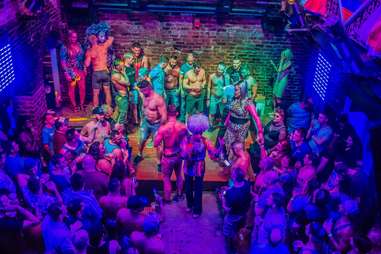 French Quarter
Yet another thumping, two-story dance club with wraparound balcony
This two-story gay dance bar sits directly across Bourbon Street from the Bourbon Pub & Parade and is so similar, both inside and out, that it's easy to confuse the two. Together, they form the glittery, rainbow-soaked epicenter of gay New Orleans. The Oz brings its drag and "boylesque" productions to the next level, thanks to an acrobatic cast of pole and burlesque performers who elicit screams of delight from gay men and straight girls alike.

Bywater
Circa-1884 Italianate mansion with a saltwater pool and drag brunch
In the 1970s, a gay couple launched The Country Club, and it remains a stalwart player in the local LGBTQ scene. Featuring a mural-emblazoned restaurant, indoor and outdoor bars, sauna, hot tub, and a saltwater pool, it's gone from glorified bathhouse to bachelorette party-soaked day club in recent years. Management did away with the clothing-optional policy and no longer brands The Country Club as a gay bar (it's more of a "gay-adjacent" space now), but rainbow flags still beckon from the front porch, its Saturday drag brunches book up months in advance. Happy hour runs from 4pm to 7pm weekdays... or whenever it's raining.
Bourbon Street
Historic gay bar that's open 24/7
Open since 1933, Cafe Lafitte is the oldest continuously operating gay bar in the US (or so it says -- a few other bars make the same claim). Anyway, if it's good enough for Tennessee Williams and Truman Capote, it should be good enough for you. Cafe Lafitte has inhabited its comfortable, two-story spot since 1953. Prior to that, it was housed in Lafitte's Blacksmith Shop, a weathered 18th-century landmark just a few houses down. The balcony-wrapped bar welcomes everyone -- women and heteros won't get any side-eye here.
Bourbon Street
Made-to-order mojitos in a petite, cash-only bar
When Napoleon's Itch opened in 2003 with a no-smoking policy, it was a trendsetter (smoking wouldn't be officially outlawed in New Orleans bars until 2015). As a result, Napoleon's Itch became a destination for queer folks seeking a slightly more health-conscious space -- one with sparkling clean bathrooms and fresh craft cocktails to boot. Each year Napoleon's Itch presents Southern Decadence's annual Bourbon Street Extravaganza, a free three-hour concert that attracts Grammy-winning artists and more than 20,000 revelers.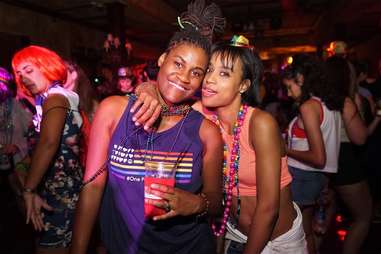 Various locations
Pop-up lesbian bar
Sadly, the slow extinction of gay lady hangouts is by no means unique to the Crescent City (RIP Rubyfruit Jungle, Kims 940, and so many other spots). In response, Grrlspot organizers created this pop-up lesbian bar which attracts a diverse crowd (cis guys must be accompanied by a woman or trans person) to a different spot on the third Saturday of every month. Launched in 2007, Grrlspot is gearing up for its summer social season, which includes a slew of parties for Pride Month and Southern Decadence.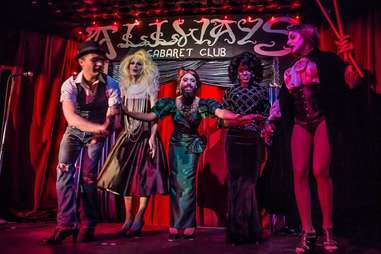 Marigny
Divey queer spot for avant-garde theater and sweaty dance parties
Owner Dennis Monn took over gay cowboy bar Cowpokes in 2009 and turned it into a space that's more inclusive (you don't have to be a cis dude in chaps to feel welcome there), but still very gay. Now an anchor of St. Claude Avenue's entertainment corridor -- which includes the queer-friendly, karaoke-centric, 24-hour Kajun's Pub -- the AllWays is a homey hangout where you're equally likely to stumble upon jockstrap wrestling, a cat circus, burlesque performances, or a bounce night.
Marigny
Dark, seedy leather bar known for its Southern Decadence block parties
Since 1983, this Marigny outpost and its dark, anything-goes second floor have served as a sex-positive sanctuary for the leather and bear communities. Times have changed a bit: a Starbucks opened directly across the street, and the Phoenix was cited by the Louisiana Office of Alcohol and Tobacco Control for 14 counts of lewd acts, according to reporting from Ambush Magazine. Some naysayers fear the leather bar's glory days are in the past, but its new renovation and bigger-than-ever Pride block party (headlined by Big Freedia Queen Diva herself) suggest otherwise.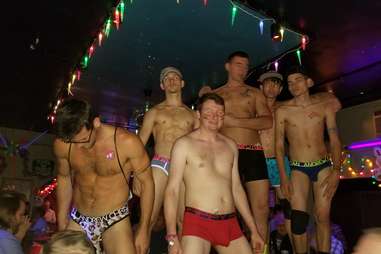 French Quarter
Semi-raunchy 24-hour go-go bar with male dancers
Do you enjoy watching waifish, college-age guys dance in their Fruit of the Looms? Are you among the aforementioned twinks who might enjoy the chance to win $100 during amateur night on "new meat" Fridays? If so, you'll find a warm welcome at this low-key dive, which celebrates its 37th anniversary in June (note that Corner Pocket requires that female customers come with a male escort).
French Quarter
Intimate, dog-friendly hangout open since 1964
You'll recognize this laid-back neighborhood gay bar by its water-filled dog bowls and the absence of a cover charge -- even on Friday, Saturday, and Sunday nights, which bring live music and drag shows. Just be sure to tip the hard-working ladies -- which should be easy to do, given that drinks are cheap and strong, and happy hour runs from 8am to 8pm daily. Don't miss the string bean- and okra-packed bloody Mary, the perfect drink to have in hand when Southern Decadence's annual parade kicks off from Golden Lantern on Labor Day weekend.
Sign up here for our daily New Orleans email and be the first to get all the food/drink/fun in the Big Easy.
Missy Wilkinson walked in on her cousin giving a blowjob at one of these bars, but she declines to state which bar or which cousin. Follow her on Twitter @missy_wilkinson.