The Changing Landscape of NOLA Breweries
Over the past five years, the very nature of beer drinking has changed in New Orleans. We've gone from having one brewery that represented the entire state -- Abita -- to having a brewery zone with three breweries and one world-class beer bar within a two-mile radius in Uptown. Our brewers are eager to provide for the ever-expanding thirst for beer with many different styles. The beer brewed here keeps the area's unique and bold food culture in mind; brewers want to complement NOLA's cuisine while holding their own against big flavors.
Back in 2010, most local beers were "starter crafts" like blonde, amber, and wheat ales. Heavier malt bases were also seen as good for pairing with food, but hops weren't fit for the local palate. Of course, at that point, there were only six breweries in the entire state of Louisiana; now there are 26.
Twenty-six breweries may not sound like a lot to someone from the brewery-rich West Coast, Colorado, Chicago, or the Northeast. The craft beer boom that's taken over the country (and beyond) crept into the Gulf South slower than in other regions -- something that seems completely at odds for the New Orleans and Louisiana attitude of good times and general booziness. Once known as "The Brewing Capital of the South" in pre-Prohibition times, NOLA's light and easy local brews were long reserved for crawfish boils and tailgating.
Today, even the New Orleans heat can't keep beer lovers away from beer gardens and tap rooms. These brewery spaces tend to be sparse in decor but large in communal appreciation, and reflective of the city's growing beer scene.
Shaking up the system
In order to change the baffling lack of breweries in the state, a shakeup to the system was necessary -- and, fortunately, a confluence of factors created the perfect brew. A clarification of the state's Alcohol and Tobacco Commission (ATC) regulations and a changing population brought more people to the area, then created a larger market for craft and local beer. Chefs and restaurants, too, saw the potential, as well as the fact that canned beer is a way of life here (the only restriction on open carry in New Orleans is against using glass containers) and the craft can movement gave people more choices.
In the beginning, most of the brewers were Louisiana and New Orleans natives who wanted to bring their love of beer to their community. Kirk Coco founded NOLA Brewing in 2008, and it was the first brewery in the city to open after Katrina. He was back home helping rebuild when he realized that no breweries existed in the city, and decided to change that.
Similarly, Cajun brothers Karlos, Dorsey, and Byron Knott grew up in the bayou and shared a love of food and local culture that drove them to start brewing in 2009. They used the name of the waterway that passed by their family home, the Bayou Teche.
In a few cases -- such as Shreveport's Great Raft Brewing and New Orleans' Wayward Owl Brewing -- the founders and brewers left their Louisiana nests, immersed themselves in far-flung beer cultures, then returned to bring that sustained, first-hand knowledge back to their hometown.
If you brew it, they will come
Kirk Coco's NOLA Brewing began by brewing a blonde and a brown ale for distribution in 2009, but he wasn't sure who would buy it. It was different than any other beer in the market at that time and the first beer of its kind in New Orleans. Polly Watts, the owner of dive bar-turned-craft beer haven Avenue Pub, said she couldn't believe people would be willing to pay $5 for a pint of beer. In the dive bar days, that was way too expensive.
But, because it was local and she wanted to support the brewery, Watts bought two kegs of NOLA's beer. They were emptied within two hours on a Wednesday night.
"So I think it's a fluke, just because nobody else in town has it on tap. So I order two more the next day. Gone in another two hours," she said.
Now, the Avenue Pub is one of the best beer bars in the country, serving a wide variety of hard-to-find beers from the US, Belgium, Canada, the UK, France, Spain, and Italy. It's open 24 hours a day, seven days a week, and has about a dozen different customer bases that pass through its always-open doors.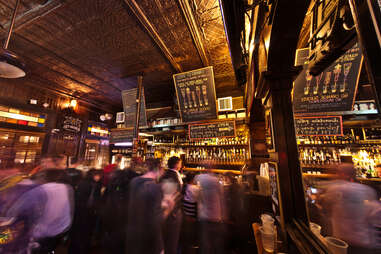 Coco said NOLA Brewing was fortunate to have Watts as a champion during those early days.
"The other bars, they were good, but when Polly came, they were better," he said. "Because she brought her bar to a level that nobody else was performing at. And all the other bars in the city went, oh my god, we need to be doing this."
A new local mindset
In 2010 Louisiana beer distributors were weirded out by what seemed like a craft beer hoopla, and stressed by a new system. Distributing craft brew would require a different sales strategy than Budweiser or MillerCoors.
Little by little, things started to shift, until distributors and retailers felt there was less risk to carry these strange new beers. This was due in large part, to new local breweries which began opening in earnest in 2013. At the same time, the ATC clarified laws around selling beer on-site -- ironically, breweries had technically been allowed to sell beer on-and off-site for years but no one really knew the legalities until the craft beer renaissance. Until then, there were so few breweries that most people thought selling beer in taprooms was illegal.
New Orleans' brewery boom
Following this boom, NOLA Brewing immediately began expansion to create a new taproom. In the worst heat and humidity of summer, there's nothing lovelier than the beautiful central air conditioning of NOLA's taproom, which also boasts a large selection of beers, BBQ, many televisions, a game room, locally-created murals, two floors and bars, and an outdoor patio.
In 2014, a new, more casual kind of brewery experience opened in New Orleans. The Courtyard Brewery (one of the three breweries in the Uptown beer zone) brews small batches of beer to serve only on-site, alongside a variety of guest taps. Brewer Scott Wood hails from San Diego and sought to bring the hoppy styles found in California to the Gulf. He also wanted to create a relaxed atmosphere in the bare-bones taproom, where people could feel comfortable hanging out, conversing, and, of course, drinking great beer. Wood said he remembers a fire inspector being flabbergasted that people would be interested in such an environment.
Incidentally, before the current brewery resurgence, New Orleans' German history and heritage was preserved through beer. The Crescent City Brewhouse opened in 1991 by a German native named Wolfram Kohler; it's in the French Quarter, gets lots of visitors, and serves as a full-service restaurant and bar in addition to providing the city with mostly German-style beers. Gordon Biersch opened in Harrah's casino in the Warehouse District in 2004, which, although a chain, has a brewmaster and all beer served is made on the premises.
In 2015, Second Line Brewing became the second production brewery (after NOLA) in the city and in early 2016, Urban South Brewing joined the party. While Urban South is squarely in the middle of the uptown brewery zone, Second Line is across town in Mid City.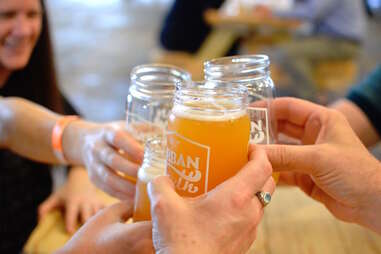 Both appear to have been influenced by Courtyard's bare-bones approach to the beer drinking experience, eschewing fancy digs for utilitarian furniture like picnic benches or folding chairs. The casual vibe is dog- and family-friendly, with only on-site offerings like taproom-only brews and food trucks. You can even chat with the owners and brewers while enjoying a relaxing beverage freshly made about 10ft away from you.
Meet who's making your brews
The background of the brewers of the four breweries and two brewpubs in the city is intriguingly diverse. Peter Caddoo at NOLA Brewing has a culinary and restaurant background and also worked at the city's last large regional brewery, Dixie (which closed in 2005). Crescent City Brewhouse's Wolfram Kohler is a certified German brewmaster, who worked in breweries in Germany and Belize before coming to New Orleans more than 25 years ago. Scott Wood at Courtyard homebrewed for years, while Urban South's Wes Osier worked at Coors, Sweetwater, Terrapin, and received certification from the Siebel Institute's Master Brewer program in Germany. Sonny Day at Gordon Biersch is a former brewery owner; and Gar Hatcher at Second Line has brewed throughout the regional area at Bayou Teche and Lazy Magnolia.
The next wave of breweries are diverse and numerous. Lafayette native Justin Boswell -- who is in the process of opening Wayward Owl Brewing in a historic building in the up-and-coming Uptown area -- spent many years in the Seattle area, and worked at Black Raven Brewing in Redmond for much of that time. He and his wife decided to come home to contribute to the growing New Orleans beer scene.
Regarding his Pacific Northwest craft beer pedigree, Boswell said, "Forget about where I came from, that's what I've been telling people lately, I learned a lot, and I gained a lot of experience that I'm very proud of, but I say: Forget everything you know, it's time to do something new. This is Louisiana beer, this is not Washington beer."
New Orleans area native Robert Bostick will open Brieux Carre Brewing Company, just outside the French Quarter, next year. Bostick grew into homebrewing and wanted to flex his entrepreneurial muscles building a business while doing what he loves. His seven-barrel brewhouse and taproom will be the first brewery in the Downtown area in more than 10 years and will be right in the middle of the action of the famed music clubs on Frenchmen St.
Parleaux Beer Lab will be the first brewery in the Bywater neighborhood when it opens next year. Owners Eric and Leah Jensen moved to New Orleans in 2001 and envisioned a family-friendly neighborhood gathering space like ones they loved back home (in Grand Rapids, MI and Denver, CO respectively). Eric plans to brew in small batches and experiment with his beer, and the tap room has a large private outdoor space with dozens of citrus trees.
In its own way, the New Orleans brewery scene is becoming as eccentric and diverse as the people who live here. Beer as a culinary component is becoming a regular occurrence -- the legendary and wine/cocktail-focused Commander's Palace even began serving locally brewed beer and other microbrews this past year. Likewise, Galatoire's and Arnaud's have both hosted beer dinners in their annex locations. Evidence of everyday enjoyment is everywhere -- in the corner store where before you could only get 40s, grocery store selections, as many local and national craft cans as domestic cans during Mardi Gras parades.
It's Louisiana beer. It's a part of the cultural fabric here now, and it happened organically on its own terms. We're not Portland or San Diego or Vermont; we do things at our own speed, in our own way. But now that it's rooted deep, New Orleans and Louisiana beer culture will continue to thrive for years to come.
Sign up here for our daily New Orleans email and be the first to get all the food/drink/fun in the Big Easy.
Nora McGunnigle has written about the beer scene in New Orleans over the past five years too many times to count but there's always something new to explore.