The Best New Orleans Coffee Shops to Use as an Office for the Day
It's time for a new Zoom background.
We're all aware that New Orleans is one of the best cities around for fine food and drink, but did you know that statement also applies to the city's coffee scene? From historic roasteries and homegrown chains to scrappy independents and modern specialty shops, there's a wealth of options when you're looking for a caffeine fix. Several coffee spots are beloved for their quiet simplicity (some are even steadfastly Wi-Fi-free), while others are prime spots for getting some work done.
The best coffee shops in New Orleans for working remotely are comfortable, mostly quiet, offer reliable Wi-Fi, and of course strong coffee. Whether you go for a traditional cup of chicory coffee, a refined espresso brew, or a flavorful iced concoction, you'll find a spot to settle in for the day at one of these coffee shops—just remember to purchase refills so you don't wear out your welcome.
Backatown Coffee Parlour
Downtown
Boasting beans from Black-owned Mississippi coffee roaster Bean Fruit, this stylish coffee shop in the historic former Storyville area is part of the revitalization of Basin Street. You'll find plenty of seating indoors and out, with a chill, jazzy vibe and strong Wi-Fi. The premium coffee and espresso drinks will keep you buzzed, and fresh-baked pastries and a menu of light fare—from bagels to quiche—will keep you full and focused.
The Bean Gallery
Mid-City
With a welcoming interior and an outdoor patio under the oaks, The Bean Gallery is a Mid-City favorite for get-togethers with friends or business meetings. Plenty of patrons are working diligently at any time while others chat away. The coffee is top notch, and seasonal flavored drinks—like a coconut latte and lavender white chocolate latte—shake things up. There are also specialty teas, filling paninis and sandwiches, pastries, and delicious cookies. Night owls appreciate the shop's late hours—it's open until midnight on most nights.
Cherry Espresso Bar
Uptown
From popular pop-up to full-on roastery, Cherry Espresso Bar is a recent success story. The Laurel Street shop is an Uptown favorite, attracting patrons from the neighborhood as well as local students. The industrial-chic shop is bright and airy, with plenty of seating for focused productivity. Perfectly prepared espresso drinks are the way to go, but you can't go wrong with a simple cup of hot coffee, or even seasonal drinks like a matcha lemonade or lavender latte. Pastries, salads, and other light bites are available.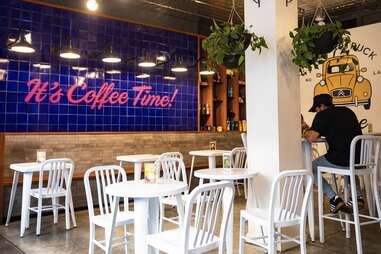 French Truck
Various locations
French Truck is a rapidly growing local chain, recognizable due to its bright yellow and blue shops. Locally roasted beans are prepped for a slew of coffee beverages at multiple locations around the city and beyond. The location on Dryades Street is particularly welcoming for remote workers, with a spacious interior and shaded outdoor seating. The menu at this location (as well as the Poydras location for CBDers) features breakfast served all day plus salads and sandwiches.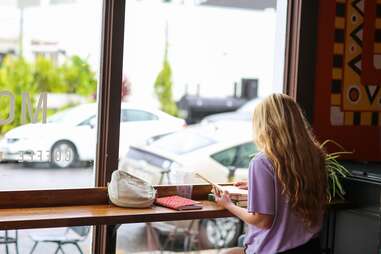 Mojo Coffee House
Various locations
Mojo roasts their own beans locally, serving their brew at two locations. Both spots—Uptown on Freret and in the Lower Garden District on Magazine—have plenty of indoor and outdoor seating conducive to productivity. Being near Tulane and Loyola, the Freret location tends to have more college students. For sips, choose from standard hot coffee and espresso drinks, house-made cold brew, iced coffees and teas, lemonade, and creative mocktails. Pastries and bites come from a variety of local purveyors.
Orange Couch
Marigny
Stylish and modern—yet totally chill—Orange Couch is a favorite of remote workers in the neighborhood and beyond, meaning it can get busy with patrons and their laptops. Just pick a spot on the couch and grab a table when one opens up. There are plenty of plugs for powering through a long sit, and the bright, airy space is conducive to getting work done (or just relaxing). The menu includes espresso and coffee drinks, teas, and standard baked goods plus more substantial items like breakfast tacos, empanadas, and veggie wraps.
PJ's Coffee
Uptown
This home-grown chain may not be as unique as when there were just a few locations, but it's still a local joint that offers a quality, consistent coffee experience. The Maple Street location is particularly work-friendly—the inside is quiet and spacious with lots of seating, and the covered outdoor patio offers plenty of space to work as well. The menu includes all the coffee concoctions, from frozen granitas and seasonal flavored options alongside a decent number of pastries and baked goods.
Rue de la Course
Uptown
One of the city's first mini-chains, beloved Rue is now down to just one location but it's still a hot spot for great coffee in an ideal work setting. The stately, historic former bank building on Carrollton Avenue and Oak Street has two levels; the quieter second level looks down on the activity below. Classical music keeps the vibe chill, so you can get work done while sipping a great cup of coffee. Plus, the shop has plenty of pastries and bagel sandwiches if you get hungry.
The Station
Mid-City
The Station's brightly colored roof is a beacon for caffeine-seekers in Mid-City. Grab a cup of house coffee—or wait a little longer for a Chemex, V60, or a French Press brew—and choose from a menu of housemade sweet and savory baked goods that ranges from scones and coffee cake to quiche and Cajun-smoked sausage rolls. There are plenty of tables (with outlets) for working inside and out. For a sweet afternoon kick, try the Cafe Sua Da, an authentic iced Vietnamese coffee.
Who Dat Coffee Cafe
Marigny
Who Dat Coffee Cafe is a neighborhood gathering spot popular for breakfast benedicts and specialty sandwiches throughout the day. You can set up shop inside or at a table on the sidewalk—the Wi-Fi is strong throughout—and grab a freshly made coffee, cold brew, chai, or espresso drink. Who Dat can get busy with neighborhood regulars, but for those who need a little distraction to remain productive, the buzz can be beneficial. If you feel like staying once you've wrapped up your work, go ahead and indulge in a cocktail, including a "Big Gurl" bloody mary or a specialty coffee cocktail.
Z'otz
Uptown
This small, independent Oak Street coffeehouse is probably the funkiest in town. The decor is eclectic, with a mishmash of artwork and collectibles. It's a great spot for if you're looking for a more colorful work environment. The staff is personable and ready to serve their smooth, locally roasted, certified organic and fair trade coffee. Fresh-brewed iced teas and specialty coffee drinks are equally tasty, and the small menu of pastries and baked goods (from local bakeries) will keep your hunger at bay.