Of all the cultural contributions bestowed upon the world by the city of New Orleans, perhaps none is as significant as the cocktail (though we're pretty proud of jazz, po-boys, and the Higgins landing craft, too). With that in mind, we've compiled a list of the greatest & most iconic mixeds the Big Easy has produced, as well as the best places to score them...
Recommended Video
Really Dough's Mark & Scott Take a Bunch of Shots, Do Blind Pizza Taste Test, Argue a Lot
1) The Sazerac
It's the first cocktail in American history -- a delicate balance of whiskey, bitters, and sugar served straight up in a chilled, absinthe-laced rocks glass with a lemon twist -- and it's still one of the best. There are really only two versions of this concoction: a Sazerac, and a bad Sazerac. Any self-respecting New Orleans bartender should be able to make one properly, but if you want the original, you obviously need to head to the Sazerac Bar in the Roosevelt Hotel.
2) The Hurricane
This was invented by Pat O'Brien at his namesake bar in the 1940's as a way to dispose of all the rum that liquor distributors forced him to buy to get at the more popular scotch and bourbon. Pat's is the original, albeit on the sweet side. For a fresh version of the classic, made with real passion fruit juice, make your way Felipe's Taqueria in the Quarter (also: tacos!).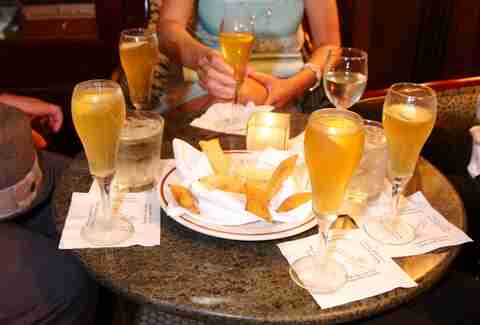 3) Arnaud's French 75
It's difficult to go wrong ordering a drink that bears the name of the bar that serves it; Arnaud's, home of the French 75 Bar, has been fixing up their mix of cognac, citrus, and champagne for the better part of a century, currently under the direction of master mixologist Chris Hannah.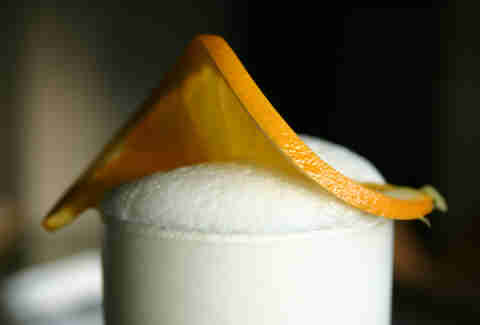 4) The Ramos Gin Fizz
A properly executed Ramos Gin Fizz means at least a solid 10-12min of vigorous shaking & whipping to get the mixture of gin, citrus, orange flower water, egg whites, sugar, and cream into a perfect, foamy, intoxicating tongue-joyride. Invented by Henry Ramos in 1888 and favored by none other than Huey P. Long, it was popularized at the Roosevelt Hotel, where you can still find a great one today. One of the better modern incarnations comes from famed mixologist Paul Gusting, formerly at Tujagues, and soon enough behind the bar at the renovated Broussard's restaurant when they re-open.
5) Pimm's Cup
It may be served in a glass, but the Pimms Cup's famed deliciousness and refreshing nature is no lie. The most well known version is at the Napoleon House, which is always a treat, but you can find an awesome variation (served in a wine goblet and filled with seasonal berries) at Kingfish.
6) Frozen Daiquiri
Being in NOLA means you're inevitably going to have a frozen daiquiri at some point. Not all fro-daiqs are created equal, however; the slushie joints along Bourbon St. and its environs tend to load theirs up with sugar, which we all know leads to a soul-crushing hangover, so for fresh fruit juice versions, hit up St. Lawrence, or Booty's Street Food in the Bywater.
7) Milk Punch
Frequently beating out the Bloody as the Sunday brunch cocktail of choice, the brandy/bourbon milk punch currently comes in its most perfect form at the Bourbon House.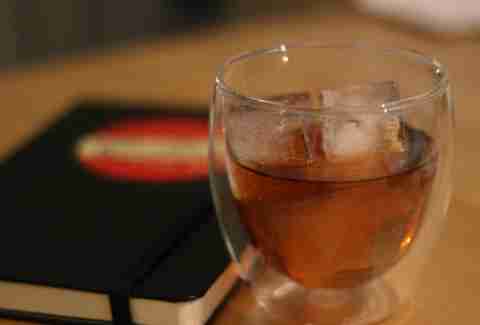 8) Vieux Carré
The term "Vieux Carré" isn't just French for "Old Square"; it's also the name of one New Orleans' best classic cocktails, a potent rye/benedictine/bitters/vermouth-combo that's kissing cousins with the Old Fashioned & the Manhattan. You'll find it in most decent French Quarter bars and restos (most notably the Carousel Bar at the Hotel Monteleone), but don't miss the barrel-aged version (made with 125-proof white rye!) at SoBou, courtesy of bar chef Abigail Gullo.