The History of Cocktails in New Orleans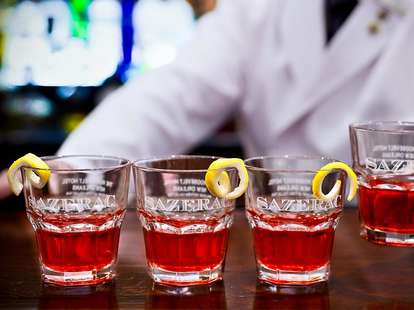 Sazerac Bar at The Roosevelt

| The Roosevelt New Orleans, a Waldorf Astoria Hotel
Sazerac Bar at The Roosevelt

| The Roosevelt New Orleans, a Waldorf Astoria Hotel
"The cocktail, though not invented in New Orleans as is often claimed, certainly gained fame here," wrote local historian and academic badass Richard Campanella in his book of New Orleans history, Bienville's Dilemma.
New Orleans has been described for decades as "the cradle of civilized drinking" and is home to a number of historically significant cocktail bars. The Napoleon House, Lafitte's Blacksmith Shop, the Sazerac Bar, the Old Absinthe House, and many more have achieved cultural significance through time and accomplishment.
Elizabeth Pearce, cocktail writer, tour guide, and bon vivant, thinks the reason cocktail culture is so strong here is because it never went away. "Even in the nadir of our national cocktail culture, hotel bars like the Carousel Bar, the Sazerac Bar, The Columns, and restaurants like Antoine's and Galatoire's were able to keep the traditions alive. Because unlike other places where traditions or old things are looked at dismissively, that didn't happen here."
Cocktails are routinely celebrated in New Orleans -- beyond the general imbibing that happens at our finest establishments. Tales of the Cocktail was created here and draws crowds in the tens of thousands from all over the world. The Museum of the American Cocktail has been housed here since its inception in 2008.
The city has also invented cocktails, cocktail ingredients, and recreated cocktails from other places and made them its own.
The Sazerac and its ingredients
The official cocktail of New Orleans, the Sazerac boasts two locally created ingredients in its recipe -- Peychaud's bitters and Herbsaint. Peychaud's bitters were invented by Creole pharmacist Antoine Amédée Peychaud around 1830 as a medicinal tonic. He's also credited with the invention of the Sazerac cocktail, originally made with brandy.
Herbsaint was originally developed as an anise-flavored absinthe substitute in 1934 by J. Marion Legendre and Reginald Parker, who learned to make illegal-in-America absinthe while in France during WWI. Herbsaint contains no wormwood (which is the substance banned here until 2007) and it's used as the classic glass rinse of the Sazerac cocktail.
The Sazerac is built in an absinthe- or Herbsaint- rinsed glass with bourbon or rye whiskey, a sugar cube, a few dashes of Peychaud's bitters, and a twist of lemon peel. Where to find one? They are literally all over the city in bars and restaurants -- to narrow it down, consult the list of 30+ places with the New Orleans Culinary and Culture Preservation Society "Seal of the Sazerac."
The French Quarter cocktail (Vieux Carré)
Where the Sazerac forces one to choose between brandy and whiskey (heaven forbid), the Vieux Carré incorporates both and is no joke of a cocktail. The French Quarter Cocktail combines brandy, rye, sweet vermouth, Bénédictine, Angostura bitters and local fave, Peychaud's bitters. It was invented by bartender Walter Bergeron in 1938 at the French Quarter's Carousel Bar at the Hotel Monteleone.
The Carousel Bar does actually rotate, so, be careful how many Vieux Carré cocktails you imbibe. It's a great place to get other classic cocktails popular in New Orleans like the brandy milk punch and the Ramos gin fizz, both of which were also invented here.
Storm's brewin'
In the 1940s, Pat O'Brien, the eponymous proprietor of Pat O'Brien's Bar, created the rum-based Hurricane to get rid of excess rum from liquor distributors (O'Brien really wanted him to get his hands on some whiskey). The popularity of the beverage reflected the popularity of his bar, with dueling pianos and, in the courtyard, a flaming fountain.
Lafitte's Blacksmith Shop is another historic bar that makes great Hurricanes -- made with both light and dark rum, lime, orange, and passionfruit juices, and grenadine. Lafitte's is old, even by New Orleans standards, built between 1722-1732 and untouched by two large fires which burned the French Quarter down in the 1800s. Allegedly, it was used as a hideout and base of operations in the late 1700s for smuggler bros/local heroes Jean and Pierre Lafitte.
To keep the 19th-century vibe alive, the bar is lit by candles -- the only electric lights are behind the bar and in the bathrooms. It didn't become a bar until the mid 1940s, when Roger "Tom" Caplinger turned it into Cafe Lafitte, and it became the hotspot for bohemians and the local and visiting gay community. Caplinger didn't own the building, so when it was sold in 1953, he moved his business down the block and opened Cafe Lafitte in Exile. Open 24/7, Exile is historic in its own right as the oldest gay bar in New Orleans and, it is believed, the country.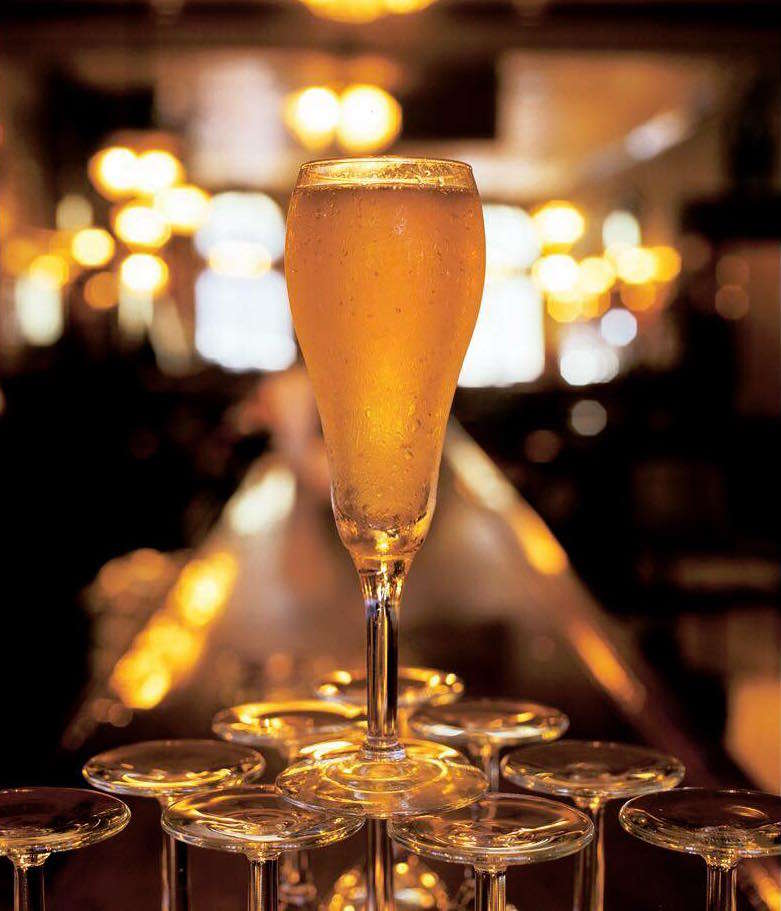 Adopting as our own
Another of New Orleans' "grand dames" of Creole cuisine, Arnaud's Restaurant, houses the historic French 75 bar and lounge -- well known for its white-tuxedoed bartenders, mixologist megastar Chris Hannah, and classic cocktails such as the French 75. Although the Champagne and gin (or cognac) cocktail was conceived in the Savoy Hotel in London, it's Hannah and his staff who have arguably perfected the drink.
The narrow space with mosaic tile flooring, love seats, and cushioned chairs is dominated by the wooden bar, made for another establishment in the late 19th century and salvaged from an antique store. It was originally used as a gentlemen-only area until ownership of Arnaud's passed from the Cazenave family to the Casbarian family in 1978. At that time, it was made into the restaurant's (co-ed) second bar, originally called the Grill Bar and then rechristened in 2003 as the French 75.
Another British beverage got a New Orleans-style makeover in the late 1940s when the historic Napoleon House bar and restaurant began serving the refreshing and lower-proof Pimm's Cup. A summer beverage in England, it suits the New Orleans climate, where it feels like summer most of the year.
The historic building predates the popularity of the beverage by more than a hundred years. Originally the home of Nicholas Girod (New Orleans' mayor from 1812-1815), it's called the Napoleon House because Girod kept it ready for Napoleon Bonaparte in case he needed to bail out of France. Napoleon never made it to New Orleans, his namesake remains a staple for a Pimms Cup to go and muffuletta sandwiches, for which the restaurant is also well known.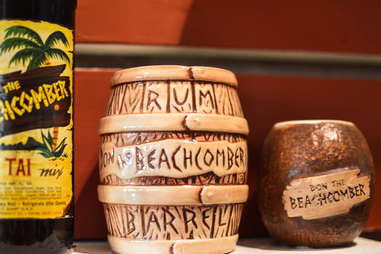 The influence of the subtropics
The tiki drink movement that began in the '30s and '40s has its roots in New Orleans courtesy of locally born Ernest Raymond Beaumont Gantt. He became Don the Beachcomber, opening his first tiki bar in California the day after Prohibition was repealed. History has come around again with three tiki cocktail bars of note in the French Quarter.
"In a sense, we're bringing it home," noted tiki craftsman and historian Jeff "Beachbum" Berry said of Don the Beachcomber's origins. "And in a more taste sense, we live in the subtropics. It's hot here, and these drinks are refreshing, cool drinks. And that's the kind of drinking we like to do down here."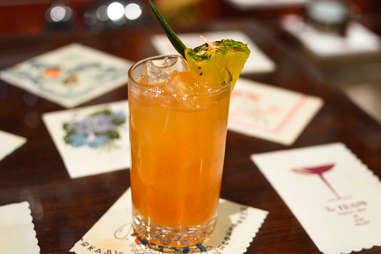 Berry opened his New Orleans tiki palace Latitude 29 in 2014. However, two bars preceded his classic tiki spot, each with its own twist. Nick Detrich opened Cane and Table in 2012 with an emphasis on "proto-tiki" cocktails, which he defines as the tropical cocktail culture before the heyday of Don the Beachcomber in 1934.
"We're going for an Ernest Hemingway, early-20th-century Cuba, coastal colonial flavor, when rum really had its birth," Detrich says.
Tiki Tolteca opened in 2013 above a French Quarter taqueria, and the kitsch decor originally made longtime bartender and manager Nate Dalton (now at the Catahoula Hotel) think of someone's dark basement tiki home bar. After some renovations, however, it's now the homebase of Latin American-tinged takes on the tiki.
"A lot of the drinks we have on the menu are Latin spirit based," Dalton said. "A lot of rum, also, obviously. For example, the Escorpion Punch is like a Scorpion Punch, but Latinized with tequila and mezcal."
Both Cane and Table and Tiki Tolteca did what New Orleans bars and bartenders have done for decades -- take the classic invented elsewhere and make it their own.
Modern torchbearers
Modern cocktail culture came to the locals when New Orleans natives and cocktail bartenders Neal Bodenheimer and Kirk Estopinal opened Cure on Freret St Uptown. Not only did the pair bring old-fashioned sexy back to the cocktail bar, but their swanky digs in a renovated fire station led the way for the neighborhood's resurgence. Almost all the restaurants on that stretch of Freret between Napoleon and Jefferson have killer cocktail menus, the High Hat, Ancora, Company Burger, and Wayfare in particular.
Six years ago, T. Cole Newton purchased an old corner bar in Mid-City because he wanted to offer well-made cocktails at reasonable prices -- the hand crafted drinks at his Twelve Mile Limit are $6-8 whereas at some other fancier bars and restaurants they go for $10-12. The drinks that have caught on from the beginning are Newton's creations: The Baudin with bourbon, honey, lemon, and Tabasco; and Great Idea, made with vodka, Jägermeister, bitters, lemon, and a local ginger beer.
Downtown, Bar Tonique in the French Quarter and Victory in the CBD have poured classic and creative cocktails since 2008 and 2011, respectively. The vibe at Bar Tonique is casual, with a lot of visitors (and locals) stopping by for cocktails to go. Its cocktail list is huge and divides everything up into its technical category (i.e., "possets," "slings," or "true cocktails") along with the year of creation of every classic cocktail, from 1800 to 1980. Victory is a swanky but low key after-work crowd type of cocktail place with a focus on owner Daniel Victory's libation creations.
In New Orleans, as with chefs, bartenders are rockstars. Everyone knows the skills of Kimberly Patton-Bragg at the Three Muses, followed Lu Brow at Cafe Adelaide before she moved to Brennan's, or that Abigail Gullo created the bar program at SoBou before heading over to help create the drinks at Compère Lapin. People can barely keep up with Cole Newton's bartending shenanigans, and the cocktail glitterati waited with baited breath to see where Steve Yamada would end up after helping to open Beachbum Berry's Latitude 29. (Answer: Seaworthy, an oyster/cocktail bar next to the new Ace hotel.)
They're part of the city's cocktail history as well. Paul Gustings worked at the Napoleon House for 20 years and Tujague's for 15 before moving to the Empire Bar at Broussard's restaurant.
Chris McMillian, co-founder of the New Orleans-located Museum of the American Cocktail, has been sought out by cocktail lovers for years who followed him from the now-gone Library Lounge in the Ritz Carlton, to the Bar UnCommon to Kingfish, to his own bar Revel, which opened in early 2016.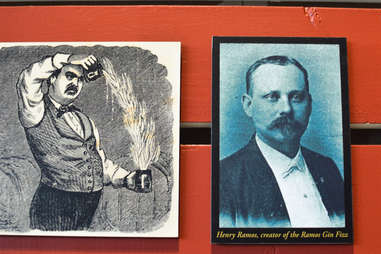 Chris Hannah has been head bartender at French 75 for over a decade and is a well known evangelist of the New Orleans-invented Ramos gin fizz (which features gin, egg white, orange flower water, and cream). When you sit at his bar and meet him, you know you'll have a terrific experience -- which is what it's all about, at any of cocktail haven and with any of the people who serve 'em up (or on the rocks).
Here in the cradle of civilized drinking, a cocktail tells a story of who's making it and who's drinking it. Cocktails in New Orleans are built on a solid base of tradition, then shaken with the people we meet and the places we go to create stronger history every day.
Sign up here for our daily New Orleans email and be the first to get all the food/drink/fun in the Big Easy.
Nora McGunnigle's favorite cocktail is a Manhattan. Also the Twelve Mile Limit. And the Negroni. And a Pimms Cup. And... OK, all the cocktails. See what she's drinking on Twitter: @noradeirdre.