The dive bar scene in New Orleans is the stuff of legends. There are dozens of dimly lit bars off the beaten path with cheap drinks and exceptionally wobbly locals that make it seem that you've stepped into a Tom Waits song. Last year's list stirred up some readers' feelings in a very passionate way, so it seemed only right to relax my previous dive bar standards and permit dives with websites, thereby including two of the most well-known dive bars in a city where "well-known" and "dive bars" together is not (necessarily) an oxymoron.
Recommended Video
This Food Truck Specializes in Navajo Tacos
French Quarter
The granddaddy dive of them all -- this French Quarter bar is insanely popular but still feels like a dive. It's like a mystical, magical paradox that makes the Chart Room so special... Along with surly (but with hearts of gold) bartenders, cheap drinks, and shots, shots, shots.
Uptown
Everyday is Christmas at Snake & Jake's, if your Christmases consist of drinking cheap bourbon until 5am. Barely more than a shack, the low ceilings and sketchy construction are mitigated by the fact that it's super dark inside, lit only by Christmas lights (what you can't see can't hurt you right?). Enjoy some $2 Schlitz beer with your shots, and for the love of all that is holy, do NOT sit on the couch.
Irish Channel
There is no sign, and there will be no bull tolerated, from either side of the bar. Once you get buzzed in, you'll enjoy cheap drinks, a great jukebox, and awesome people.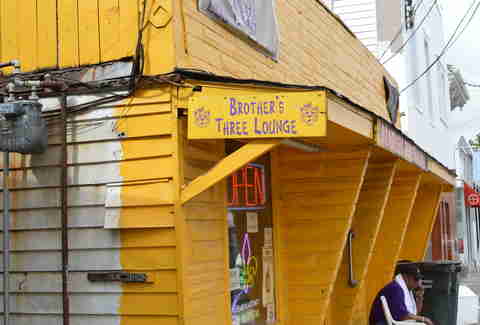 Uptown
Twenty-four-hour bars are scattered throughout New Orleans (and this list), and they are havens for people who don't work in the 9-5 world but still need to get their drink on and socialize. Brothers III on Magazine St just past Napoleon is a bit different from the art galleries and pho places slowly encroaching upon it. Finding a dive bar this embedded in Uptown is a blessing. The low ceilings envelop you when you walk in, and are not for the claustrophobic. It's got ancient video games, poker machines, and pool tables to occupy the mind while you're drinking cheap, strong whiskey.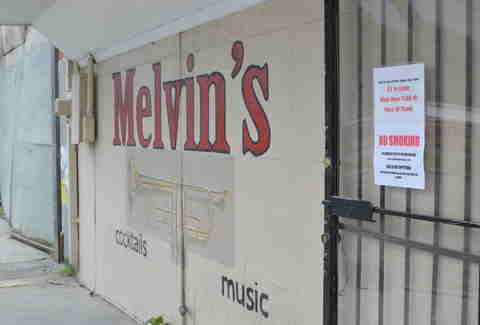 Marigny
Melvin's is perfect for when you need to chill out from the scenes happening at the Hi-Ho, Kajun's, Siberia, or the Allways Lounge. Or whatever else those crazy Marigny kids are up to. Just duck in there and hang out. It's friendly, it's mellow, and it's a favorite of several local musicians. Also, Gene's Po-Boys is right next door, so the elegant pairing of a hot sausage po-boy and cold, cheap beer is easily attainable.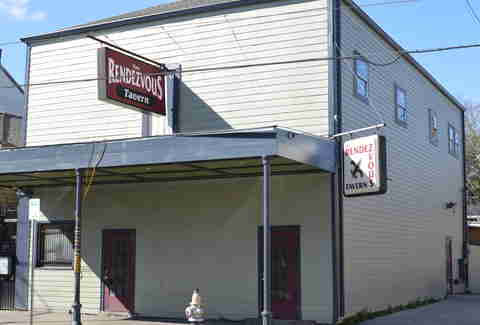 Irish Channel/Garden District
This is a great place to get your dive on while watching the game or if you're itching to play a game of pool. This bare bones bar is slightly out of place on the Washington to Louisiana stretch of Magazine St, but if you're not looking for it, your eyes just slide past it. In addition to its dark, divey wonders, it's also a great place to get a drink to go while shopping or to people watch others shopping.
Touro
Enjoy the dim lighting and stiff drinks of this neighborhood hole in the wall in the uptown neighborhood of Touro. It's a perfect respite from Mardi Gras parade crowds, and has a well-used and well-loved pool table.
French Quarter
A 24-hour joint in the Decatur St Dive Zone along with The Abbey, Aunt Tiki doesn't have any tiki drinks, much to the chagrin of the new tiki fanatics that stumble in here between stops at Latitude 29 and Cane & Table. The Halloween decor is helpful in destroying that illusion, though. Kinda sketchy, but very friendly, Aunt Tiki makes a strong crossover as one of New Orleans' Bad Decision Bars.
Uptown
Things got real a few years ago when Ms. Mae sold this legendary dive and drink prices doubled from $1 to $2. However, it's still the cheapest bar in town, and anyone can put that to the test at any time of the day or night; seriously, go ask about the 24-hour challenge, in which you have to drink at least one drink an hour for 24 consecutive hours. Be warned: if you pass out, you may end up on "Ms. Mae's Wall of Shame."
Central Business District
The sign out front proclaims that Chuck's is open "Damn Near 24 Hours," which is a rarity in the CBD, where most of the action takes place in the 9-5 world -- though despite that, and the fact that it now takes credit cards (!), it still keeps the suits away.
Sign up here for our daily New Orleans email and be the first to get all the food/drink/fun in the Big Easy.
Nora McGunnigle is a New Orleans based writer who has been in hiding from regulars at her previous dive bar list for writing about them in a national publication. Follow her adventures on Twitter: @noradeirdre