Where to Watch the 2018 FIFA World Cup in New Orleans
New Orleans is one of the easiest cities in the USA in which to find a great bar showing the World Cup. I mean, of course it is! It's a famously international city that loves sports and loooves bars and looooooves excuses to watch international sports while drinking in bars. And the fact that this year's World Cup is happening in Russia, therefore making for some weirdly timed early-morning games? All the better. Summertime day drinking is kind of a specialty around here. The action begins June 14, and you should check back on this list for additional updates as the games (and drink specials) heat up. Olé, y'all.
Mid-City
NOLA's go-to for all things fútbol and serious fans
Finn McCool's Irish Pub is the beating heart of New Orleans' soccer scene. Showing MLS, English Premier League, European League, and college games packs in the mega-fans -- both expats and locally-grown -- all year round, but the place gets particularly wild for the World Cup. If you want a seat, arrive early. This bar has 9 indoor screens and two outdoor screens, including 64-inch LCDs and 8-foot and a 6-foot projectors.
Irish Channel
A perfect combo of rowdy and well-fed
Tracey's is surprisingly spacious for a neighborhood bar, but with a couple dozen TVs surrounding the room and a solid menu (which includes some of the best po-boys in town), it still manages to pack in a big, jolly, noisy crowd for major sporting events. The World Cup is no different. Expect $3 beer and wing specials daily and bigger promos and planned events for the playoff games to come. This is good for big groups of friends, but arrive early to stake out a table.
Uptown/Riverbend
Oysters, beers, and soccer: a NOLA hat trick
With one of the best craft beer selections (more than 200!) in town, fresh raw oysters (plus a newly-revamped cooked menu), and TVs both indoors and on the patio, Cooter Brown's is a great choice for comfy, lazy outdoor World Cup viewing. Oysters are always half-price on Tuesdays, and more specials are likely to pop up on the menu as the games get going. Some of their specials thus far have included free beer promos and more, so keep an eye out.
Mid-City
The American Outlaws' New Orleans turf
USA soccer's biggest informal booster organization has a New Orleans chapter (of course) and their regular meetings are at this chill Mid-City spot with excellent outdoor viewing space and a beer list that includes approximately every beer currently being brewed (okay, not quite, but the list is north of 180 varieties). With the Outlaws' holding court, the red, white, and blue's presence will be felt even if Team USA didn't actually make it this time around. Either way, they'll welcome you to watch here.
French Quarter
Beer and burgers on Bourbon
Smack in the middle of Bourbon Street's noisiest few blocks, Bayou Burger doesn't mess around when it comes to beef on buns, and their big messy loaded fries are a destination unto themselves. TVs line the walls, and when it's World Cup time, they'll be showing the games, so bring your snackiest self and get ready to get comfortable and dig in. If you're stuck on Bourbon anyway, you could do far worse.
Uptown/Magazine Street
Upscale Mexican digs with tequila especiales
Araña specializes in upscale regional Mexican food and fine tequilas, and it will be showing all of the midday and afternoon games. Though those cheering for Central American teams will feel particularly beloved here, Araña will be offering a free shot every time your team (doesn't matter which) scores a goal, as well as $2 margaritas with the purchase of any lunch entrée. They also do free shot specials for supporters of teams that score -- just let your bartender know who you're supporting ahead of time. "GOOOOOOLLLLLLLLLL!"
Central Business District
A CBD go-to for sports of all kinds
Walk-On's is partly owned by New Orleans' favorite footballer, Drew Brees (okay, yes, wrong football, but still), and this is a pretty foolproof place to go if you want to see the game. This applies to literally any game, always, but it definitely applies to the World Cup. It'll be packed with suits and ties from the surrounding office complexes for this summer's daytime games, but daily specials will keep them (and you) well-lubricated.
Warehouse District
Leather seating and foosball tourneys
Manning's Eat-Drink-Cheer, which gets its name from New Orleans' other all-time favorite footballer, Archie Manning (yes, still the wrong football, but we can love two things at once!), is one of NOLA's favorite sports bars. Manning's giant cushy reclining leather chairs in front of the wall-sized televisions are probably the city's most comfortable public place to watch the games, though they'll definitely be a hot commodity, so get there early. Beer and Jägermeister shot specials will be on offer daily for the entire span of the games, and there'll be mini-foosball tournaments on select dates to pass the time between games.
Algiers Point
A taste of Olde England on the West Bank
This cheerful little pub, just a couple of blocks from the ferry landing in Algiers, will be showing all of the afternoon games, but will definitely be the place to be when England takes the field. A solid menu of beers on tap (ahem, draught) is accompanied by a solid scotch list and, for those deeply dedicated to having the most British experience possible, a house-infused curry gin. There's no kitchen, but there's a selection of imported crisps available if you're snacky.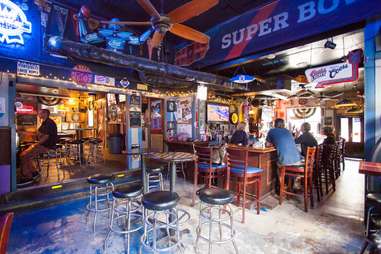 Bywater
A neighborhood joint that goes soccer-mad
The many expats (and man-bun-sporting Americans) living in the Marigny and Bywater make this out-of-the-way neighborhood joint jump during major soccer events. Drink specials are always part of the fun, and note that for past USA games, J&J's has historically offered food. Early opening hours make this a particularly good choice, as they'll likely be showing even the earliest games. They always serve $2.50 PBR's, Schlitz, or High Life.
Sign up here for our daily New Orleans email and be the first to get all the food/drink/fun in the Big Easy.