Power Ranking Every Important Cocktail Invented in New Orleans
Cocktail culture has always been an important and inextricable part of the New Orleans experience, and over the (many) decades, the city has proudly birthed some of the most iconic tipples in tippling lore. However, some of NOLA's cocktail children are simply more widespread and influential than others, no matter how you slice it. So we took the decidedly unenviable task of pitting ten of them against one another for good sport. Here's what went down.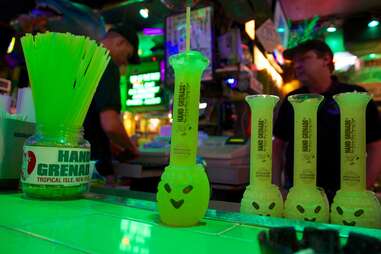 10. The Hand Grenade
Where to find it: Tropical Isle
It might be far from what you'd call a "classic cocktail," but these neon green plastic yards of high-octane hooch are inescapable in the French Quarter, and hence part of New Orleans, like it or not. The folks behind this melon-flavored booze-bomb refer to it as "the world's most powerful mixed drink," and you certainly get what you pay for. The combination of sugar and alcohol might be party fuel for many, but consume one too many and you're in for a world of hurt the next day, placing it firmly at the bottom of this list.
9. The Absinthe Frappe
Where to find it: The Old Absinthe House
Given the rich French history of New Orleans, of course absinthe was as popular here as it was in its late 19th century heyday on the continent. If you're a fan of the green fairy (which is thankfully now officially legal again), an Absinthe Frappe on a muggy summer night in the French Quarter is a must. This simple pairing of absinthe, simple syrup, crushed ice, and soda was invented in 1874 at the bar now known as The Old Absinthe House. The only problem with this classic is that you really have to dig absinthe to enjoy it, and many bartenders tend to make the concoction overly sweet, ranking it relatively low here.
8. The Grasshopper
Where to find it: Tujague's
Another famously green tipple, this one is significantly more sophisticated than the Hand Grenade, going back to its invention in the early 20th century by Tujague's second owner, Philibert Guichet. The frothy combo of green creme de menthe, white creme de cacao and cream won second prize in a New York City cocktail competition, and a legend was born. Despite the lauded history, it basically tastes like liquified girl scout cookies, making it a perfect gateway cocktail for youngsters without the palate for hard booze, making it a fun drink, but not necessarily one of the most sophisticated.
7. The Hurricane
Where to find it:Pat O'Brien's, Felipe's Taqueria
Oh, the Hurricane. Could any cocktail be more emblematic of a stroll down Rue Bourbon? Pat O'Brien himself famously invented the drink, a whopping 4oz of dark rum with passionfruit syrup and lemon, because he was strong-armed by liquor distributors to load up on rum if he wanted more popular spirits like whiskey, which were in significantly higher demand and shorter supply at the time. Hence a drink loaded with rum and sugary syrup to, well... mask the flavor of the rum. And it works, too; a Pat O's Hurricane tastes like a trough of Kool-Aid, and you'll run into trouble quickly if you ignore its potency. Also, the pre-mixed version can be cloying, so if you want a superior variation, check out the one made with fresh fruit juice at Felipe's.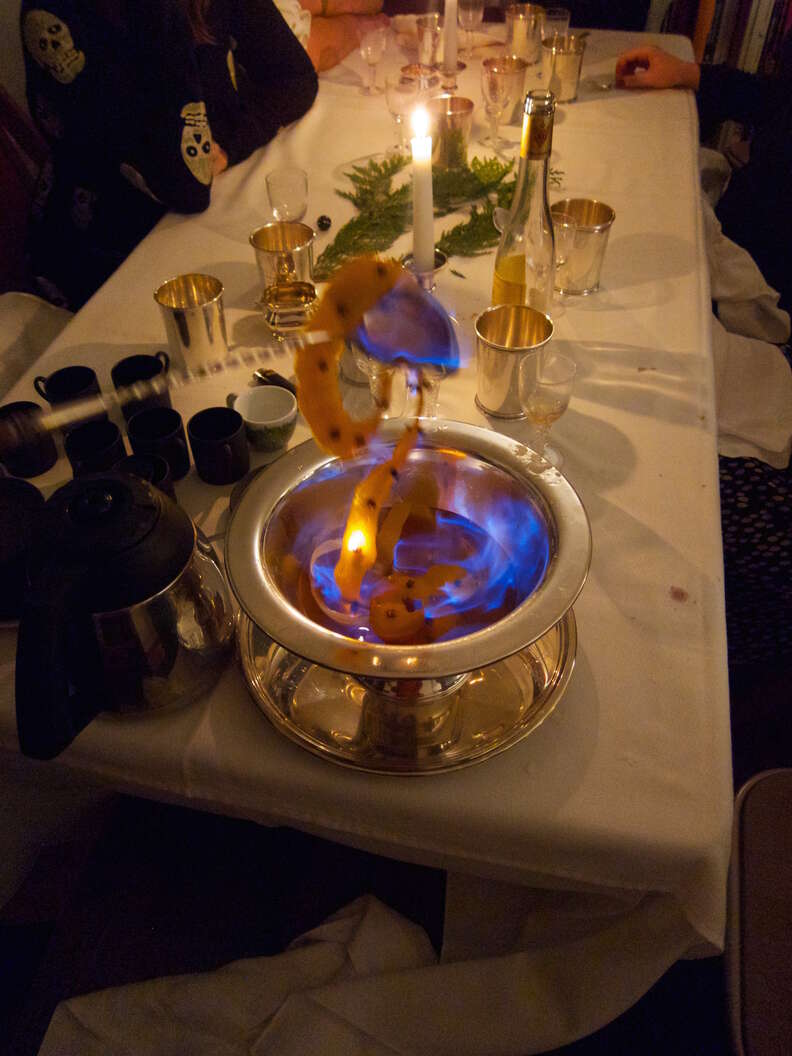 6. Café Brûlot
Where to find it: Antoine's, Commander's Palace
Many don't know about the existence of Café Brûlot, and there is a simple reason for that: it doesn't generally appear on menus. And why not? The drink is as much a performance as a cocktail, with a skilled server bringing a cart to your table to infuse strong coffee with cinnamon sticks, brandy, and Grand Marnier, and -- the best part -- long strands of freshly peeled lemon and orange rinds studded with cloves, soaked in booze, and set on fire right in front of you. It's the perfect amount of upper and downer with an herbal, citrusy twist, and one hell of a show. The original was invented at Antoine's and is excellent to this day, though you'll find an expert rendition at Commander's Palace, as well. It loses points for its relative obscurity here, but that doesn't make it any less wonderful.
5. The Brandy Milk Punch
Where to find it: Brennan's, Bourbon House
The old pink lady on Royal St is back and killing it, thanks to Chef Slade Rushing and bartender Lu Brow. If you want an old-school, signature NOLA brunch cocktail, you cannot go wrong with this boozy concoction of brandy and milk (duh) with simple, vanilla, and a dusting a cinnamon. Brennan's has the city's most prominent version, which many say wasn't exactly "invented" here, but definitely was perfected in the Crescent City, so we feel we have every right to call it our own. And if you head to the Bourbon House, you'll find a great one there using bourbon (of course) on their boozy Saturday brunch menu. Or any day, for that matter.
4. The Brandy Crusta
Where to find it: Arnaud's French 75 Bar
This was the first sugar-rimmed cocktail ever invented, fashioned originally by famous NOLA barman Joseph Santini. The classic version is in the sour family, featuring cognac, maraschino liqueur, simple, Grand Marnier, bitters, and lemon, and can be found at some of the more sophisticated cocktail haunts in the city. However, the version served at the French 75 bar, at the hands of expert mixologist Chris Hannah, is both a maverick and a marvel, served in a champagne flute bejeweled in glittering sugar. You'll want at least two of these, as you bask in the light of the bar's famous monkey lamps.
3. The Vieux Carré
Where to find it:The Carousel Bar at the Hotel Monteleone
One of the most famously beautiful bars in NOLA, if you can find a seat at the gloriously decorated rotating carousel in the Monteleone, you'd better take it... and order the drink invented at that hotel. The Vieux Carré, which bears an old French name for the Quarter ("Old Square"), actually predates the installation of the carousel, having been invented by then-bartender Walter Bergeron in the mid-30s. Consider it a "New Orleans Manhattan," a stiff combo of rye whiskey, cognac, sweet vermouth, benedictine, and bitters, served on the rocks. This is a serious cocktail, made for adults, and best enjoyed in slow, thoughtful slips as you slowly rotate around the room.
2. The Ramos Gin Fizz
Where to find it:Empire Bar at Broussard's
A pedigree dating back to the late 1800s? Check. Exotic ingredients like orange and flower water like raw egg white paired with gin, heavy cream, and lemon? Double check. A whopping twelve wrist-breaking minutes of hard shaking? You'd better believe that's a check. Invented by Henry Ramos, this cocktail needs serious expertise to pull it off correctly, mostly with separating out the egg white with a cocktail strainer, and then all that shaking, to produce what can best be described as "cake in a glass." In the pre-prohibition days, legend has it, the drink was so popular that one bar hired neighborhood kids to stand outside the bar and continuously shake fizzes in order to meet demand during Mardi Gras. Find the right one (like the one cocktail wizard Paul Gustings fashions at the Empire), and it is a singularly New Orleans experience, rich with both flavor and history.
1. The Sazerac
Where to find it:The Sazerac Bar, Kingfish, or any self-respecting cocktail bar in New Orleans
Well, this had to be number one, didn't it? After all, it was literally voted into state law as the "official cocktail of the City of New Orleans." And though there's some debate on whether or not NOLA invented the cocktail itself, there's no dispute that Antoine Peychaud created something magical when he combine cognac with sugar and his signature bitters, then strained the chilled mixture into a similarly chilled, absinthe-lined glass rimmed with a lemon peel. It is a potent but delicate drink, easy to make, but similarly easy to royally screw up. If any element is out of balance, the drink fails. But when it succeeds, it does so with aplomb.
Sign up here for our daily New Orleans email and be the first to get all the food/drink/fun in the Big Easy.
Scott Gold is a writer in New Orleans who actually holds a degree from the Crescent City School of Gaming and Bartending. For more tippling tips, follow him on Twitter @scottgold.