Beauty, as they say, is in the eye of the beholder. And that eye tends to behold significantly more when the mouth below it has had a snootful. Still, you don't have to be three sheets to the wind to enjoy a fine beverage in fine surroundings, and when it comes to drinking in beautiful environs, New Orleans has you covered in spades. From modern chic to antique and historic, here are the most eye-catching watering holes the Crescent City has to offer.
Uptown/Freret
At the forefront of the "new cocktail culture" -- which, oddly enough, has much to do with the original cocktail culture of New Orleans -- was Cure, the first spot in town to breathe fresh new life into what had become a somewhat staid drinking scene. The cocktails are lovely, but the room is even more impressive, with a back bar filled with seemingly hundreds of spirits you've probably never heard of and might not even be able to pronounce. It's a sophisticated, yet comfortable place to have a drink.
 
CBD
If it's not enough to imbibe the signature cocktail of the City of New Orleans (as voted into state law) at the place for which it is named, then consider the sheer elegance of the place. From the African walnut bar to the lovely etchings in the mirror, murals by Paul Ninas, and accents like an Ascot Cup from 1878, the place will transport you to the elegance of New Orleans' past. Also, the drinks are great.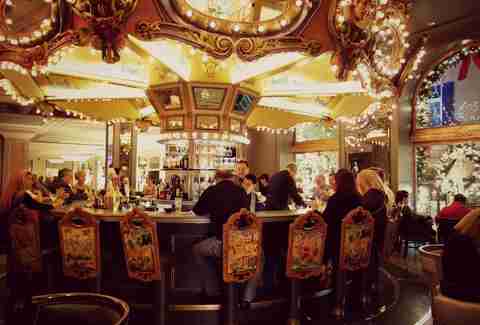 French Quarter
If you haven't had a Vieux Carre cocktail while revolving on an intricately decorated, circus-themed vintage bar at the Monteleone, you've never truly experienced New Orleans. That drink, we'll add, was invented at this hotel, though it pre-dates the installation of the carousel. Legend has it, entertainers like Louis Prima and Liberace would head to the carousel for a tipple after performing in the hotel's Swan Room back in the day. Have a drink there, and you'll see why they loved it (especially Liberace).
Warehouse District
It took the owners of this place three years to restore the crumbling remnants of what was once known as the Swoop-Duggins House at 916 Lafayette St, possibly one of the oldest (if not *the* oldest) house in Downtown New Orleans. And what did they decide to do with it? Open a bar, of course! The exposed brick and woodwork give the joint a decidedly old-school (as in 1830s) vibe, and the leather-bound tables, chandelier, and bookcases are classy additions to the atmosphere. Note: the building is said to "definitely" contain ghosts.
French Quarter
The bar at one of the oldest Grand Dame eateries in the French Quarter simply cannot be left off this list. Between the vintage monkey lamps, the Old World antique touches, a bar that dates back to around 1800, and the servers decked out in full tuxedos (including a white jacket for acclaimed bartender and cocktail historian Chris Hannah), this is where you want to go if you want some serious old-time NOLA decor, drinks, and service.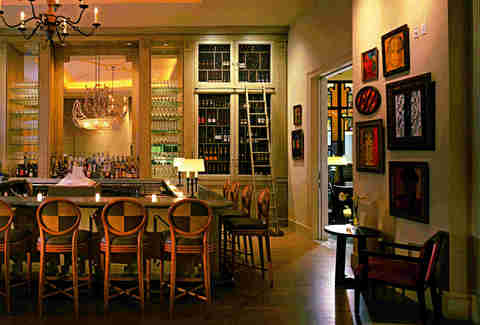 CBD
As a companion restaurant to Commander's Palace, you know that Cafe Adelaide is going to be on top of its game when it comes to providing a lovely dining experience. Better still is the bar, the Swizzle Stick, which has a decidedly feminine feel. The best part: a giant ice block behind the bar, from which bartenders hand-chisel the cubes for your cocktail. It's a sight to see.
Lower Garden District
Amidst all the old bars and restaurants in the Big Easy (and there are a lot of them), there is one that is decidedly and unabashedly new. With the success of his modern, whimsical eatery Root, Chef Phillip Lopez decided to open an even more ambitious venture with the chef-table, prix fixe-only Square Root. If you don't have the duckets to plunk down on a 15-course molecular gastronomy parade, head upstairs to the bar, Root Squared, which offers similarly modern fare, only with cocktails, and in a stunningly sleek environment not often seen in a nearly 300-year-old city.
CBD
If Thurston Howell III or the Winklevoss twins were to come to New Orleans and wanted to grab a drink somewhere, they'd likely be headed to the Polo Lounge. With handsome, overstuffed leather club chairs, dark wood, and an artistic dedication to the equine sport of kings, this place just screams "old money." That said, you don't have to have said cred to enjoy the room for a drink accompanied by live piano. You might want to change out of those cargo shorts and Crocs, though.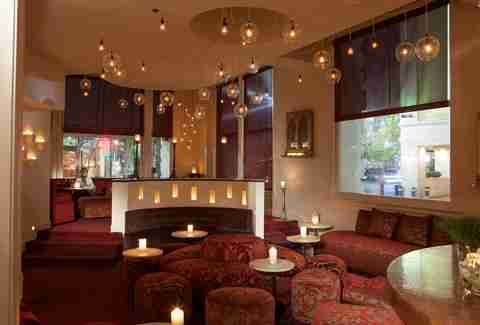 Warehouse District
Named after the "divine spirits in the Vodou faith tradition," Loa's personality is nothing if not romantic, featuring plush velvet stools and an abundance of candlelight, as well as an "enchanting ceiling-scape hand crafted by Armenian-born lighting-meister Peter Manukyan in his studio." Fancy! If you want to get lucky, taking a date here is not a bad bet.
French Quarter
Everyone in town knows that you should head to Kingfish for cocktails at the hands of Chris McMillian, but one shouldn't overlook the fact that the space itself, named after legendary Louisiana Governor Huey P. Long, is a stunner, with an old-meets-new feel featuring a pressed-tin back bar, exposed hanging Edison lamps, plenty of French Quarter brickwork, and, naturally, an oversized photo at the end of the bar of the Kingfish himself.
French Quarter
If you're looking for an elegant spot to complement your inner oenophile (and of course a few glasses of choice grape juice), this hidden gem is definitely suited to your needs. From the leather-bound barstools to the cozy loveseats, handsome wine cabinets, and the corner piano, it's bold, but not overly so, with notes of oak, roses, and candle wax.
French Quarter
Is it martini time? Yes, it's definitely martini time, and that means a trip to the Bombay Club, which, even after a recent ownership switcheroo and a renovation, still retains its regal countenance. You want antique grandfather clocks, private booths with emerald velvet curtains, elaborate sculptured candelabras, and the amount of leather you'd get from an entire herd of cattle? You've got all of that and more here. It's manly as hell, and we love it.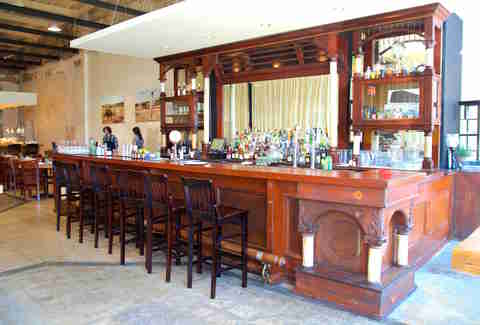 Central City
There are many types of beauty, as any true aesthete will tell you, and sometimes the beauty of a place -- and in this case a bar -- has everything to do with a story. The Southern Food and Beverage Museum, which houses the lovely new restaurant Purloo, saved the original oak and cypress bar from Bruning's Restaurant, a longtime New Orleans institution (once the third-oldest eatery in NOLA), from the trash pile after Katrina by restoring it, piece by piece and plank by plank, eventually reconstituting the entire bar for all to enjoy. It is a marvelous piece of history, and a beautiful one indeed.
Garden District
As far as hotel bars go, it's difficult to beat the Columns'. In fact, most people visit the hotel not for a stay in one of its rooms, but to drink and carry forth in its Victorian Lounge, filled with classical Queen Anne design, including 12ft solid mahogany doors at the entrance, and, inside, paneled Honduran mahogany ceilings, which, by the way, are 15ft high, giving the room some real old South grandeur.
Sign up here for our daily New Orleans email and be the first to get all the food/drink/fun in the Big Easy.
Scott Gold is a New Orleans writer who finds beauty in ALL bars. See how he does it by following his Twitter.