The Best Speakeasy-Style Bars in New Orleans
Chris Deville
Chris Deville
Speakeasies no longer exist in New Orleans -- in fact, drinking is so legal here that you can even do it on the streets (as long as you keep your adult beverage in a plastic cup). It's also one of the cities with the most bars per capita, according to one 2015 report by Trulia. It could be said that New Orleans is constantly celebrating the end of Prohibition, and with no shortage of jazz music, you can still feel the influence of the era bubbling up from the ancient streets.
So while we no longer need to drink in secret or make our own bathtub gin, there are still a number of spots, rich with history and character, that recall a bygone era or have a hidden, romantic mystique about them that are worth checking out.
French Quarter
This Prohibition-inspired venue in the heart of the famed French Quarter features inventive craft cocktails in a building that dates to the late 1800s. Originally opened as La Louisiane Hotel & Restaurant, it continued operating a restaurant through the 1990s, and for a good chunk of its existence, from the 1950s to the '80s, it was owned by two of New Orleans' most notorious mobsters, "Diamond" Jim Moran and Carlos Marcello. (Photographs of famous mobsters still line the walls.) The decor is a tribute to the 1920s, and you can also take in live music -- mainly gypsy jazz, which characterized much of the Prohibition era -- and watch swing dancers.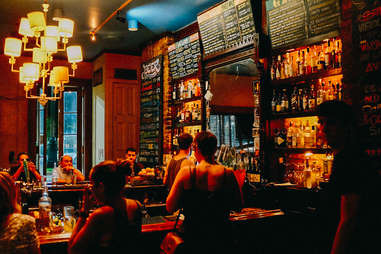 French Quarter
Away from the usual hustle and bustle of the French Quarter tourist traps, Bar Tonique is a gem that appeals to both locals and visitors who are in the know -- it's that word-of-mouth popularity that makes it reminiscent of a speakeasy. It's neither upscale nor a dive, but rather a perfect balance of in-between, set in a historic building with exposed brick walls. While it's no-frills and not much to look at from the outside, step inside for a hand-crafted, early 20th-century cocktail (like a Negroni, Boulevardier, or Vieux Carre), or one of its non-alcoholic "temperance drinks," and you'll see why it frequently gains such high acclaim from all walks of life.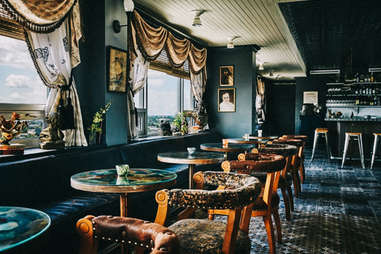 Garden District
With sweeping views of the city's skyline, Hot Tin is a place that cherishes New Orleans and its history. Its name is a reference to Tennessee Williams, one of New Orleans' most famous writers -- and drinkers. (The playwright wrote A Streetcar Named Desire within the Pontchartrain's walls, and you can see some of his original transcripts, written on hotel letterhead, in the lobby.) The bar is decorated with vintage furniture and artwork, and while the vibe is more 1940s artist loft than 1920s speakeasy, you'll still feel transported back in time as you order a glass of champagne and sit back to enjoy the birds-eye vantage of the Mississippi River.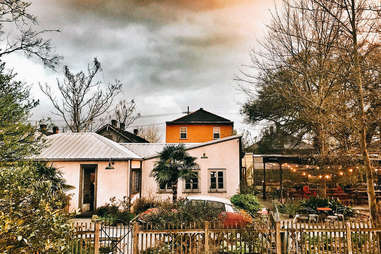 Bywater
It would be easy to stroll right past this quaint, charming spot in the trendy-yet-historic Bywater neighborhood, with its unassuming facade that hides one of the most charming restaurants and bars in the city. The building was at one time a stable for carriage horses and then became a tire shop before the current owners renovated it to its current splendor. Once you step through the tall, inconspicuous wooden gate, you'll feel as though you've been transported to another land -- specifically, France. With an abundant wine menu, mostly from small European vineyards that forgo sulfites and pesticides, and French cuisine, this is a hidden gem with seasonal dishes and nightly cocktail specials. Sit outside in the courtyard and take in the enchanting garden to get the full effect.
French Quarter
Located on Bourbon Street, the Old Absinthe House, like many storied establishments in the Crescent City, has a colorful, if murky history. It is rumored that Mark Twain and Oscar Wilde imbibed there, along with the infamous pirate Jean Lafitte. When Old Absinthe House shuttered during Prohibition, its savvy owners moved their (illegal) operation to a warehouse a few blocks away -- only to return once the dry period ended. Not much has changed about the place physically in more than 200 years, and it's a popular spot for ghost tours as it is said to be haunted. As its name suggests, the bar specializes in absinthe cocktails, like the iconic Absinthe Frappe (absinthe, simple syrup, soda water, mint), which was invented here in 1874.
French Quarter
OK, so Pat O'Brien's isn't what you think of as "speakeasy." The home of the famous hurricane drink is certainly not hidden or unknown, and is in fact a top tourist destination. But Pat O'Brien was a colorful bootlegger during Prohibition who operated a speakeasy known as Mr. O'Brien's Club Tipperary -- which is why this list wouldn't be complete without a mention of his bar. According to legend, the code to gain entrance was "storm's brewing." After Prohibition ended, O'Brien turned the illegal operation into a legitimate drinking establishment, and its popularity surged. He eventually relocated to a bigger space, and since then it has been a bustling establishment where the rum-based hurricanes flow all night long. Order one and check out the dueling piano lounge, the flamed fountain, or sit outside and enjoy the patio.
Central Business District
Steps away from the French Quarter, The Sazerac Bar, located inside the iconic Roosevelt hotel, has a profound sense of history. With an art deco vibe -- evident in its original murals by 1930s artist Paul Ninas -- and a bounty of classically New Orleans cocktails (including its namesake Sazerac and the Ramos Gin Fizz), the bar is an upscale place to spend an evening. You may even spot a celebrity within its walls and at the very least, you'll gain an appreciation for the bar's unique history. Case in point: Prohibition-era Louisiana governor Huey P. Long spent many nights here imbibing -- in fact he was so enamored of the bar that he took up residency on the hotel's 12th floor.