The Best Bourbon Bars in New Orleans
<strong>Bourbon House |</strong>&nbsp;Sara Essex Bradley/Courtesy of Bourbon House
Bourbon, bourbon everywhere... and so many drops to drink. American bourbon whiskey is so ingrained in New Orleans culture that they named a street after it! (Yeah, OK, it's named for the royal French family from way back in the day... but it may as well be after our favorite booze.) People in New Orleans love a bourbon neat, bourbon-based cocktails, sharing a bottle of bourbon... we like bourbon here, OK? It warms you when you're down, it keeps you going through the night, and it's found in many of our favorite cocktails. Here are 10 places in town that do bourbon better than anywhere else. They all have great selections, killer atmospheres, and bartenders that are more than happy to talk whiskey until the sun literally rises.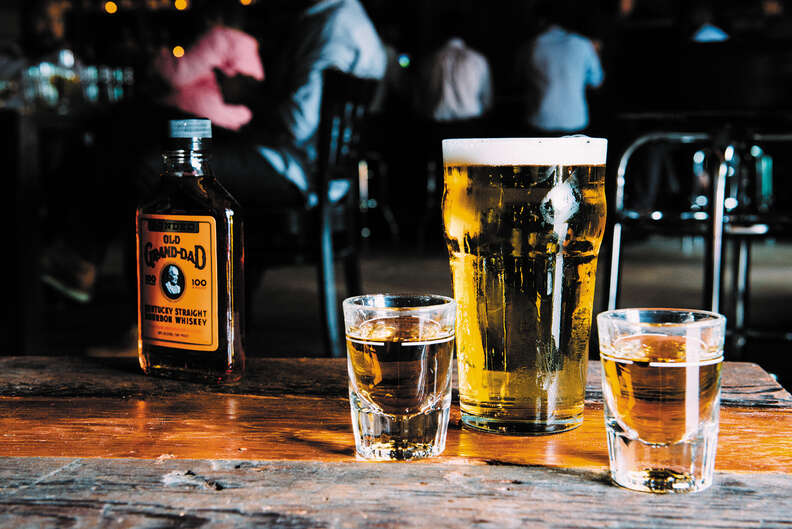 Lower Garden District
This place came out of the gate with both bourbon barrels blazing, and it hasn't let up since. They pack 272 whiskeys into this dark, cozy (OK, windowless) spot. But not only is this a bourbon-forward bar, but the cocktails -- both classic and house-created -- are made with the knowledge and care of folks who are intimately aware of the subtle nuances of each batch of bourbon.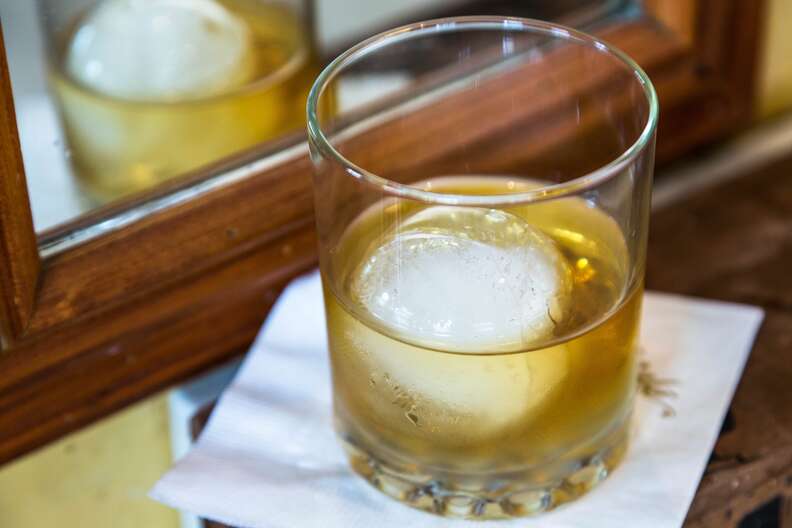 French Quarter
It's right there in the name: this restaurant/bar has long been a bourbon lover's paradise. The New Orleans Bourbon Society was created there, and continues to meet to discuss bourbon, drink bourbon, and have events like bourbon-paired meals. It's been named one of the 55 best bourbon bars in the country by the Bourbon Review, which is a highly legit credential. Owner Dickie Brennan even claims to have created the Bourbon House specifically to honor the spirit -- that's hardcore, my friends.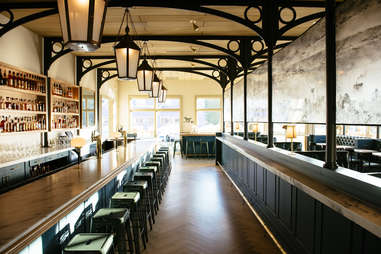 Uptown
The new kid in town, Kenton's swooped into the wilds of Uptown with a serious bourbon fetish, and proceeded to crush it immediately with their bourbon selection, service, and presentation. If you get the prix fixe lunch special, your dessert options are either ice cream or a shot of bourbon... and I've never seen anyone choose the ice cream.
CBD
Here's your historic bourbon badass. The Sazerac Bar is located off the lobby of the Roosevelt Hotel, and has a long and storied history of serving the famous and infamous... like Huey P. Long (who was assuredly both). The swank factor is high here: you can sense it when you enter the dark, wood-paneled room. Although the eponymous cocktail is made with rye whiskey, not bourbon, the Sazerac Bar has an impressive selection of bourbons and other whiskeys to sip neat (perhaps with a branch water back) while pretending to be a dandy or debutante from the old days.
Bywater
With over 30 bourbons, this quietly excellent, whiskey-focused bar has made many service industry friends with its "plastic cap" economy list of whiskeys, which includes plenty of bourbons, including selections from Four Roses, Old Gran-Dad, Jim Beam, and Evan Williams. If you're feeling a little more flush, there are more sophisticated vintages to choose from... and they also have a killer boilermaker menu.
Marigny
Kimberly Patton-Bragg has been dubbed in the national press as a "whiskey evangelist," and the quality whiskey and bourbon programs she has set in motion all over town are a testament to that title. Now at Three Muses, she runs the bar with a quality bourbon program, offering 30 or so bourbons, and spotlights the spirit in one of her signature cocktails, the Spaghetti Western, which combines Bulleit bourbon muddled with Campari-soaked oranges and rosemary spirits. Check out the whiskey flights on the menu as well.
Lower Garden District
One of the best beer bars in New Orleans, the Avenue Pub is well known for its stellar beer selection, and is getting noticed more and more for its carefully curated and wide ranging bourbon (and whiskey) selection. The Pub is getting real bourbon geeks with its high-level whiskey game, and the service is top notch as well, with bartenders able to discuss the selections in depth.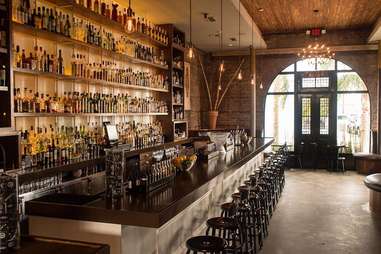 Freret
The hundreds of bottles lining the back wall of Cure contains dozens of whiskeys, and some pretty rare ones at that, due to the management's excellent taste, as well as its participation in the New Orleans Spirits Exchange which gives several committed businesses the opportunity to pool resources to purchase bourbon (or other spirits) by the barrel -- Evan Williams Single Barrel bourbon, for example, or Four Roses Bourbon Cask Strength OESK. Pro tip: if you're only having one cocktail, make your way to the Reserve cocktail menu, and order the 22-year-old Old Fashioned made with Lost Prophet 22 Year.
Warehouse District
Donald Link's homage to Louisiana country food offers amazing meat and seafood, and a hell of a bourbon list. The bourbons range from everyday to rare vintages, and the bar staff loves talking about all of them. Get a bourbon flight in order to sample the bounty available -- pair that with an order of the wood fired oysters, and settle in for an afternoon or evening of pure Cajun happiness.