Everyone knows that the Crescent City has rich French, Spanish, Creole, and even Italian roots. But Irish traditions go deep in New Orleans -- you can bet your shillelagh they do. Irish immigrants helped make this city what it is today. (There is an entire Uptown neighborhood called the Irish Channel, after all.) And where there are Irish people, there are Irish pubs -- thank the stars. If you're looking for a proper pint of Guinness or a dram of uisce beatha in the Big Easy, here are your best bets. Sláinte!
Mid-City
If you're a fan of soccer -- or "football," if you're someone who insists on that -- Finn's will make you very, very happy. A classic neighborhood Irish pub (voted one of the city's favorites, in fact), you'll find all the world-class matches you want here, not to mention rugby, UFC, and the Gaelic Games. Plus, it hosts events like trivia nights, Scrabble tournaments, and Irish dancing.
Lower Garden District
As far as true Irish bars go, it's difficult to beat this classic LGD spot. You can sip a pint of Guinness at the handsome bar, or on a couch in front of the fireplace. But what really sets The Irish House apart is its menu. Few places in NOLA do a true "full Irish" breakfast, and none of them do it better than The Irish House. We're talking eggs, black pudding, white pudding, rashers, sausage, beans, potatoes, tomatoes, mushrooms... how can you go wrong? (Don't ask your cardiologist this question.) With traditional Irish music nights on Mondays, a bagpiper salute on Tuesdays, and regular whiskey tastings, Irish House is a feast for all senses.
Mid-City
Don't be fooled by the bellicose leprechaun on Mick's signage; this place is all about fun and games. While the ownership changed in the early '90s, folks have been proudly pouring pints at this beloved neighborhood watering hole for over a century. It ain't anything fancy, but that's not really what you want in a local pub. What Mick's offers is good drinks, good company, and maybe a friendly round of darts, pool, pinball -- even shuffleboard.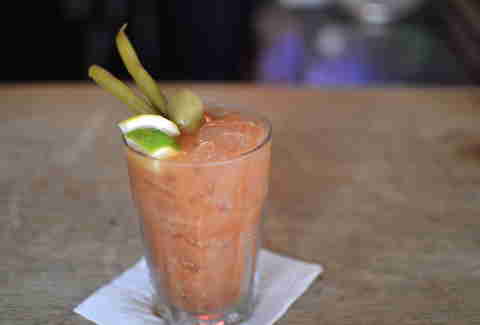 French Quarter
OK, it's narrow and cramped, but the Erin Rose is beloved by New Orleanians for a number of very good reasons. First, the atmosphere and clientele are fun and relaxed -- the hallmark of a truly great Irish bar. Second, you'll find the original Killer PoBoys in the back, which is thoroughly baller. Third: exquisite prices. And fourth, it serves frozen Irish coffee, which is essentially a coffee milkshake with booze, one of the best things to have ever been invented, ever. Ever.
Irish Channel
There had to be at least one Irish Channel bar on the Irish pub list. While Tracey's isn't as "Irish" as, say, The Irish House, it is consistently one of the best spots in town to watch Saints games with a friendly crowd. Food-wise, it's also a destination: There's a shucker selling cold, raw oysters out front on the sidewalk in season, plus one of the best roast beef po-boys in the city (the same one formerly found at Parasol's). Cap it off with gravy cheese fries. Everyone needs those.
French Quarter
If you're down in the Quarter and have no desire to partake in the neon-drenched, hooch-soaked circus that is Bourbon St, opt for a more relaxed time at Fahy's. This is exactly the kind of place you want to go when you get burned out on hurricanes and hand grenades: just an unassuming, hospitable, no-frills pub. Get in a round of pool or darts, drink a pint, and chill out.
Bywater
Beer, burgers, wings, jukebox, video poker, sports on TV... Markey's is pretty much the platonic ideal of a corner bar. This place has been serving Bywater residents since the 1940s -- long before the parents of the current hipster residents were glints in their daddies' eyes. Fortunately, the vibe hasn't changed as much as the neighborhood has, as Markey's remains a charmingly unassuming dive.
French Quarter
The atmosphere in this place is imported directly from the Emerald Isle -- any Irishman would feel right at home here. Plus, this spot is one of the few Irish pubs in the city with reliably solid live music, sometimes Irish, but also folk, blues, and, of course, jazz (this is still New Orleans, after all). And best of all, there's no cover charge.
French Quarter
Right across from the famous French Market, you'll find Molly's, one of the finest Irish dives in the Quarter, if not the city. Always busy but never fussy, Molly's is a place where you're bound to run into a character or 10, likely tossing back shots of Jameson. Even when the atmosphere gets hairy -- on weekends, or during busy French Quarter times (Mardi Gras, French Quarter Festival, Halloween, etc.) -- the bartenders remain cool, friendly, and attentive. You'll also find Bird by Bird, a former taqueria pop-up now hawking quality Indian treats like fresh naan and mattar paneer. And if this Molly's is too crowded, there's always the second location over on Toulouse.
French Quarter
While it may proclaim itself "The best f**king Irish Bar in the World," Ryan's is really more of a dive/sports bar where you can, among other things, catch NHL games, should you -- for some strange reason -- be a hockey fan in New Orleans (remember the New Orleans Brass?). It may not quite do the banner justice as a genuine Irish pub, but it's still a fun place to hang out on Decatur, sans the "boobs-for-beads" vibe endemic to some of the nearby tourist traps. All in all, it's a great place to wind down with a pint if you've been walking the Quarter all day.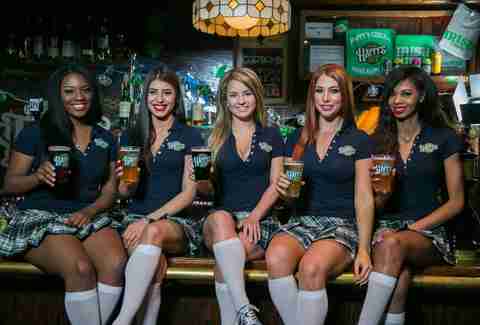 CBD
Just so you know what you're getting into, Happy's is Walk-On's Irish cousin. Don't think you're entering this CBD haunt for some authentic Celtic tunes or barebones pours of Guinness -- Happy's is where you go to indulge in sugary shots, "big ass beers" sans the Bourbon St chaos, and where you can lie to yourself and say that you're being healthy by joining their Running Club (might as well go for the two-for-one beer deal after running a 5K, right?). The bar does offer a "St. Practice Day" every 17th if you want the feel of St. Patrick's Day but happen to be visiting during the wrong month.
Mid-City
Another quality Mid-City neighborhood bar in the vein of Mick's (minus the pinball and shuffleboard), Holy Ground is as hospitable on Endymion Saturday as it is on a slow night. The bar includes breakfast delivery staple Wakin' Bakin's bar food pop-up Mother Mary's, serving up shepherd's pies and sliders for special events. The food's free during every Saints game, but even if you can't catch a gratis meal, Holy Ground is a solid spot to chill out with a pint, throw some darts, and feel at home.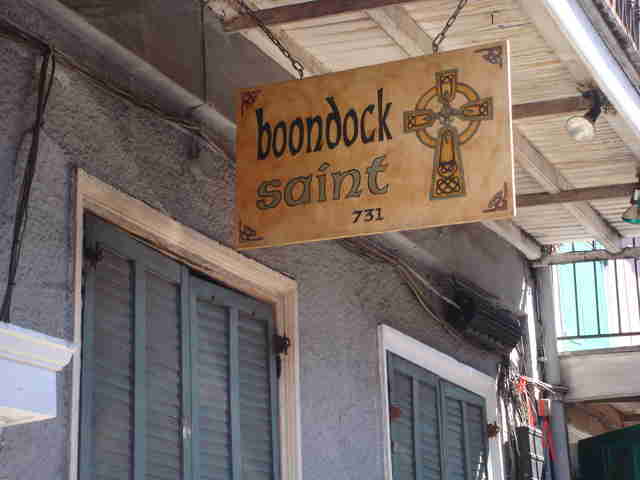 The French Quarter
Located just across from Preservation Hall, this tiny pub shows the Norman Reedus vigilante movie of the same name on a loop, but the real appeal is in its coziness. Even though it's just off Bourbon, it's a great spot to hang with locals and have a quiet pint while the craziness surrounds you. The staff is friendly, the jukebox has something for everyone, and the shot pours are generous, even by New Orleans standards.
Sign up here for our daily New Orleans email and be the first to get all the food/drink/fun in the Big Easy.