The 8 Best Nightclubs in New Orleans
The Crescent City is world renowned for being a musical place. Jazz was invented here, after all, and the town prides itself on cultivating live, local acts, from jazz to funk to bounce rap, and all the way to sludge metal. But what if you don't want a traditional live music venue or a bar, but are really looking for some good ol' oonz oonz oonz? You know, the kind with DJs and fist pumping and bumping and grinding on the dance floor? Or maybe an upscale lounge situation? Well, you can find those in NOLA, too. If that's your thing, here are the spots you should be looking at.
Warehouse District
If you're looking for a big-ass, quintessential dance club, look no further than Republic. Upscale and sprawling, Republic seems like something right out of A Night at the Roxbury. While the music varies from local brass to fist-pumping DJs to booty-shaking bounce rap, if you want to get your body moving and grooving, you could do worse than Republic.

French Quarter
More of a lounge than a dance club, this place is on exclusive side... as in, you have to be a member of the House of Blues Foundation to even get in the door, or at least be a member's guest. Swankily decked from top to tails like a sultan's tent, if you want to mingle with the classy crowd (not to mention get to see HOB shows from a reserved spot on the balcony), this is your place.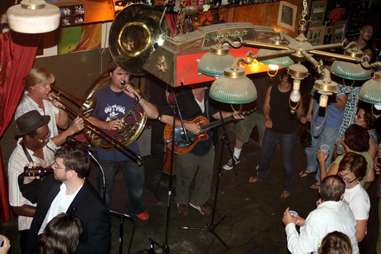 Bywater/St. Claude
What could possibly be the exact opposite of a place like Foundation Room? Yup, Saturn Bar it is. Calling it a "dive bar" wouldn't be adequate or accurate; this joint is a NOLA institution. Any night is a good time here, but definitely don't miss the monthly "Mod Night," where DJs (actually local music anthropologists) spin all your Motown, funk, and British Invasion hits.
Marigny
With three stages and a restaurant, this Frenchmen St music hall is bound to have something up your alley, if your alley is one in which you like to boogie. (Yes, we said "boogie.") It features live music every single day, too, so whenever the spirit takes you, you can show up and see who's ripping it up on stage, from jazz to funk, with almost every act a seriously danceable one.

French Quarter
Like Foundation Room, the Davenport is a class act. But what did you expect... it's located in the Ritz, for Pete's sake. People-watching and listening is a good bet here (as is that classic game of "guess which person at the bar is a "professional escort"), but the dance floor is always a fun place to be, with the musical stylings of the bar's inspiration, Jeremy Davenport.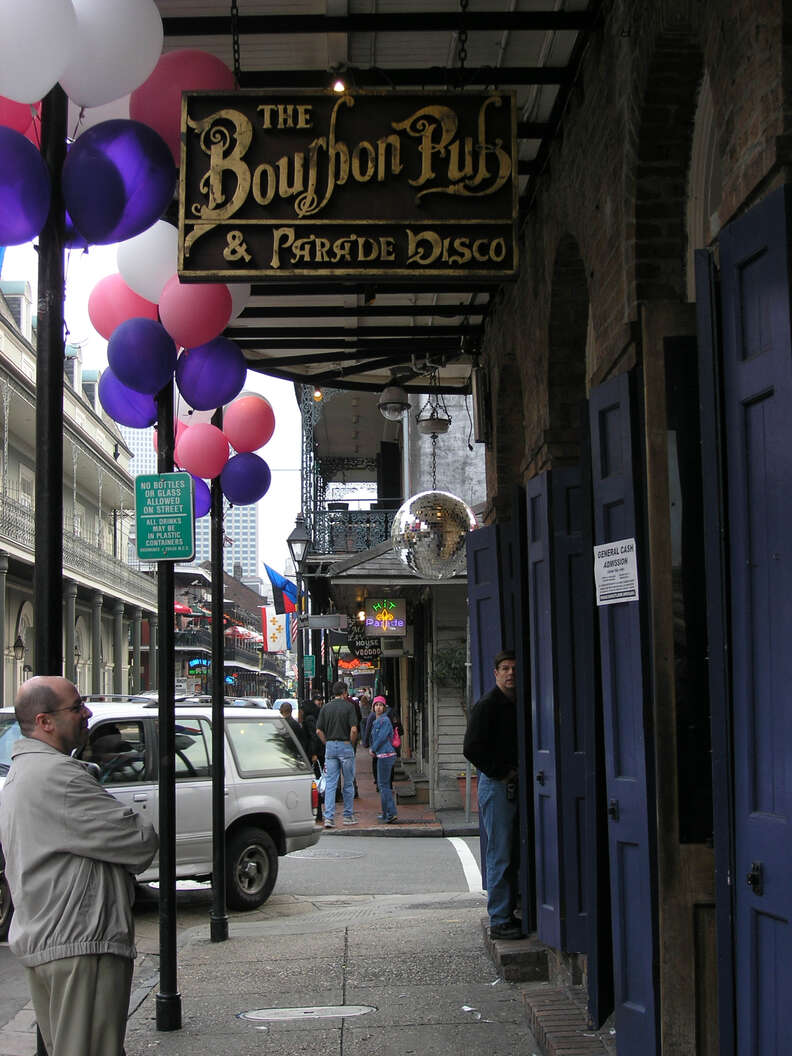 French Quarter
If you like your dance clubs with a decidedly unapologetic rainbow vibe, Bourbon Pub is the place you need to be. There's also karaoke every Thursday night, not to mention cabaret performances, '90s nights, and retro music video nights, among other things.
French Quarter
What else do you need to know about The Dungeon other than it's nickname is "The Dungeon"? If bikers and emo kids are your thing, this is definitely the darkly lit, sometimes-scary night scene for you. Note: it only opens after midnight, and the metal is, well... pretty heavy.

Warehouse District
It might not be anything new under the sun, but if you're on the scout for a quintessential DJ and dance club with pounding bass (and pounding shots), head to The Metropolitan on Saturday nights. With one room pumping techno and house and the other offering top 40, hip-hop, and rock, not to mention 11 (!!!) bar stations, smoke machines, and strobe lights, you'll definitely get the full nightclub experience here.
Sign up here for our daily New Orleans email and be the first to get all the food/drink/fun in the Big Easy.