The Crescent City is known across the globe for its distinctive and passionate cuisine. It's also known for its love of a fine tipple, of course, and that shouldn't be surprising, since New Orleans invented the cocktail. (You're welcome by the way, entire planet.)
But if you're looking for the best cocktails in the Big Easy, you might be surprised to find that they're not all necessarily found in the city's cocktail bars. That's not to besmirch the fine name of the town's admittedly stunning drinkeries, far from it, they're justified every ounce, dash, and measure of praise they receive -- but rather to pay due deference to the fact that you can find a cocktail just as good, if not better, at one of New Orleans' restaurants.
Why? Well, for one, something that's been known in NOLA for well over a hundred years: any great restaurant in this city is going to have a great bar. In fact, it's one of the more important criteria for judging a restaurant 'round these parts. And it means that their mixologists have access to the fresh and heavily seasonal ingredients that NOLA's restos thrive on, and in the bulk needed to properly experiment with them. There's also a great chef on hand to help develop the drinks, and pair them with food (or vice versa). Plus, it's easier for them to forget about using pre-made syrups and cordials, etc., with fresh ingredients constantly on hand. All in all, a bar with a resto attached leads to a delicious arms race, and a whole greater than the sum of its parts. Here are a few that stand out.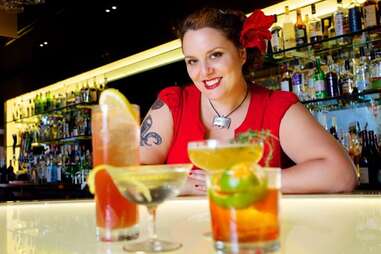 SoBou
French Quarter
According to SoBou's bar chef extraordinaire, Abigail Gullo, "For a city that takes such great pride in its cuisine AND as much pride in its liquid culture, it's only natural that they would be combined and paired. This is a city of mash-ups, from Cajun and Creole cuisine to Vietnamese to the different ingredients of the Sazerac. We love to incorporate the whole culture into one big gumbo pot, literally. So it only makes sense that we would want to have our exquisite cuisine matched by exquisite drinks." Hence, if Chef Juan Carlos Gonzalez has certain chilis on the menu, you'd better believe that those same chilis will find themselves into Abigail's list of house cocktails.
Oxalis
Bywater
It may be a newcomer to the local restaurant scene, but Oxalis kills it when it comes to food and drink pairings, particularly whiskey. Their carefully curated bar includes not only more famous and expensive offerings of bourbon, rye, and Scotch, but also satisfying and affordable "plastic cap" options as well. And, naturally, mixed drinks here tend towards the brown stuff, working well with Chef Jonathan Lestingi's eclectic menu.
Arnaud's
French Quarter
There's a small handful of mixologists in New Orleans who are as well known and respected as celebrity chefs, and Arnaud's Chris Hannah is one of them. A proper French 75, and those air-light soufflé potatoes will get anyone's evening off to the proper start.
Tivoli & Lee
CBD
Kimberly Patton-Bragg is kind of a mad genius behind the bar at Tivoli & Lee. She specializes in American whiskey, and offers flights and lessons to go along with the restaurant's gastropub fare, which according to her, is an essential part of her cocktail program: "In New Orleans, eating and drinking go hand in hand... you really have to honor the food to make the cocktails respectful to what the chefs are doing in the back." The result? She takes classics like the bourbon milk punch and reinvents them in her unique style, incorporating milk infused with breakfast cereal.
Lucky Rooster
CBD
It might be known for dumplings, soups, and noodles (and the "obtuse poetry" in their fortune cookies), but the bar at Lucky Rooster offers big, bold cocktails that pair well with the punchy Asian food. Oh, did we mention that the cocktails are named after Wu Tang Clan songs?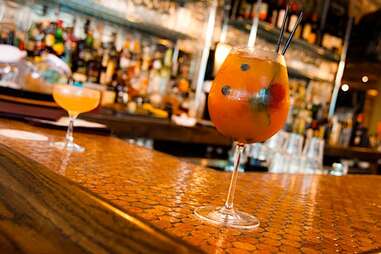 Kingfish
French Quarter
The head barman at Kingfish, Chris McMillian, is often referred to as "legendary". That's not hype, just a simple fact. Pair his expertise in the New Orleans bar with Chef Greg Sonnier in the kitchen, and you'll have a meal -- or an entire night, rather -- you're not likely to forget. Pro tip: start at the bar early when you can get a great seat, knock back a few, then move to a table.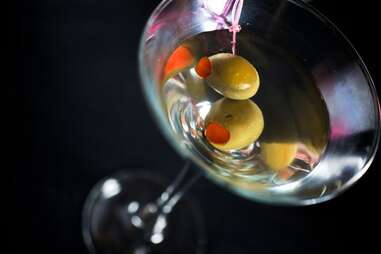 Cafe Adelaide & the Swizzle Stick Bar
CBD
It isn't surprising that some of the top New Orleans bar chefs and mixologists are women. There's an outstanding camaraderie and sorority in the Big Easy between the talented ladies behind the bar, and Lu Brow is certainly one of them, serving signature cocktail-paired brunches that also feature 25 cent martinis. Yeah, that's a quarter of a buck, friend. Regarding the resto, she tells us, "In a lot of ways, chefs and bartenders think the same, though our techniques are different. It's wonderful to bounce ideas off each other -- that's how I actually learned how to craft a great cocktail. If I weren't behind a bar that wasn't attached to a restaurant, it would never be as exciting for me. Also: the excesses go hand in hand!"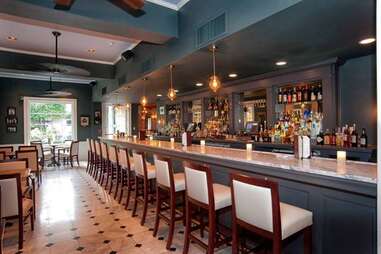 Broussard's
French Quarter
Curmudgeonly? Famously so, but iconic New Orleans barman Paul Gustings has always cared more about proper drinks than giving you a big warm fuzzy feeling. This is serious business, and Gustings -- now located in the gloriously renovated Broussard's -- is a serious man, and he makes a serious drink.
Dominique's on Magazine
Uptown
Chef Dominique Maquet might have his name on the restaurant, but Ian Julian is doing masterful things at the bar, all in step with the chef's menu. For instance, he crafts a "pho Cajun sour" using pho broth to make a sour syrup, then combines it with vodka and lime, as well as cilantro, green onions, ginger, lime, and habanero salt. Bonus points for titling cocktails after dark movie moments, including the "What's in the Box", and the "Why So Serious".