Southern Beers to Try Before You Die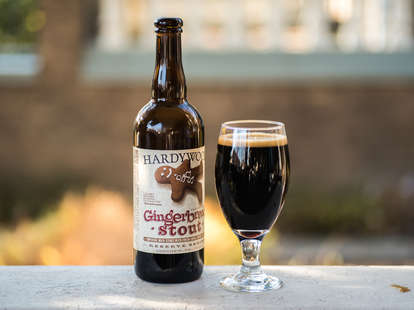 The Washington Post/Getty Images
The beer scene really runs the gamut in the South. While some states have annoyingly restrictive laws that make brewery growth challenging (looking at you, Georgia and Mississippi), other states have embraced the cash flow (and, you know, delicious beer) that craft breweries bring to their local economies and palates. In North Carolina, the brewery development environment is so friendly that large breweries like Sierra Nevada, Oskar Blues, and New Belgium have based their East Coast operations there. Regardless of blue laws, the South does put out some pretty kick-ass beers, some of which are coveted all over the country -- and we've rounded up the best of the best.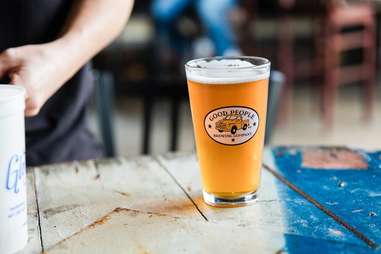 Alabama
Coffee stout, 6.2%
This release from one of the earliest breweries in Alabama was created to commemorate the US trade sanctions on Cuba being lifted last year. The stout is brewed with Cuban roasted coffee sourced by the local Southern Girl Coffee Roasting Company. The bitterness of the coffee tempers the sweetness of the malts (and vice versa), while the coffee's robustness complements the dark roast barley. It's a gorgeous, surprisingly full flavored stout for a stout that's so low in alcohol, and finishes deliciously dry.

Russian imperial stout, 13.9%
Alabama-based beer writer Dan Murphy says that this much-sought after beer from this Birmingham brewery is "worth the hype." The flagship beer in the brewery's "Bearded Reserve" line, this RIS has a complexity that is almost unheard of in a non-barrel aged stout. The intense chocolate, bourbon, vanilla, and dried fruit notes are balanced by the addition of West Coast hops, which creates a finish that is more dry than sweet -- with a nice bitterness.
Imperial stout, 11%
Hunahpu's release day is one of the premier beer events in the South, selling out almost immediately -- all bottles of this stout go to attendees, so it's a tricky one to acquire. But making friends with someone who's been to Tampa and got a sizable allotment of Hunahpu bottles is definitely worthwhile: this Mayan-influenced beer combines vanilla, two types of chile peppers, vanilla, and cocoa nibs in perfect balance. It's even better with age, so try to be patient for a bottle to find its way to you.

American wheat, 6.3%
On a list filled with imperial stouts, wild and sour ales, and double IPAs, this hoppy wheat beer from a newly opened brewery in Jupiter might seem out of place, but the mild, wheat-focused malt bill creates just enough support for the bountiful and tropical Mosaic hops to shine -- without the brew becoming just hop juice. If you see it, get it immediately -- it doesn't last long.

Berliner weissbier, 3.5%
This berlinerweiss explodes with tropical fruit additions of mango, guava, and passionfruit, making it a true taste representation of the flavors of Miami. This low-ABV style is perfect for the South Florida heat and humidity as well, delivering a refreshing, tart-fresh, thirst-quenching beer that's a perfect beach sipper.

Gose, 4%
Highly recommended by local beer lovers, this balanced version of the traditional German style is executed extremely well, combining a refreshing wheat base with salt and coriander, slightly soured with the use of lactic bacteria.
Georgia
IPA, 6.5%
Although this is the Athens' brewery flagship IPA, it can be surprisingly difficult to get a hold of -- Creature Comforts can't seem to brew enough of the stuff to sate the local market, and it's not difficult to understand: the juicy IPA has tons of soft, fruity hop flavor that makes this one of the most crushable beers in the South.

Scottish ale, 8.5%
Part of the Atlanta brewery's "Black Tie Series," this beer combines bourbon with Scotch ale -- to delicious, Great American Beer Festival-gold medal winning results. The style's typical malt-forward profile is enhanced by the cherrywood smoked malt included in the mix, which gives the bourbon-aged beer a bit of a peaty finish, finishing the bourbon flavors from the barrel and the hearty beer with just a touch of Scotland.
Kentucky
American IPA, 7%
West Sixth's flagship IPA has ruled the Lexington beer scene for years, and although it's gotten more and more competition as of late, it's still holding its own. Gibson says that this beer, brewed with Cascade, Centennial, Columbus, and Citra "has a bit more of a malt-forward profile without losing any of the bitterness and fruit that hopheads crave."

Milk stout, 7%
Louisville writer Kevin Gibson notes that he'd "probably be publicly throttled" if he didn't recommend 35K by Against the Grain Brewery: it's just a Kentucky standout. "It's a big, hearty milk stout with all the cocoa and coffee you could want... it's really something," he says. It's available only in 22oz bombers.
Louisiana
Saison, 6.5%
This rural brewery turns out truly farmhouse ales -- maybe because they're located on an actual working farm. Utilizing naturally-occurring yeasts, this carefully crafted, food-friendly saison can be found in high-end area restaurants and bottle shops.

Double IPA, 8%
This double IPA undergoes slight batch variations, as the brewing team seeks to perfect the recipe -- driving local IPA lovers into a frenzy of tasting, comparing, and acquiring as many bottles as possible as quickly as they can. If you want to get your hands on fresh Ghost, you gotta keep your ear to the ground, pay attention, and make plans. If the Ghost somehow eludes your grasps, however, you can try Parish's recently revamped pale ale Envie, which has all the hop flavor -- minus some of the bitterness and alcohol -- and tends to be easier to find.
Mississippi
Porter, 6.5%
Chocolate and locally roasted coffee beans create this rich, smooth mocha porter. The sweet and bitter flavors balance each other out for a beer that's for much more than dessert.

Rye beer, 6.4%
Lemondrop hops set the pace for this surprisingly light, juicy rye beer, which combines hop citrus with malt toast and spice. It's not overly bitter from the hops or aggressively spiced from the rye, but both aspects are present and balanced nicely for a very easy-drinking yet complex and flavorful spring seasonal.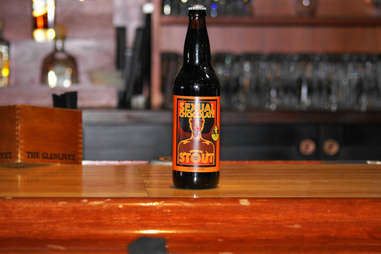 North Carolina
Russian imperial stout, 9.75%
Sexual Chocolate (named for a fictional band in the Eddie Murphy movie Coming to America) is perhaps Foothills' best known beer, a cocoa nib infused Russian imperial stout brewed each February for Valentine's Day since the brewery's early days. Go to Sexual Chocolate for notes of espresso, blackstrap molasses, dark dried fruits, vanilla, and (of course) chocolate.

American wild ale, 6.9%
Wicked Weed's sour and wild facility, the Funkatorium, puts out some the country's finest mixed- and wild-fermented beers by blending imagination and technique -- along with their barrels of beer. Although it's hard to choose just one brew to recommend, Amorous makes the cut because the red wine-barrel-aged and heavily dry-hopped beer drinks beautifully fresh with the hop notes singing against the sour base -- but it mellows beautifully with several months of cellar aging, too.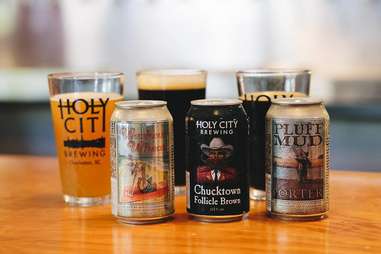 South Carolina
American porter, 5.5%
President of SC nonprofit Midland Craft Beer Supporters Nick McCormac says that this porter is "a GABF medal winner for a reason." He adds that this classic take on the American porter has notes of chocolate and roast, but with a medium body and lower ABV that make it a perfect year-round beer.

American imperial stout, 10.5%
Westbrook's much-beloved Mexican Cake started out as a one-shot, brewed for the brewery's first anniversary, but proved so popular that now it's brewed and released every year in May. The spiced stout takes a page from traditional Mexican hot chocolate, aging the beer with cocoa nibs, vanilla beans, cinnamon sticks, and fresh habanero peppers.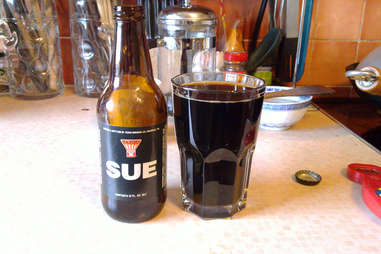 Tennessee
Saison, 6%
Until a couple years ago, Blackberry Farm was a luxury inn, restaurant, and farm. It's still all those things, but they've recently added a brewery to the mix, and it's been producing small batch rustic ales like its flagship Classic Saison. Beer Makes Three blogger Kendall Joseph says that it's "an earthy, rustic, effervescent delight, with the classic Belgian flavors you expect."

Imperial smoked porter, 9.2%
"You gotta be tough to be a beer named Sue," says Joseph, "and this Imperial Smoked Porter can hold its own in a fight." Sue's barley malt is smoked over cherrywood, and as Joseph notes, delivers complex flavors of dark chocolate, roasted coffee, dried cherries, and caramelized sugar.
Virginia
Imperial milk stout, 9.2%
Brewed with locally sourced baby ginger and honey, this dark, rich stout relies on the quality of its ingredients and expertise of its brewers to deliver warm spice -- without going overboard. The malt bill includes whole oats, which contributes the silky mouthfeel, while the aforementioned honey and ginger (along with cinnamon and Madagascar bourbon vanilla) balance the roast flavors.
West Virginia
American stout, 5.3%
West Virginia beer blogger Charles Brockway recommends this "beauty of a beer that really shines with a great meal -- in place of a cup of coffee." He adds that the bright coffee flavor is nicely balanced with the beer's roasted malts.
Sign up here for our daily New Orleans email and be the first to get all the food/drink/fun in the Big Easy.
Nora McGunnigle is a New Orleans-based beer writer who has never been more grateful for her fellow Southern beer geek friends. Follow her adventures on Twitter: @noradeirdre