While every neighborhood is filled with its own dives, watering holes, lounges, sports bars, and cocktail spots (the list seems endless -- but the actual number is just above 1,400 at the time of this writing!), all of those drinking establishments are united by the very unique flavor of the individual 'hood.
That made us wonder: based on their distinctive personalities, what would NOLA 'hoods be like if they were, in fact, all guests at the same drinking establishment? Commence the thought experiment!
Bywater got here yesterday and acts as though he owns the place. Does nothing but stare at his phone and sip fernet. Unless you ask his opinion about anything, which is seriously not advisable, because you will not extract yourself from that situation for hours. Drink of choice: this rare amaro you haven't heard of.
The French Quarter meanwhile is a gentile older fellow, well dressed and affable. He owns the bar, actually. Drink of choice: Ramos fizz.
The CBD worked hard to get where she is, and she ain't giving up an inch. She watches Grey's Anatomy obsessively. She's neither young and hip nor old and tired, but the years have been good to her. She is also the French Quarter's daughter, but doesn't make a big deal out of it, and is super into the local restaurant scene. Drink of choice: Grey Goose on the rocks with a splash of St. Germain.
A pair of twins (both of whom look as though they could compete on a reality dating show) make up the Warehouse District. The brother is a corporate attorney fond of single malts and fantasy football, the sister works in PR/marketing and designs handbags on the side. Drinks of choice: him, Macallan 12-year. Her: vodka soda.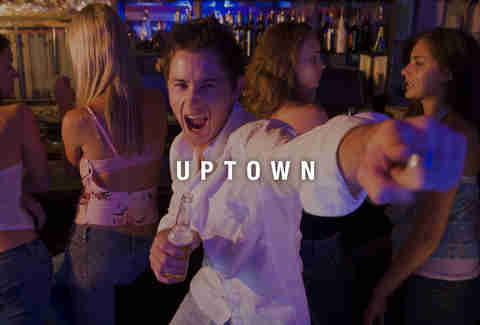 Uptown/University is, naturally, the piss-drunk d-bag from Great Neck who is flunking out his first semester at Loyola for doing nothing but playing beer pong. But it's cool, brah, he's going into finance. Drink of choice: Long Island iced tea (naturally) or light beer.
Marigny? She's glad to have the night off to spend with her wife, which is nice. Do not get into a political discussion with her if you lean right -- it won't go well. Other than that, a lovely bar patron. Drink of choice: gin and tonic.
Sitting at the end of the bar, Lower 9th Ward had a rough time, you know? He doesn't dwell on it, but everyone can see it in his eyes. Regulars buy this guy rounds, not because he demands them, but because it's the right thing to do. Drink of choice: dark rum on the rocks with a splash of Coke.
Mid-City (near City Park/Bayou St. John) is so easy to get along with, you wonder why you haven't been friends with this guy for years. He's got some wear on the treads, but is really hitting his stride right now, and it's easy to see. Drink of choice: Abita Amber on draft.
Mid-City (near the new hospital)  is trying really, really hard to not be "that girl" anymore. Everyone's rooting from her, but damn, that is one troubled past. Drink of choice: Diet Coke.
Gentilly takes no shit from anyone, and isn't afraid to mention it. She's great after one or two, but gets a little scary as the night progresses. Her nails and hair are seriously on fleek. Drink of choice: house red.
If you want stories about crazy NOLA life, Central City has them. No one mentions it, but they all know that there's definitely a Saturday night special in her handbag. Drink of choice: Crown and cola.
Algiers is that guy who always wants to fight you for some reason. Step off, brah. Drink of choice: Fireball.
The cool Vietnamese guy that everybody loves? But they don't really get to see enough of him because he lives way out in the boonies? That's New Orleans East. Drink of choice: Viet iced coffee with condensed milk.
Lower Garden District is rocking tattoos and a killer haircut, but she pulls it all off without a hitch. She's the lover your mother warned you about, but has an advanced degree in semiotics. Drink of choice: Hemingway daiquiri.
Her brother Upper Garden District is a little stodgy sometimes, but man, this guy has the kind of ageless class that means he'll be handsome after he passes a hundred. Drink of choice: Old Fashioned.
The bouncer/barback goes by the name Irish Channel, and has been around the joint longer than anyone really knows. He might be a little bit of a meathead, but he comes by it honestly. If you need a ticket fixed, he knows a guy who knows a guy. Drink of choice: Bud Light.
Lakeshore/Lake Vista definitely owns a boat, maybe even lives on one, and will be happy to take you sailing so long as you follow his rules. Enjoys a good burger and loves to grill. Always wears shorts and Top-Siders. Drink of choice: Sam Adams on draft.
7th Ward/Treme is bawdy, beautiful, and ready to shake a leg. Always the first one on the dance floor. A few troubled relationships here and there, but bounces back and is stronger for it. Carries cash in her bra. Drink of choice: frozen daiquiri.
Old Metairie is a total fox, and often overlooked by the bros at the bar because she's not acting like a silly teenager. Drink of choice: pinot grigio.
New Metairie just got off of work at the big-box store and wants a cold brewski before heading home to the family unit and ordering a pizza. Not the edgiest of guys, but also not a complete d-bag. He'll agree to help you on your roofing project and then actually follow through. Drink of choice: Mich Ultra.
Bra on the ceiling fan, chugging directly from the bottle, about to wind up on WorldstarHipHop for attempting to twerk on the table and totally failing. Say hello to Fat City (Metairie). Drink of choice: ALL OF THEM.
This lady loves to tie one on, but she also knows your parents (and all of your parents' friends), and has memories of you from when you were in second grade. Her name's Bucktown. She obviously knows her way around the kitchen, especially when it comes to seafood. Drink of choice: jungle juice in a go cup.
That one stretch of Airline Highway… is definitely a hooker. Possibly a cop. Don't take a chance, either way. Drink of choice: nip from a flask.
Sign up here for our daily New Orleans email and be the first to get all the food/drink/fun in the Big Easy.
Scott Gold is a New Orleans writer who would happily listen to the French Quarter's war stories all night. Follow him at @ScottGold.