The New Orleans Cocktail Bucket List
Scott Gold
Scott Gold
Other cities might have quaint, anachronistic, bespoke cocktail dens, with their dark woods and candlelight, exposed brick, and mixologists in arm garters and handlebar mustaches. But in New Orleans, that's not ironic or whimsical... it's our history. NOLA barmen and barwomen have been slinging drinks since the mid-19th century, and you can still get many of those same drinks, at the same bars no less, to this very day -- and at the same time, a new breed of Big Easy bartenders are creating exciting craft cocktails, as well as paying homage to those classics.
Tying it all together, we decided to track down the essentials. The must-drinks. The mixed's you can't leave town without trying. So if you want to hit some serious highlights of the NOLA cocktail scene before you buy the farm, these are the places and tipples to put on your bucket list...
Bywater
What you're drinking: The Spaghetti Western (Runners-up: The Muse and the West Bank Daiquiri)
Gregarious and inventive bartender Kimberly Patton-Bragg, formerly of Tivoli & Lee, recently took over this always-crowded Frenchmen St haunt and is doing some seriously cool things with the cocktail program. If you go, expect a packed house, but if you're patient, you'll get a sample of the Spaghetti Western, a combination of Bulleit bourbon, Campari-soaked orange, and rosemary syrup. It's citrusy, herbaceous goodness in a glass.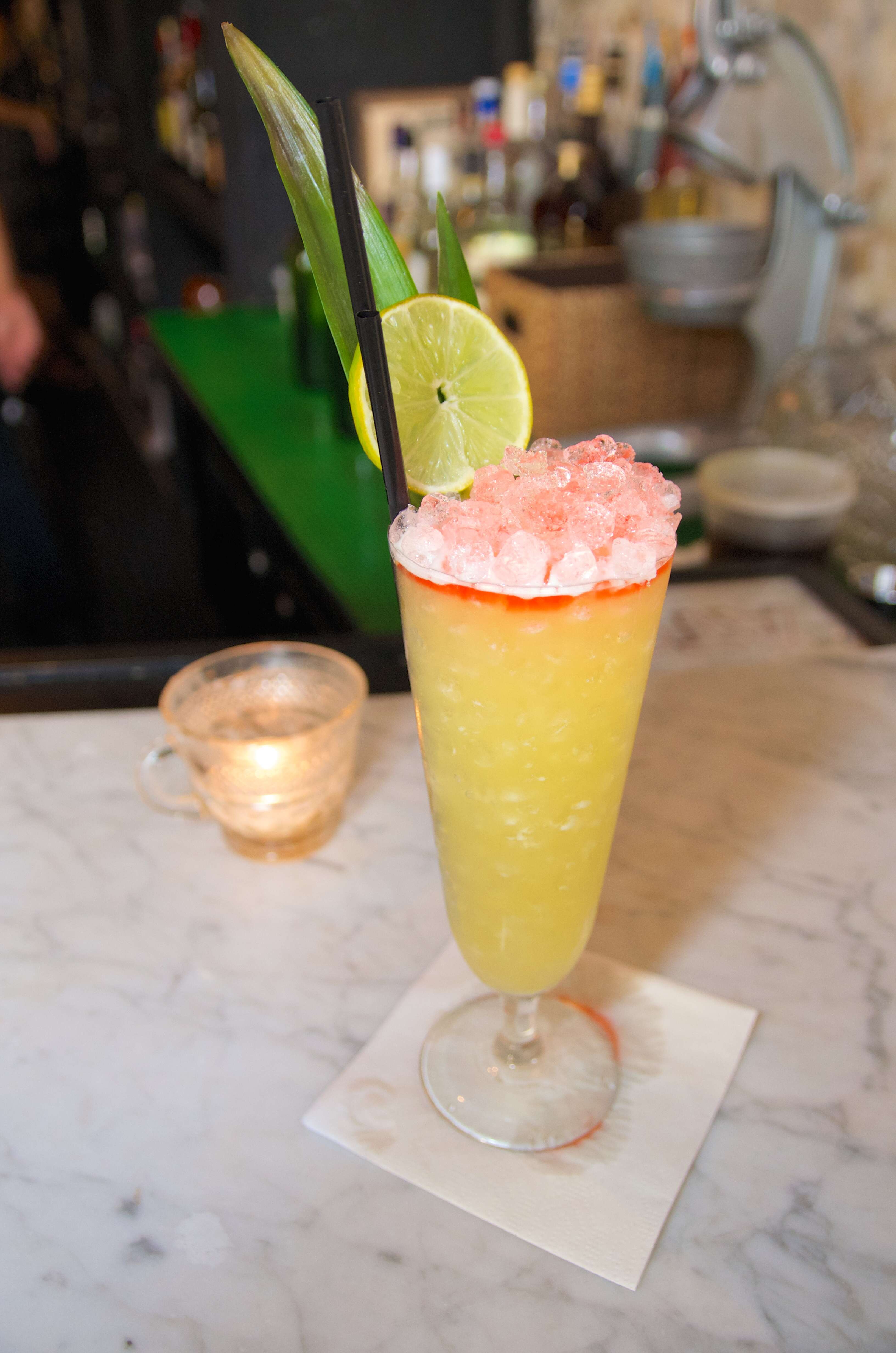 French Quarter
What you're drinking: The Boss Colada
There are many things to enjoy about this throwback Caribbean restaurant and bar -- think Navy-strength rum and house-made falernum -- but best enjoyed here is the Boss Colada, a long and tropical drink fashioned from fresh pineapple, lime, Baska Snäps, and Peychauds bitters, garnished with a long pineapple leaf.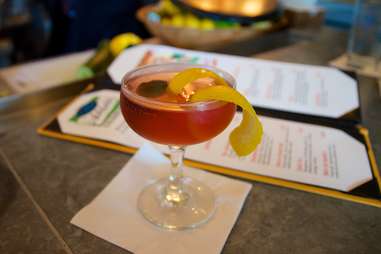 CBD
What you're drinking: The "Didn't He Ramble" (Runner-up: "A Little Soused on the Prairie")
You can't miss having a drink (or several) at the Swizzle Stick, where you'll find head bartender Lu Brow fixing up beautiful cocktails featuring locally produced spirits and ingredients, not to mention amusing names. The "Didn't He Ramble", a play on both the song and the Bramble cocktail, features Oryza gin (made from Louisiana rice), chartreuse, lemon, crème de mûre, sparkling wine, and garnished with a fresh blackberry.
French Quarter
What you're drinking: The Santa Maria
This tiny Exchange Place cafe might be better known for its shrimp/pork belly banh mi and other worldly fare at the hands of Chef/Owner Paul Artigues (who, when not running a restaurant, plays drums for blues legend Guitar Lightnin' Lee), but the cocktail menu is not to be overlooked. Pay particular attention to The Santa Maria, a sweet and spicy concoction that employs house-infused Thai chile mescal, Combier orange liqueur, lime, ginger, pomegranate liqueur, and OJ.
French Quarter
What you're drinking: The Vieux Carré
If you're going to get a classic cocktail at the place it was born, you can hardly do better than a Vieux Carré at the Monteleone. While the famously intricate, slowly rotating Carousel Bar was installed there in 1949, the cocktail, which shares the original name for the French Quarter, was invented 11 years earlier at the hands of one Walter Bergeron, the hotel's head bartender at the time. A potent mix of rye whiskey, Cognac, sweet vermouth, bitters, and Benedictine, it's in the Manhattan family... even though it's clearly a NOLA native.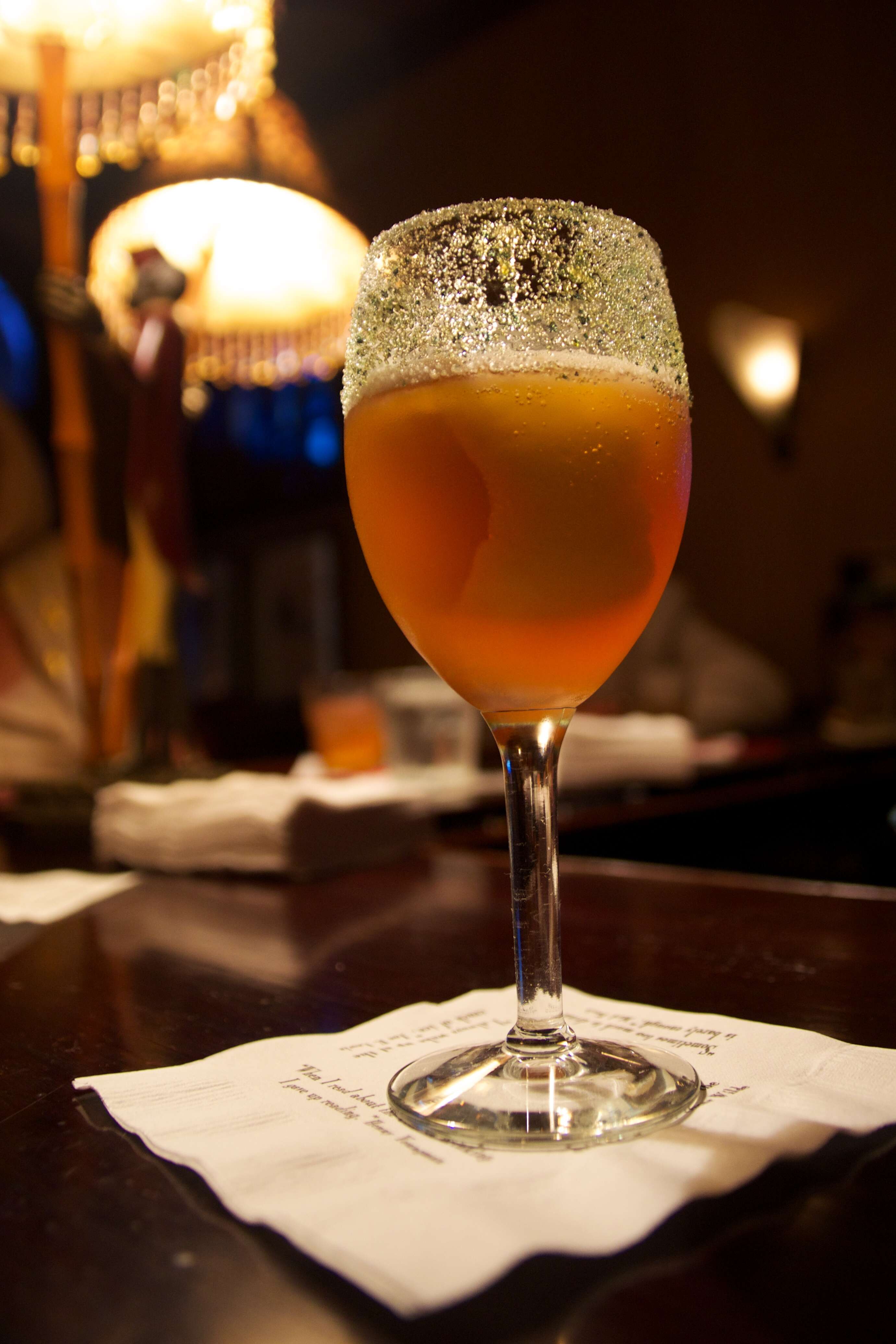 French Quarter
What you're drinking: The Brandy Crusta
You will find a bounty of fantastic things at the historic French 75 Bar, among them cocktail master and history devotee Chris Hannah. If you have cocktail questions, he has cocktail answers. He also makes a jaw-droppingly gorgeous Brandy Crusta, invented in the 1840s by Santini and the first sugar-rimmed cocktail ever noted (it actually appears in the very first cocktail book published). Don't forget to also order some souffle potatoes with creamy bearnaise sauce, the single best bar snack in history.
French Quarter
What you're drinking: The Charbonneau Way
Bar Chef Abigail Gullo -- a former musical theater actress turned cocktail queen who will readily sing to you as you drink -- created this drink as a nod to her French-Canadian roots, a mix of rye whiskey, maple syrup, lemon juice, Amère Sauvage, absinthe, and fresh thyme. According to Gullo, "Charbonneau Way is the name of the road where my family used to have a sugar house to make maple syrup. Wild mountain thyme grows in fields of purple during the Summer." How's that for the genesis of a cocktail?
French Quarter
What you're drinking: The Ramos Gin Fizz
Even in a city filled with notable mixologists (see above) bartender Paul Gustings stands alone. Mostly because of his reputation as a curmudgeon, but also because he makes some of the best drinks in the city, if not the world. A proper Ramos Fizz (invented in NOLA by Henry Ramos in the 1880s), that incomparable mix of gin, raw egg white, orange-flower water, sugar, cream, and citrus, needs proper attention and long bouts of shaking to achieve perfection, and you know you'll find it at Gustings' hands. If you've never had one, it's basically cake in a glass. With gin.
Mid-City
What you're drinking: The Baudin (Runner-up: The 3-2-1 Contact)
If you happen to find yourself in Mid-City, do yourself a favor and head to this joint, a neighborhood dive sort of place that also just happens to have a stellar cocktail program, courtesy of bartender Anderson Stockdale, a Cane & Table vet, amongst other places. It's not always on the menu, but The Baudin (named after Baudin St, where Twelve Mile is located) is a refreshingly spicy mix of bourbon, honey syrup, Tabasco, and lemon. "It's like a cold toddy with hot sauce," notes Stockdale. We'll take two.
French Quarter
What you're drinking: Frozen Irish Coffee
If you're not into frozen daiquiris but still want something icy to cool you off in the New Orleans heat, you will definitely want to experience a frozen Irish. It will wake you up, kill your hangover, chill you out, and make you wonder why anyone would ever drink a regular milkshake when this exists. Plus, at only $4.50 for a 12oz cup ($6 for a 16oz), the price is certainly right. And if you want to add an extra shot to really get things working, they'll hook you up with that, too.
French Quarter
What you're drinking: The Pimm's Cup
While drinking a classic Pimm's in the courtyard at the Napoleon House is never a bad idea, try heading to Kingfish, where famous barman Chris McMillian makes a version in a huge wine goblet, filled to the brim with seasonal berries.
French Quarter
What you're drinking: The "Loose & Conversational"
This charming French Quarter restaurant not only has a beautiful courtyard and the best chicken sandwich in town (the unstoppable "Chick-Syl-vain"), but also some seriously elegant drinks with cool names. While the "Police & Thieves" and the "Monkey Hour" are favorites, the Amontillado sherry-based "Loose & Conversational" will ensure that you're both loose and, well... chatty.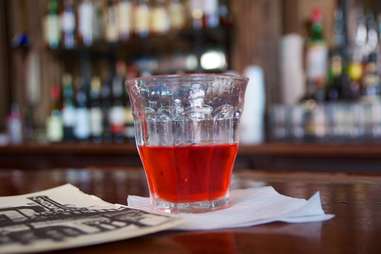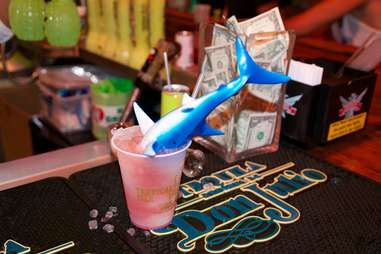 French Quarter
What you're drinking: The Shark Attack
You might be tempted to order the Isle's signature drink, the Hand Grenade, but opt instead for a Shark Attack. Equal parts drink and show, it goes like this: upon ordering, the bartender fixes you three shots of vodka and a secret mixer over ice, then floats a tiny plastic alligator on top. Then s/he rings a warning bell, shouts "SHARK ATTACK!!!" to the entire bar, then takes a large plastic souvenir shark (mouth filled with grenadine) and dumps it into the drink teeth first, devouring the poor little gator and turning the drink pink. "Nine dollas." You get to keep the shark, the gator, and the feeling that you've achieved pro-level NOLA tourist.
Sign up here for our daily New Orleans email and be the first to get all the food/drink/fun in the Big Easy.