Setting up in the Hudson Hotel and looking like a massive hall reserved exclusively for warriors who were felled in service of the burger and brew gods, HC has decreed that all men's god-given pursuit of happiness is "greatly enhanced by large quantities of ice-cold local draught beers and Bloody Mary bacon fries". Hear, hear! Everyone appreciates a good sit, and this is the third-best place to do it -- big comfy couches located at each end of the space. Second best: these ones right next to the fireplace. First best: one of the throne-like chairs at the end of each table. You shall become the King of Beers! (Note: no association with the actual King of Beers, who is named Wade Boggs.) That's not just a place to get lost in your own beautiful eyes -- behind it is a TV, so you can get lost in Mandy Patinkin's eyes. Draughts focus on locals -- Kelso, Brooklyn, Captain Lawrence -- while bottles expand choices with Boont Amber Ale, Scarlett Red Rye from Speakeasy, and 750ml of Rogue's Shakespeare Oatmeal Stout. The food menu's got two sides: Common and Uncommon. This is the Common Burger with Velveeta and pickles. They're going for a real "steaky" burger, and every patty is sprinkled with Varsity Dust (porcini/ sea salt/ Worcestershire…) before being cooked in duck fat-preserved onions. This Uncommon one is covered in two kinds of Georgia mustard-braised bacon. TWO KINDS! Basically the tastiest McRib of all time, this is a couple boneless boys covered in BBQ sauce and vinegar chips, then placed atop Texas toast smeared with homemade peanut butter. Those Bloody Mary French Fries. They're thrice-cooked in duck fat, and topped with bacon, pickled okra & Sriracha salt. This is the Pork Katsu BLT, though it's mostly B: pancetta, guanciale, and applewood-smoked strips. Cocktail time? Cocktail time. They're soda fountain-inspired and include this hibiscus vodka, Combier pamplemousse rose, champagne, and Peychaud's bitters Pink Slip, which will get you fired… up!! And maybe just regular-fired, depending on when you're drinking here. A very proud root beer float that packs a punch thanks to rum and Averna. In warm weather you can enjoy it all on the outdoor balcony. It would be really great if Mr. T walked in here and said "I pity the foos".
Recommended Video
This Beer Is Stronger Than Whiskey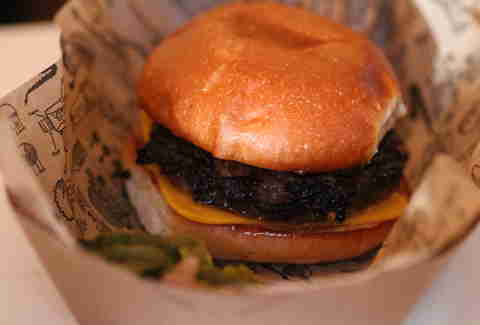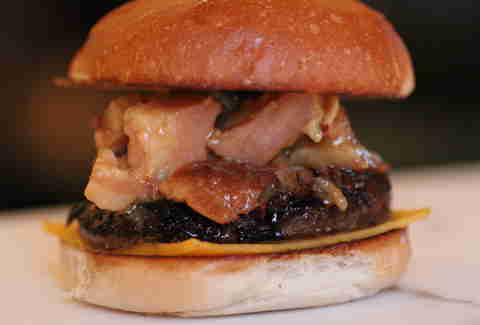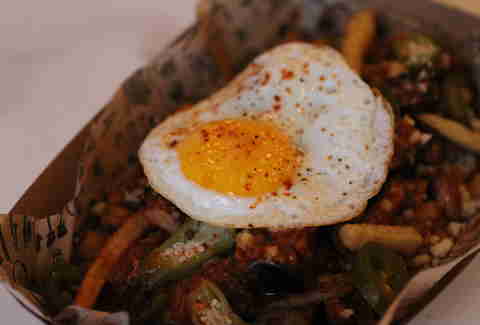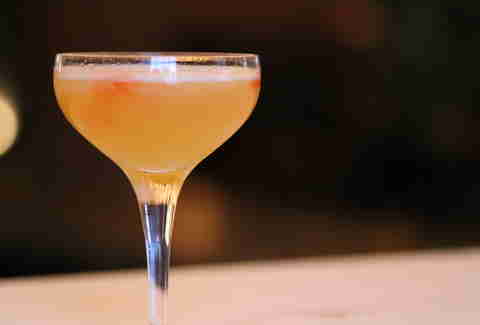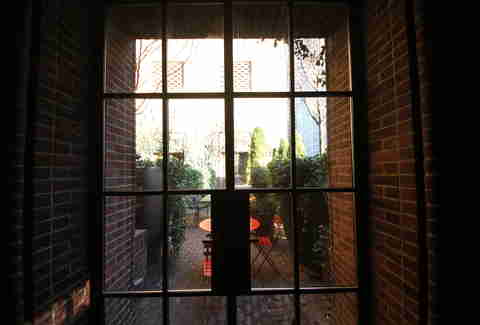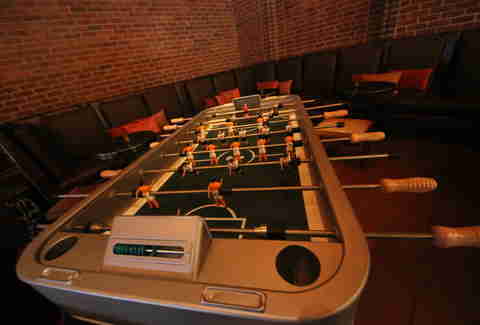 Previous Venue
Next Venue
Venue Description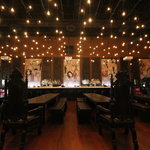 1. Hudson Common
356 W 58th St, New York, NY 10019
Hudson Common's set up in the Hudson Hotel and looks like a massive hall reserved exclusively for warriors who were felled in service of the burger and brew gods. Local drafts and Bloody Marys are also served.