Courtesy of Gabi Porter
Courtesy of Gabi Porter
According to Beyonce, girls "run this mother" and, in case you missed it, "this mother" now includes NYC bars, too. In 2014, a lady 'tender won both The Village Voice and Eater NY Bartender of the Year votes, and in 2015, another female bar maven outta NY took home the prestigious 2015 American Bartender of the Year honors at Tales of the Cocktail.
Basically if you want your drink to be made by the bartending world's next big thing, you're gonna want to get to know these 14 female bartenders in NYC.
Christine Kang
Where to find her: The Gorbals (address and info)
Specialty: "My very first cocktail I created was at The John Dory. It was an incredibly laborious and intense process. It taught me so much in how to build and test cocktails, how to experiment and how to trust your palate. It's called the Dalloway and its components are fresh lemon, raw ginger syrup, Aperol, and rye whiskey. I've made variations of it since, opting in Scotch and playing with the proportions of ingredients," reflects the beverage director of The Gorbals. "This drink was a pivotal point for me in the sense of how challenging it was for me at the time (I was new to the world of cocktails), and how proud I was of the end product. It was my first baby."
What she's doing when she's not working: "Hanging out on the other side of the bar. I love the community and industry in which I work so I'm constantly out. Right now, I'm interested in exploring neighborhoods close to my home that I never venture to. Work and friends keep me on a linear path between Clinton Hill and Williamsburg. I want to explore all the other neighborhoods in Brooklyn and get a sense of their characters."
Her favorite thing about New York: "There is this gorgeous, relentless, frenetic energy. It suits my mind and temperament and I cannot imagine living anywhere else. Travel is a thirsty yes, but home is definitely here. I love that you can be anyone and want anything and there will be a community of like-minded souls you can find. I love the dirtiness. I love the buildings. I love the insane vibrant array of people that coexist here."
Ivy Mix
Where to find her: Leyenda (address and info)
Specialty: "At this point, I would say the Tia Mia [mezcal, rum, lime, orgeat, curaçao] is my specialty," says the reigning Tales of the Cocktail American Bartender of the Year and former Julie Reiner protege. "My aim was to make a Mai Tai and amp it up with some of my favorite juice: mezcal."
What she's doing when she's not working: "I usually try to get out of the city and get some nature in my life. I tend to go to Vermont, where I'm from, to visit my parents. If I can't get that far away I'll go upstate, go for a hike, or just find a river and read a book. I do it to unwind -- and to be alone and take some 'me' time."
Her favorite thing about New York: "There is never a dull moment and never a person I've already met. It's in constant flux and movement with millions of different people from different places and backgrounds."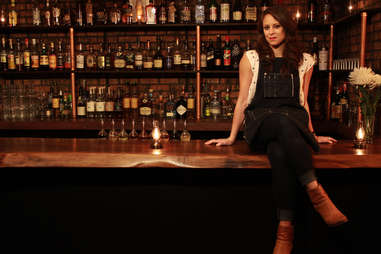 Pamela Wiznitzer
Where to find her: Seamstress (address and info)
Specialty: "One of the most popular cocktails we serve at Seamstress is the No Say with Ilegal mezcal, coconut, Aperol, lime, pineapple, and lemongrass," says Wiznitzer, who garnered major street cred behind the stick at the prestigious Dead Rabbit Grocery and Grog before joining forces with Josh Mazza and Steve Laycock to bring Seamstress to a cocktail-deficient Upper East Side earlier this year. "It was inspired by the origins of Ilegal mezcal from Café No Sé in Guatemala, and is enjoyed by all types of people and palates."
What she's doing when she's not working: "Every day is technically a work day, but during my bits of free time I'm either heading to yoga, traveling, hanging out with friends, or in class at NYU."
Her favorite thing about New York: "I was born in NYC and have been back for 12 years. What I love most about this city is how I can visit the same part of town a million times and always find something new. Whether it be a bar or restaurant, park, piece of art, or surrounding architecture -- NYC has so many facets and new discoveries as long as you open your eyes and look around for them."
Jillian Vose
Where to find her: The Dead Rabbit Grocery and Grog (address and info)
Specialty: "The drink that is best suited to the guest being served. Getting a bit of information on what they like and making something from the menu based on that is how we usually approach this question," explains Vose, an alum of such cocktail heavyweights as Clover Club, Maison Premiere, and Death & Co. "When you watch the guest take three first sips and then smile it is one of the most rewarding parts of our job as a bartender."
What she's doing when she's not working: "I like to stay home at least one day to get organized and reset for the week. It's important to recharge and take a day off. Jack [The Dead Rabbit co-founder and operating partner] is very keen on this. You can't be running on fumes and trying to be 'on' at 100% all the time."
Her favorite thing about New York: "The hustle and bustle. I am always on the go and fast-paced, so NYC suits me well. I love that I can do anything I want whenever I want. It's awesome. It's the greatest city in the world."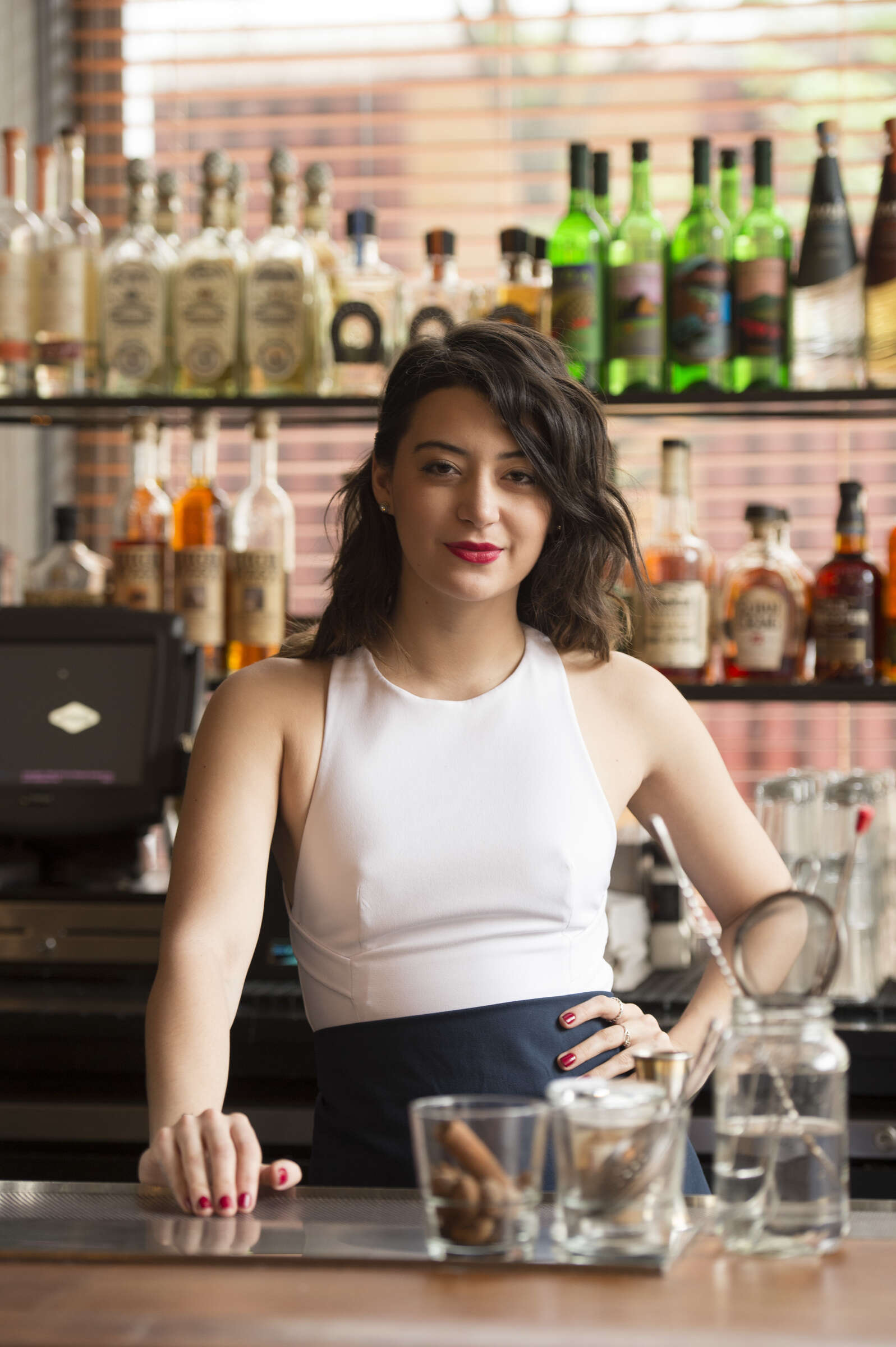 Micaela Piccolo
Where to find her: Distilled (address and info)
Specialty: "For a while I was so determined to reinvent a Ramos Gin Fizz using ice cream, but then I realized I was just trying to make a gin milkshake," says Piccolo, who's not long for New York -- soon, she'll be joining her new husband, NoMad vet Chris Lowder, in South Korea (so catch her while you still can). "After conversations with a colleague, I came across an old-school date shake, an iconic symbol of Palm Springs. It was created by a man named Russell Charles Nicoll, who used dates and fresh sheep's milk and sold them roadside for anyone to enjoy. I named the cocktail after his daughter (Valerie Jean)."
What she's doing when she's not working: "I try my best to read a book that isn't cocktail-related, or to watch documentaries. Removing myself from the cocktail world is healthy sometimes. I love reading into new business models and concepts, especially anything that pertains to leadership and creating longevity for a business. I also like to sleep. A lot. Sleep is nice."
Her favorite thing about New York: "At 2am I can get a pizza delivered to me while I sing karaoke in a bar next to my husband, sipping on a local craft beer after I worked a 12-hour shift that made me feel alive."
Mimi Burnham
Where to find her: Porchlight Bar (address and info)
Specialty: "The inspiration for this is hot nights in the city and my love of summer mint," Mimi says of the Juanita, a jalapeño- and mint-infused margarita. "Plus, I like tequila and fresh lime juice. It's an approachable cocktail for many people, yet it is sophisticated enough for my craft cocktail buddies."
What she's doing when she's not working: "I adore walking the High Line and seeing the different expressions of fauna as the seasons change. It is such a great use of space and I think it is a crowning jewel of Manhattan. I am also an avid swimmer, and like to go to museums as often as possible for my culture fix. But mostly I like spending time and sharing laughs with friends."
Her favorite thing about New York: "I love that New York is the biggest little city in the world, in that New Yorkers stick together through thick and thin. The camaraderie I experience from having lived here for so long is such a wonderful gift. I can experience every cuisine and culture on Earth -- usually being very welcomed to try something new and different, all within the confines of the five boroughs."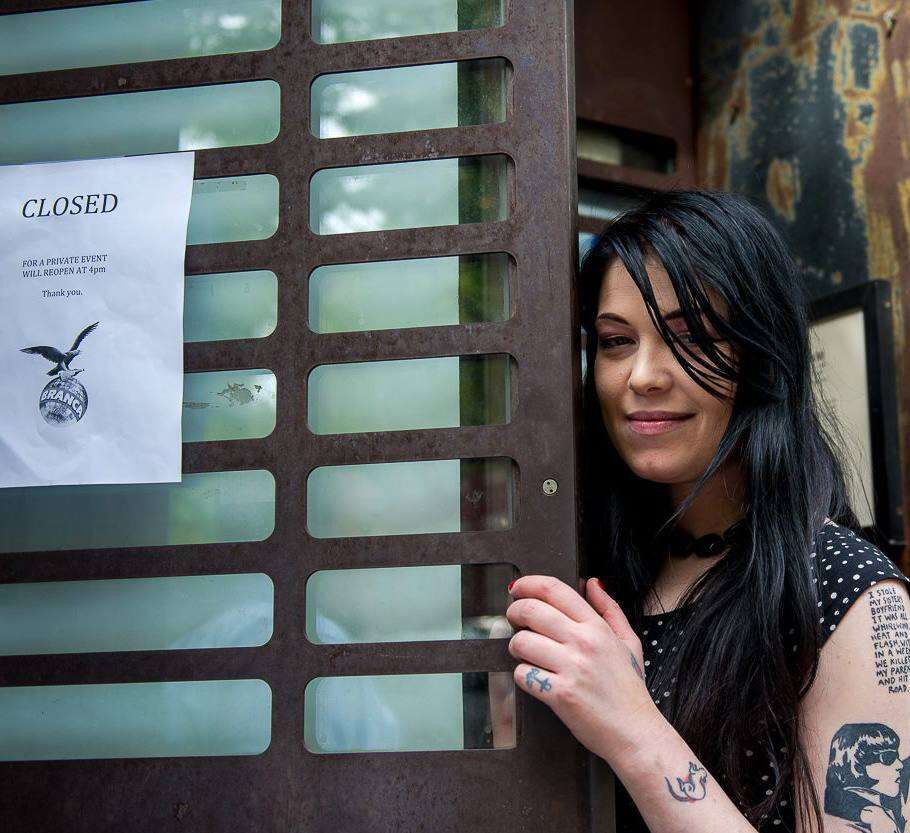 Tonia Guffey
Where to find her: Dram (address and info)
Specialty: "I have a pretty broad Rolodex of personal recipes. I've been lucky enough to work at many places that encourage cocktail contributions to seasonally changing menus, and now running the program at Dram has allowed me to come up with some really special drinks," says Guffey, head bartender of this perennial favorite in one of Brooklyn's most bar-saturated neighborhoods. "I consider them all my babies, but I suppose the one that is most well known would be the Teenage Riot. Named after a Sonic Youth song, it's a Rittenhouse rye-based cocktail with Cynar, Dolin dry vermouth, Lustau Amontillado sherry, and Regan's Orange Bitters No. 6. It's kind of in the Manhattan family, but I think it has a lot more depth."
What she's doing when she's not working: "My boyfriend is a chef, and, not to be that cheese ball who says 'I'm a foodie,' but I will say that we spend a lot of time dining out. Some people love to travel, some people buy fancy furniture, we go to really fancy restaurants and stuff our bellies on tasting menus. Aside from that I spend a lot of my free time at dive bars, tattoo shops, painting, and collecting records. On paper I'm sure I come off as a vapid hipster, but I grew up in my teens really into punk, metal, and grindcore music. I wanted to know everything about every band before that kind of thing was available on the Internet. I've really always been a nerd, which is where my love for archaic cocktail knowledge spawned from, I think."
Her favorite thing about New York: "New York is just this living, breathing thing. It changes constantly. It gets gritty, it gets clean, it gets rich, exploited; it can make you feel like nowhere else on Earth, and then it can slap you in the face. But it always bounces back. When you live here, just when you think it's mellowed out or it's not like the old days, you end up at some crazy party in some warehouse in Bushwick watching bands you'd never think you'd get to see, drinking boxed wine with who you think may actually be Bill Murray."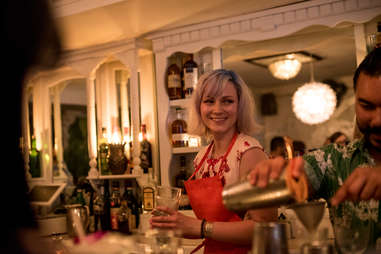 Jane Danger
Where to find her: Cienfuegos (address and info), Mother of Pearl, (address and info), and Niagara (address and info)
Specialty: "All of the drinks on the Mother of Pearl menu are favorite creations. Anything on crushed ice is a known go-to of mine," says Danger, the confectionery goddess behind dearly departed Jane's Sweet Buns and NoMad bartending alumna. "Cienfuegos is focused on rum, meaning all of the daiquiris are a very real thing. And when I'm at Niagara, you're probably going to be getting a Fireball shot and a Miller High Life. Or a Fernet bomb if I'm feeling saucy."
What she's doing when she's not working: "I'm probably sitting in front of one of my friends at their bar or hanging out with my dog Jonny. Sometimes both at once. These things tend to happen before or after since I'm working every day."
Her favorite thing about New York: "I keep drastically different hours from a nine-to-fiver. I'm working more of a 5pm-4am schedule, so when I'm done with work, the city is pretty much left to myself -- and a select few others. I go to the dog run when all of the interesting folks are there. I get my after-work drink at last call. There is no line at my favorite sandwich shop. I see the quiet before the storm and the destruction after when people are looking for happy hour."
Lucinda Sterling
Where to find her: Middle Branch (address and info)
Specialty: Currently it's the Northern Lights, inspired by Lillet Rose. "It's a great harmony of macerated fruit notes and the citrus juice-forward Tanqueray Ten," says Sterling, who runs Middle Branch. "Other ingredients include curaçao, fresh grapefruit, and lime; shaken with a grapefruit peel (regal style) and served up with a grapefruit twist."
What she's doing when she's not working: "Most likely traveling or working on clothing designs. I intend to launch a line of clothing for females specifically."
Her favorite thing about New York: "The anonymity among the masses, yet the brethren that exists within our small community of bartenders."
Jade Sotack
Where to find her: Wassail (address and info), Sophie's (address and info), and the Roof at Park South (address and info)
Specialty: "When I was back in Portland at Rum Club, it was basically anything blue. At Pouring Ribbons I did a killer milk punch, Measure of a Man. I became obsessed with all things riesling at Terroir. Now I work at three bars, but primarily as the head bartender at dope Lower East Side cider bar Wassail, so I've been creating menus that work with cider and all things apple (Pommeau, brandy). It has been a super-fun challenge that I hadn't really explored before. My current fave is the Wet Hot American Summer with Laird's apple brandy, Royal Dock gin, watermelon-habanero syrup, BBQ bitters, cider, and salt."
What she's doing when she's not working: "I work. A lot. Since I'm pulling 60-70 hour weeks, I spend almost all of my free time hanging out with my husband (who is opening his own bar right now, not busy at all) and my kids (two girls, 15 and 13), soaking up all of the amazing stuff that NYC has to offer. And I sleep, because whoever said sleep when you're dead clearly doesn't understand sleep, or death. If not with fam or asleep, I spend a lot of time running, which is half to burn off the massive amounts of whiskey I consume and half to have some meditative time. I'm currently training for a half marathon in October."
Her favorite thing about New York: Her husband, barman Al Sotack.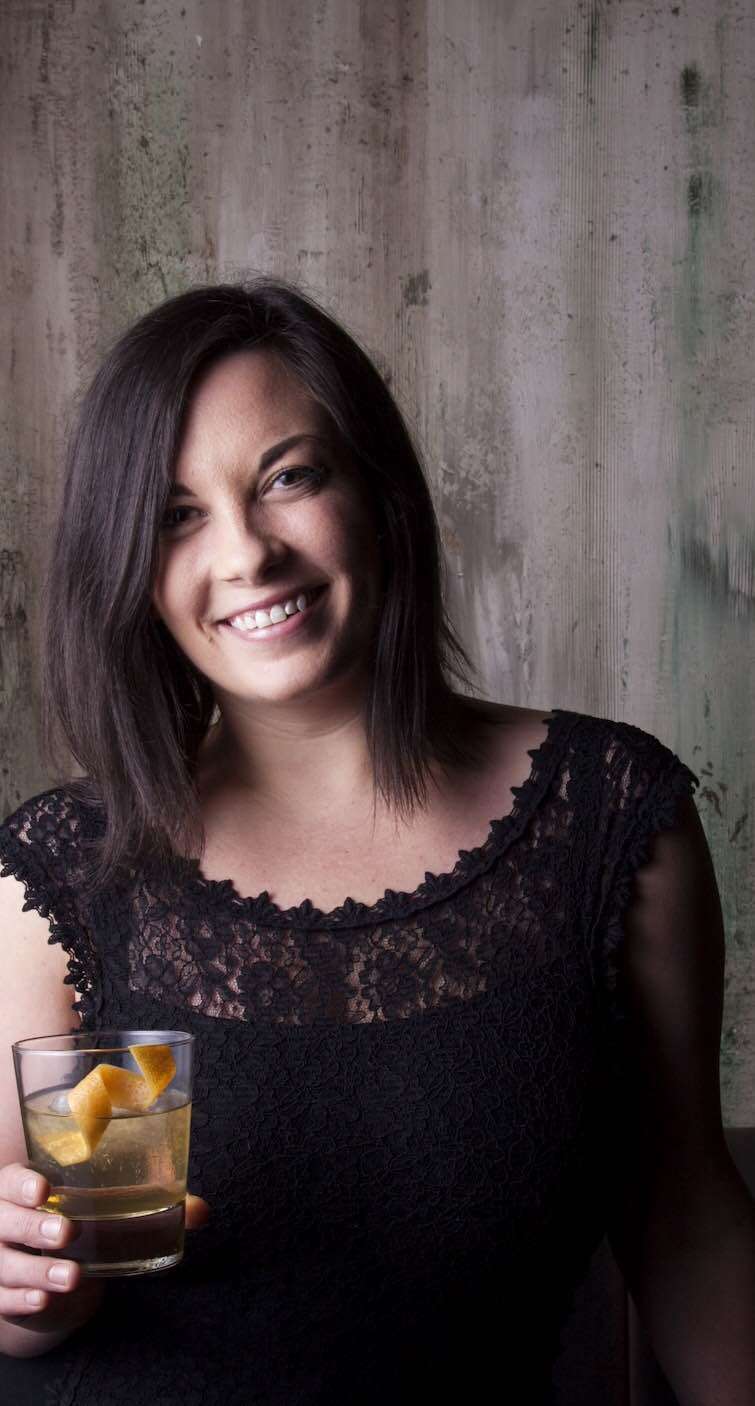 Eryn Reece
Where to find her: Death & Co. (address and info)
Specialty: "I would have to describe my style as opposed to a single creation," says Reece, Death & Co.'s head bartender and a former Miss Speed Rack winner (2013) who was taken under lauded barman Tony Abou-Ganim's wing when she landed in New York. "This would be something that is stirred and spirit-forward that incorporates mezcal and spice."
What she's doing when she's not working: "Now that it's summer I have finally bought my first real bike. Long bike rides are my new favorite pastime. Haha. I just realized I sound like a dating profile."
Her favorite thing about New York: "Being exposed to so many different cultures, foods, and art is extremely inspiring."
Natasha David
Where to find her: Nitecap (address and info)
Specialty: "I love a good low-ABV cocktail and I love a good spritz. I have a cocktail on the menu right now called the Witching Hour made with Pommeau, Amontillado sherry, pomegranate, apricot and dry sparkling cider. It was inspired by my childhood in Germany drinking what is called an apfelschorle: dry apple juice and sparkling water," says the Maison Premiere alum.
What she's doing when she's not working: "When I'm not working, which is a very rare occasion, I can be found on my roof, gardening, drinking rosé, cuddling with my cat, and eating a home-cooked meal with my husband. I work so much and spend so much time in bars that I crave days at home barefoot without makeup and an itinerary."
Her favorite thing about New York: "I've been in New York for 12 years now. I often consider moving, but something keeps me here. There is an energy, a vitality that can't be found in any other city in the world. I mean, even the corner deli down the street from my apartment in Bed-Stuy makes a terrific sandwich at 4 in the morning. On a more personal note, as someone who is bi-racial and grew up all over the world who never really planted any roots anywhere, it's the only place I have ever felt at home. You can walk down the street and see someone from every corner of the Earth."
Meaghan Dorman
Where to find her: The Raines Law Room (address and info) and Dear Irving (address and info)
Specialty: "The Gibson at Dear Irving. It's a classic but I'm really happy with our house one. It's a touch savory (pickled onion brine, Carpano Bianco, Tanqueray Ten) and people always come in saying they've been craving it," Dorman says. "When I was at Lantern's Keep, I created the Wildest Redhead, which is a blended Scotch, lemon, honey, allspice dram, and Cherry Heering cocktail. I wanted a layered, but crowd-pleasing Scotch drink for the menu and it's lived on at the other bars since. I can probably never change my hair color now."
What she's doing when she's not working: "I have a twin sister who just had a baby, so most of my free time is going to visit them in the New Haven area. I have an old farmhouse that was in my mother's family that I've been fixing up over the past two years there. As much as I love New York, it's the perfect breather from it."
Her favorite thing about New York: "You can try anything and there will be people to check it out. I always use Birds & Bubbles as an example. You can literally open a dream shop of Champagne and fried chicken here. New York has a great creative energy and we go out seven nights a week."
Amy Koteles
Where to find her: Sidewalk Cafe (address and info)
Specialty: "A Plymouth gin gimlet on the rocks and, on the side, a shot of Tito's vodka with lime juice chilled," says Koteles, an eight-year vet of the now shuttered Mars Bar. "I'm not a mixologist, but I find this gets one in the zone for a night of gallivanting and cavorting."
What she's doing when she's not working: "I'm probably in my building's communal backyard on the hammock, throwing balls at Tupelo, my dog, whilst watching Netflix or reading a book someone loaned me. Why? Because lazy afternoons are what energize and calm me. Life wins."
Her favorite thing about New York: "Having lived here for 18 years, every few months I bitch and moan and say I'm gonna leave until I realize that 1) I hate driving a car, and 2) this is home. I have 24-hour delis, can be surrounded by people that make me question myself constantly (for the better!), and can never be bored. It's the best place to be alone but not, truly, alone."
Sign up here for our daily NYC email and be the first to get all the food/drink/fun New York has to offer.
Alia Akkam is a food, drink, travel, and design writer for myriad outlets. Follow her on Twitter.