Courtesy of Sam Oberter
Courtesy of Sam Oberter
When you talk about NYC's "underground" scene, you probably think of super-crazy clubs with passwords and gremlin-guarded entryways. Rarely do you think of spots that are actually, um, under the ground.
Well, allow us to think of them for you: here are NYC's 14 best subterranean bars.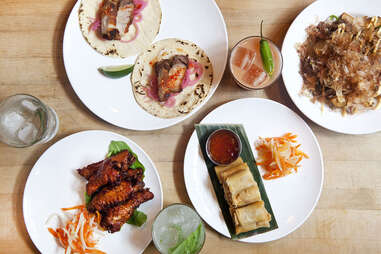 East Village
Under the streets of the East Village is this brew-lover's bliss. Jimmy's No. 43 has a lengthy list of craft beers, but it's more than just a perfect pint that you can score in this subterranean craft cellar -- be sure to check out Jimmy's menu of tasty Thai and Filipino street snacks, too.

Midtown East
There are very few things worth writing about in Midtown East when it comes to super-cool things, unless your definition of "super cool" involves Citibank and $9 happy hours. But in the basement of an office building on E 43rd between 2nd and 3rd Aves is one of those very few things: Sakagura, a magical Japanese wonderland of food and sake. The menu of sake is pages and pages long and filled with different types from all over Japan. The food is authentic Japanese, as well, so don't expect to find any California rolls on the menu.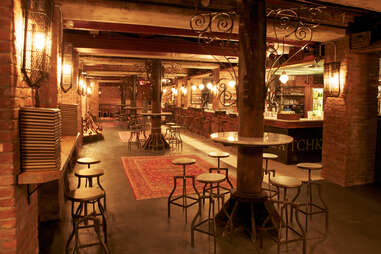 Chelsea
You could be above ground at Chelsea Market, elbowing your way through tourists and sucking down tacos and/or ramen... or you could venture underground to The Tippler. This historic space was kept out of the public eye for more than 100 years. Today, New York-philes will love the recycled decor, including reclaimed water-tower wood and train rails from the High Line. The menu includes cocktails, craft beer, wine, and small cheese plates & toasts.

Chinatown
You might've come to Chinatown for the dumplings and dim sum, but you really should stay for the pulque, an ancient Aztec fermented beverage that was thought to be the "nectar of the lightning gods." That sounds like something we could all use a little more of. But if that's a little too intense for you, the restaurant/bar also has tacos that'll make you feel equally god-like.
Murray Hill
Step into this 14th century-style subterranean tavern if you wanna slug back pints of ale and cocktails in a laid-back ode to the time of Shakespeare from a dude who's actually from Stratford-upon-Avon, the same English town from which the bard himself hailed. This is a great spot to go and swap sonnets with a few of your closest coworkers.

West Village
On the triangular corner of W 7th and Leroy is a random door splashed with graffiti... and of course behind it you'll find one of Manhattan's most supremely "cool" speakeasy cocktail bars. Down the stairs, Little Branch invites you into a dark, cozy den of mixology where the cocktails are as lethal as their prices. Still, this is New York cocktail royalty, so it's worth your dollars.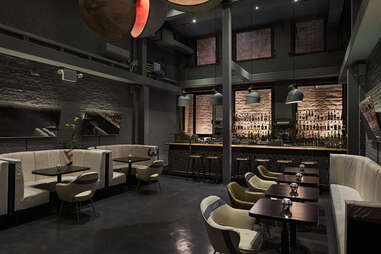 Soho
Hopefully your legs are sea-worthy for this nautical endeavor. The Ship is a maritime-themed nearly secret establishment sunk beneath Soho, whose bar is helmed by alums of spots like PDT and Little Branch. Order one of the signature cocktails, like the Mount Vesuvius with Scotch, orange juice, pineapple, and coconut or go bartender's choice.

Upper West Side
Down some dimly lit steps you'll find a Moroccan den complete with candles, lanterns, and all the decorative throw pillows you could possibly need, you aspiring sheikh, you. Come here for the dark, private corners and sweet water features, but stay for menu items like lamb meatballs.
Gramercy, Midtown
For those whose style is "casual Champagne," Flute Bar & Lounge is just that. The bar's two locations set out to take Champagne out of the VIP room and into a more comfortable underground atmosphere. We certainly feel more comfortable anywhere there's Champagne.

East Village
Dark + graffitied + dungeon-esque + damn good sake = this East Village made-to-look-like-a-dive-but-actually-isn't barstaurant, which takes the art of really good sake and small Japanese plates beneath the streets.
Little Italy
There aren't too many reasons why you're going to Little Italy, unless you're a tourist and/or have no idea what Italian food actually is. But Mulberry Project is a good reason for locals to head to this part of town. Tucked under the intersection of Mulberry and Grand is this speakeasy-style tribute to bespoke cocktails and New York City street art. In addition to tawdry tipples like "Prison Sex" and "Intolerance," be sure to try the bomb-ass menu of bone marrow with seared uni or pork belly with curried apple. You can also mix your own cocktail with a list of available ingredients.

Williamsburg
For all those times you just want to crawl underground, pretend your name starts with Sir (or Lady) and drink a proper whiskey, this whiskey wonderland-cum-smoking den of nobility underneath the streets of Williamsburg has you covered. The bar was founded by an Irish and Scottish duo bringing whisk(e)ys from their homelands (plus American whiskeys for good measure) to the mouths of thirsty hipsters.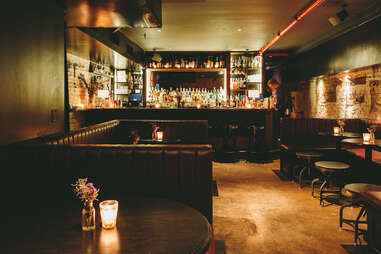 Lower East Side
From the owners of Death & Co. comes another "hipster chic" cocktail bar underneath Schapiro's. It's got everything a seasoned high-end cocktail bar lover could hope for, with dark banquettes, exposed brick, a backlit bar, oh... and booze. A lengthy menu of whimsically named cocktails, including classics and Nitecap's own, is rounded out with a selection of small plates from Schapiro's upstairs.

Nolita
Underneath French bistro Jacques is this new(ish) pink-and-red bordello-themed bar. It's all about dark lighting and dangerous cocktails here, where anything goes so long as you remember to sing along when any power ballad comes on the jukebox. No seriously, that's one of the bar's rules.
Sign up here for our daily NYC email and be the first to get all the food/drink/fun New York has to offer.
Meagan Drillinger is a freelance writer for Thrillist and she prefers to do her drinking in attic bars exclusively. Follow her on Twitter, Instagram, and Facebook at @drillinjourneys.