We know you're already an expert on all the rooftops in NYC. But if you prefer your al fresco drinking (fine, and eating) to be both A) not 300,000 stories in the sky, and B) not at some super-obvious place (Frying Pan) or beer garden mobbed with stein chuggers, then you'll want to consult this: our list of the best secret spots in Manhattan for backyard and/or patio imbibing -- "secret" because they're a little less well known, not because you need to go through a rotating fireplace or whatever to get to them. (Probably.)
Gramercy
What you're getting: All the wells, drafts, or house wines thanks to a variety of open bar packages
Irving Pl is one of those quaint little streets in Manhattan that seemingly comes out of nowhere, armed with all the great gems. Rival NYC is one of said gems, mostly because of its secret back garden. Enjoy your summery beers underneath illuminated trees and hipstery bare bulbs that'll make you feel like you're in a Mumford & Sons music video. Wait... are you in a Mumford & Sons music video???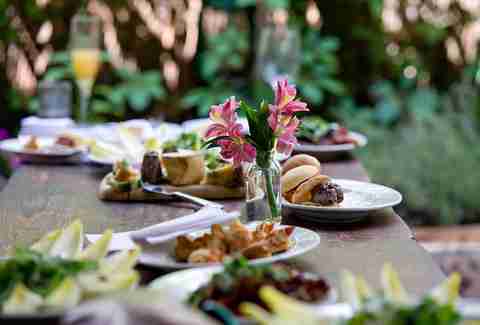 East Village
What you're getting: French wine

A tiny inside restaurant that looks like it can fit you, your date, and MAYBE your waiter is all a rouse when you head to the back of the restaurant and emerge onto a spacious, garden-y, Provencal-y patio. French cheese, crusty bread, and wine served in a canopied secret garden on otherwise-gritty 1st Ave.