There's no one definition of "sexy" -- what fits the bill for you might be totally un-sexy to someone who gets their definitions from UrbanDictionary.com. We partnered up with GUESS Night -- a new fragrance whose own definition includes "hot peppers" -- to track down five very different New York spots that, one way or the other, provide an atmosphere that serves as a prelude to getting your freak on.
Bobby's
If the art deco sensibilities aren't doing it for you, then you can always go to their "tobacco shoppe" and buy yourself... condoms and top hats?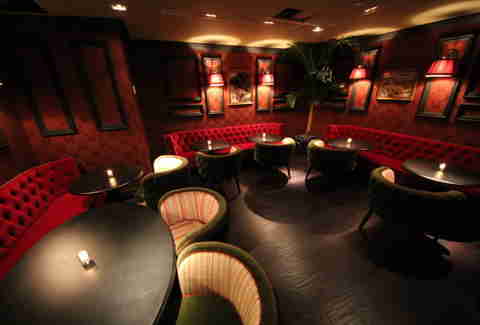 Cherry
An underground, velveteen wonderland beneath 16th, Cherry pairs lush, intimate decor with French/Japanese fusion, which uses lots of butter very efficiently.
Hill & Dale
The perfect date night mullet: dining tables in the front, and a sweet little private lounge in the back. Technically it's for parties, but then again, you are the party.
Wisemen
With an all-martini menu (with the exception of one drink), quilted marble floor pattern, and general '60s cache, even George Lazenby would feel like Bond in this place.
Flatiron Hall
Okay, this is an odd choice, but what other place in town gives you the chance to play Tramp to some Lady with a giant pretzel?