With so many options -- from speakeasies, to rooftops, to dives, to the classics -- figuring out which of NYC's 2,000+ bars are worth going to can be seriously overwhelming, whether you're from here or not. Well today we're gonna simplify things: these are the 50 NYC bars you absolutely MUST drink in before you die (or leave New York, whichever comes first).
West Village
You'd never know this throwback-looking spot actually opened in 2006, but it totally did -- offering up the hope that there can be new bars with old vibes and great beers that still feel like real, old New York City bars.
Lower East Side
There are tons of dive bars you can end up at when you should be going home, but not all of them have disco balls, a leopard-print pool table, and dumplings at 4am. Charles Hanson's 169 Soul Jazz Oyster Bar is indisputably both the greatest edge-of-Chinatown dive and the best place to end your night in the city.
Alphabet City
Aka Horseshoe Bar, aka its actual name "Vazac's" -- there's no better place in the city for a 24oz pounder, shots, a jukebox heavy on the metal, and a bathroom that consistently smells of drying paint. If you're more into cinematic reasons to check bars off your list, Crocodile Dundee was filmed here, which is simultaneously hilarious, nostalgia inducing, and just plain great.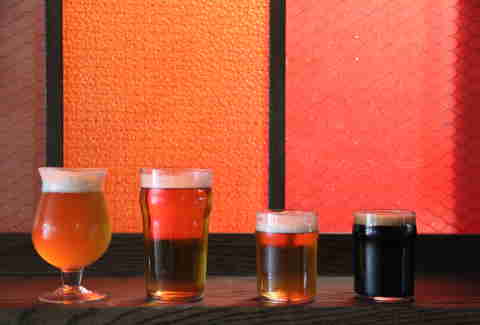 Alphabet City
Even though it doesn't have the biggest selection of beers on tap, this part-bar, part-retail beer, cheese, and meat shop always has some of the most interesting beers available via a tight selection on tap and in fridges. You'll get no pretension here, just good beer, knowledgeable bartenders, Guess Who?, and strong Wi-Fi in case you need something a little stronger than coffee while "working from home."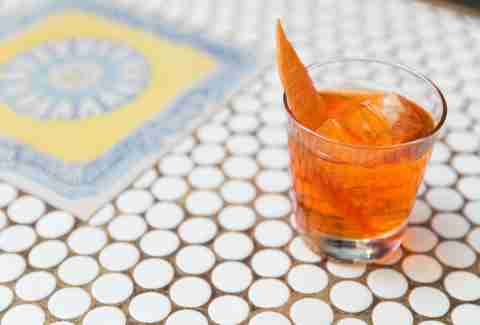 It's one of the best cocktail bars in the whole damn country but it's tiny, so it can be tough to grab one of the coveted seats. Do it though and you'll be downing an expertly made cocktail that explores the world of bitters like, say, the Amaris, which is loaded with Fernet Branca, Gran Classico, Strega, dry vermouth, and Burlesque Bitters.
Angel's Share's Japanese-influenced cocktails and décor (note the angel mural above the bar) set it apart from the city's more obnoxious speakeasies. Located behind an unmarked door inside a second-story East Village Japanese restaurant, it's an elegant and intimate place where you can (and must) get a plum-salt rim on your drinks.
There is pretty much no better place on Earth. At least that's how you'll probably feel when you're a few deep on excellent craft beers and approaching a high score on some forgotten late-'80s arcade game like Arkanoid, Bubble Bobble, or Smash TV. It's like you get to hang out in your friend's cool basement, except the beer's not terrible and you don't have to hide-sneak the empties out while his parents are away.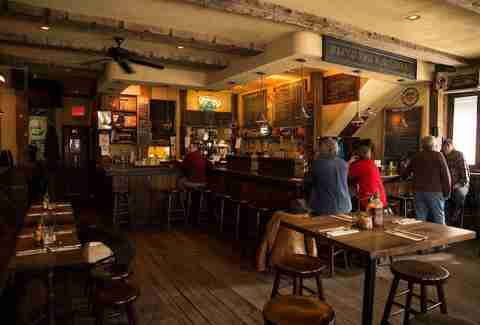 This is one of the first places in the city that was truly a great beer bar. Even soaking in the rising tide of great beer around the city this place still stands out. It's got more than 30 taps that always change and always have something rare, interesting, or just fucking great as an option. Oh, and the wings are on point.
Too often sports bars try to get cute with all kinds of weird food, or music during commercials, or whatever else. If you're looking for a reliably great sports bar, with delightfully greasy bar food, and a shitload of TVs, Blondies is the spot.
The science-heavy innovative cocktail arm of the Momofuku empire, this Ssäm-adjacent spot is home to some of the most creative and interestingly created cocktails you've ever had like, for instance, the Bee Sneeze (milk-washed gin, honey, lemon, and cracked black pepper).
It's not in Bushwick, and it's definitely not a country club. It's a dive with super-cheap drinks and a huge backyard with mini golf -- but most importantly, it's the birthplace of the pickleback -- the shot that's been the catalyst for innumerable questionable decisions across the city.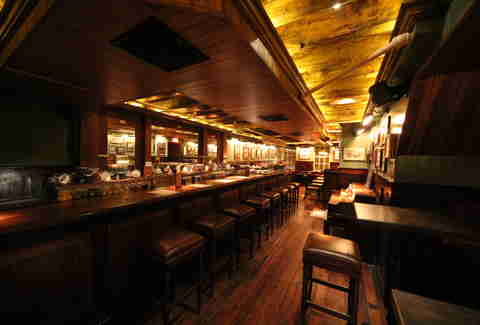 This old-timey grog and grocer is still relatively new to the city but has quickly become absolutely essential to the bar scene. It dropped into a neighborhood in need of a great destination bar. It's won multiple awards, including "World's Best Cocktail Bar" this year. It's got a surprisingly underrated beer program. And most importantly, the cocktails are God damn delicious.
Easily New York's most influential cocktail bar, this speakeasy has spawned a 500-recipe cocktail book, as well as numerous other top cocktail spots from its alums (including Pouring Ribbons and Mayahuel). You're going to wait outside longer than you'd like, but a Hunt & Peck (rye whiskey, mezcal, amaro, vermouth, and Campari) will make those 30+ minutes of feeling like a peasant completely worth it.
This guy is the essential Upper West Side neighborhood sports bar. It's got tons of TVs, board games, and a wide variety of beers to choose from. If you ever need something to bond over with someone from the Upper West Side (which... sure, it could happen), go with Dive 75.
A Williamsburg dive bar that you'll actually like every single person in (maybe because it's enough stops off the L), Duckduck is located inside a former garage (the doors are opened in the summer!) and outfitted with mismatched vintage furniture and a random spiral staircase jutting out from the ceiling. It's an intimate spot for after-work drinks during the week, and at 2am on the weekends it's the place to run into everyone you've ever met in Brooklyn (which should probably only ever happen at 2am).
Pay no mind to the sketchy exterior. The cocktails at this Long Island City speakeasy put Queens on the map as a go-to place for great drinks, and helped transform the borough's whole nightlife scene. Drinks come with metal straws and tequila shots are served in miniature Tikis.
It's one of the city's most historic and beloved bars, and boasts a clientele made up of people from all different walks of life -- from artists, to old-school locals, to wealthy Tribeca moms. And everyone is there in the name of a casual pint and a great burger.
A classic New York bar and one of the first to mix the speakeasy style with an actual great time, Employees Only is known for being a restaurant industry spot, because the kitchen is open until 3:30am. As a testament to how much they love working there, all the bartenders have "EO" tattoos, and the head bartender was a subject of the cocktail bar documentary Hey Bartender.
The quintessential summer-night drinking destination, the Frying Pan is a former lightship that now serves as a floating dive bar. No human being is above drinking while watching the sunset over the Hudson.
A lot of people get upset when classic bars, clubs, and cafes close in the city. And rightfully so, but this is a rare instance when the newer version is actually great and doesn't completely shit all over the reckless, kitschy, divey vibe of the original. This is the spot if you want to go to a cocktail bar and actually party.
It's dirty, it serves beer in Styrofoam cups, it might be the last bar in the city that has bras hanging from the ceiling/walls (RIP Hogs and Heifers), the fried food is not as bad as you think, and it's open at 8am. TL;DR -- it's completely great.
A reason you actually need to visit Staten Island, this German beer garden has tons of good beers on tap, actually great live bands, and enormous salted pretzels. And there's a built-in double bucket list item: you must drink on the ferry on the way over. Otherwise you've failed.
Located inside the iconic St. Regis hotel, the King Cole Bar is the birthplace of the Bloody Mary (which is reason enough to go here) and one of the few places on here you'll want to to dress up for. Be prepared to spend a lot on your drinks, but feel like it's totally worth it, if only because you'll basically be New York royalty for a night (or maybe you're already New York royalty, in which case, just go here all the time??).
This filthy, old East Village rock & roll bar is a neighborhood classic. It's staffed mainly with badass female bartenders covered in tattoos and has a great mix of old regulars, younger people that get where the place is coming from, and East Village douchebags.
Located in the heart of the West Village, this basement speakeasy looks like it's straight out of a date movie, seamlessly combining an essential New York experience with a sexy underground atmosphere and great cocktails in a way no other restaurant or bar can.
There are a ton of great things to do and drink (Playland, Rippers, Wharf Bar, Whit's End, Uma's...) in Rockaway but nothing beats catching some live music while downing a spicy michelada and grabbing a bite from one of the neighboring vendor stands. This is what people mean when they Instagram about #vibes.
The best (only?) place to take down oysters and absinthe while gawking at Williamsburg locals, Maison Premiere is modeled after the New Orleans French Quarter, and has an incredible Secret Garden-like outdoor patio that you'll never want to leave.
With its panoramic city views, the roof garden and martini bar on top of the Met is a summer drinking experience that can't be missed. Plus, there's nothing quite like winding through a museum once you're a few martinis deep -- it's a Night at the Museum-like fantasy, except so much better. Plus PLUS, you'll suddenly feel much more knowledgeable about art.
An East Village institution that's been around since 1862, McSorley's will make you feel like you're instantly becoming a part of New York City history, and all you have to do is choose between light or dark beer (bonus: there's no wrong choice!).
A gruff bartender, salty regulars, sagging ceilings, original art featuring local characters, all with an air of approachability, fun, and a shuffleboard table. This is classic New York neighborhood dive bar at its classic-est.
A huge part of New York City history lies out in Queens at Neir's. Not only was Goodfellas filmed here -- allowing you to live out some of your Scorsese-NY fantasies -- it was also opened in 1829. You can't really say you've drank in New York until you've drank in a truly old-ass bar like this.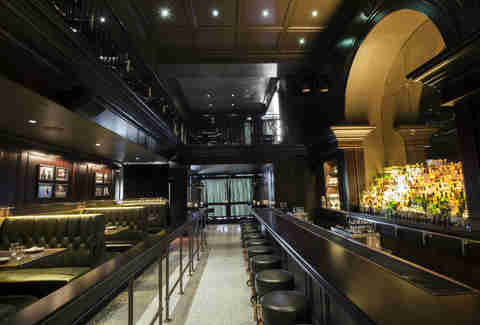 The drinks are some of the best in the city, occasionally come in what look like massive vases, and the space is straight-up beautiful. The clincher? Some of the best damn bar food around -- it's like a mix between going to a world-class bar and a world-class restaurant, actually that's exactly what this place is.
Before you moved to NYC (or before you could drink), if you pictured yourself in a big bustling New York bar, this is likely what you were picturing. The ceilings are high, the mirrors distressed, and everything feels classic. And if you're into this kind of thing, the urinals are no slouch either, as far as urinals go.
Located inside Crif Dogs on St. Marks, and accessed via a phone booth, PDT is a can't-miss-experience bar. It somehow manages to be actually cool without trying to prove that it's cool, which is likely due to the fact that it's inside of a hot dog joint (which you can order from WHILE you're at the bar).
Everyone in Pianos thinks they're the coolest person in Pianos and you will too, but that's why it's great -- it seems like every New Yorker has a "Pianos story," and only like, 65% of them are regrettable tales (if you have one of those, blame it on the super-strong margaritas).
There are probably better places to sing karaoke, there are definitely cleaner places to sing Karaoke, but there's no place to sing karaoke that has more character (or zebra-print couches, actually mostly zebra-print couches) than Planet Rose. Just a suggestion, but "Unbreak My Heart" always brings the house down.
Come during the day, the earlier the better so you can stake out some space for your group, then proceed to house steins, take down sausages, and enjoy the stylings of whatever gypsy marching band is roaming through this massive beer hall that day.
If you're going to choose just one secret bar to visit in New York (which you're obviously not going to, because that would be dumb), it should be Raines Law Room. There are two locations -- one inside The William in Midtown East, and the other in Chelsea -- and both are serving up insanely good, original cocktails, like the Gershwin, made with gin, ginger, and rosewater. The Midtown location even has an entire menu dedicated to Old Fashioneds, so maybe go to that one first?
Beer is served in goblets the size of your face (or close to it... we don't know how big your face is), hard rock blares from the speakers, you can sit outdoors, and there's the most flawless mix of slightly strange old bikers and entitled 20-somethings that seems to perfectly capture the current scene in Williamsburg.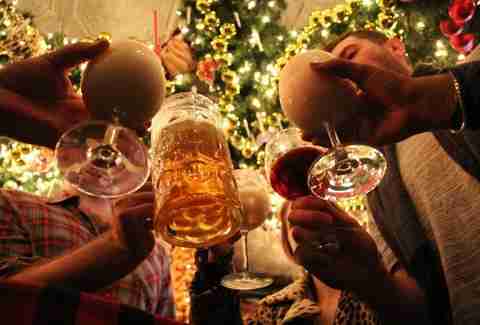 If you don't go here early on a December day, score a seat at the bar, order some eggnog, explore some schnapps, and leave a generally more festive person, you're doing it wrong.
This is not only one of the best dive bars in New York, it's one of the best dive bars in the entire country -- one that's notably keeping the fragile dive bar scene in New York alive. All you need to know is that you get free hot dogs with your drinks, and there is an only-slightly-terrifying pig mascot outside. Whether or not said pig is Rudy himself may be one of the greatest mysteries of our time.
Located in the former Black United Fund Plaza community center, the Shrine is loaded with Harlem history. It's decked out in records, African art, and purple/pink lighting, and offers great live music every single night without any cover. Throw in cheap drinks, laid-back vibes, and delicious food, and no one will be complaining about the trip Uptown.
Spring Lounge manages to do what so few bars can -- it's just a regular, normal bar that doesn't feel like a dump, but would never in a million years be pretentious. The crowd is just the right mix of locals and post-Lombardi's tourists, plus there's a great craft beer selection, and free hot dogs on Wednesdays. It's also sometimes referred to as "Shark Bar," which is undeniably cool. And because everyone should experience drinking in New York at an ungodly hour at least once, it's open bright and early at 8am. Or, you know, you could just go at a normal time.
Sunny's is a champion. It survived being completely wrecked by Sandy, managed to get itself back to how it once was, and now serves as an iconic Red Hook neighborhood spot. The crowd is insanely friendly, the drinks are cheap and strong, and there's great live music.
The most delightfully weird bar in the city, from its borderline-speakeasy entrance (a bizarre gecko skeleton notifies you where it is), to its faintly anachronistic Art Deco decor, carpeting, and pay phone, to its actually on-point cocktail and food program. I defy you not to enjoy yourself here.
Before dark, it's a great rooftop bar with fantastic city views. After dark, it transforms into an insanely hot club with an always-attractive crowd. You may not want to admit it, but you always have a good time here. Enter the hot tub downstairs at your own risk, though.
It's one of the best dive bars in the country, where drinks are served in huge Styrofoam cups that you used to be able to get to-go, but as of late have to (sadly) be consumed legally indoors. Either way, Turkey's Nest is the perfect no-frills bar that somehow has never gotten too Williamsburg-y.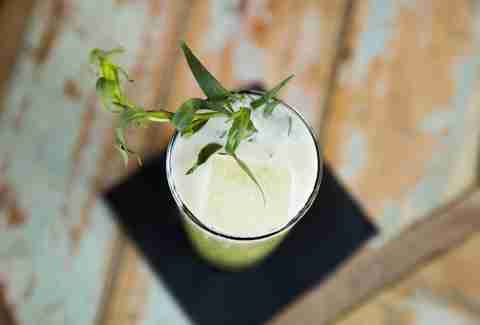 Feel free to disagree with us here but this is perhaps the perfect bar. It's feels well designed and cool without being unwelcoming, it makes badass, amazing cocktails without being pretentious about it, and the food is inventive and interesting without being precious. This place just hits the sweet spot for us.
Still the premier spot in the city to get weird and eat tater tots.

Sign up here for our daily NYC email and be the first to get all the food/drink/fun New York has to offer.
Andrew Zimmer is Thrillist's former New York editor and he still plans on drinking at infinity bars. Follow him on Facebook and Instagram.
Lucy Meilus is Thrillist's new New York editor and has a fair amount of drinking to do. Follow her on Twitter and Instagram.
Stuff You'll Like