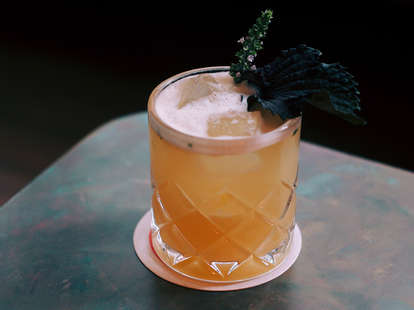 Getaway Bar
Getaway Bar
The latest trend in cocktails comes with a twist: a lack of liquor. Last year marked the third straight year that Americans consumed less alcohol, according to an IWSR report, and booze-free bars are popping up across the country, including in NYC, to serve consumers who are increasingly choosing health and wellness over bottomless brunch and two-for-one margaritas. Even some bars that do pour liquor are getting in on the trend with extensive non-alcoholic options for those who prefer not to imbibe.
But you won't find Diet Coke and seltzer on the menu. Designed to cater to a millennial audience that expects a curated experience, these watering holes serve creative, spirits-free drinks with unexpected ingredients that won't leave you with a headache. At Jean-Georges Vongerichten's abcV, "restorative tonics" feature a medley of medicinal herb roots and small-batch ingredients like cherry surette, a slightly acidic and sour condiment from Canada, while the Bushwick cafe Ambrosia Elixirs' drinks are made with ingredients like dandelions, various mushrooms, and "ceremonial cacao."
To drink without the hangover, here are seven New York City bars serving up booze-free cocktails.
Greenpoint
Opened just last spring, Getaway looks just like any new Instagram-friendly establishment: marble bar, muted gray and pink color scheme, abundant potted plants. The mocktails will run you $13, and feature fun names like A Trip to Ikea -- a pale pink drink with lingonberry, lemon, vanilla, cardamom, and cream -- and That's Just My Face, a spicy mix of mango and jalapeño purée, lime, elderflower tonic, and black sesame. For a more wallet-friendly beverage, there's a selection of house-made shrubs (made from vinegar, fruit, and club soda) in flavors like cinnamon & fig, fennel, and strawberry rhubarb. While some boozeless bars offer kombucha or low-ABV beers, Getaway is committed to being completely alcohol-free, thus the "0%" you'll see on coasters and the sign outside.
Bushwick
Ambrosia Elixirs' website describes it as "a botanical cafe and apothecary bar" that's focused on "developing personal relationships with plants and people of the conscious community, who desire to live an authentic life that is aligned with the earth and global prosperity of humanity." All that translates to a menu of vegan food and $12 herbal elixirs with names like Golden Sun, Aphrodita, and Moon Dance -- a purple drink made from blue lotus flower, homemade grape juice, and lion's mane mushroom. Ambrosia started as a series of pop-ups in 2016 by Valeria de la Pava, who comes from a family of traditional healers in Colombia; this year, the cafe expanded with a second brick-and-mortar location in Williamsburg that's open Friday to Sunday.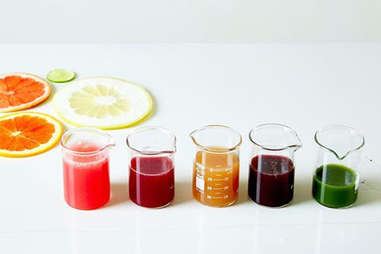 Flatiron District
Non-alcoholic options abound at Jean-Georges' plant-based abcV restaurant and bar, where the focus is on organic, non-GMO, sustainable ingredients that promote wellness and "nurture our personal and planetary ecosystems," according to their website. The "V" stands for vegetables, Vongerichten, and vibrations, which is what the restaurant calls its "restorative tonics." Each of the five alcohol-free tonics are named for the sensation it's meant to enhance in you, like "energy" or "connect." The Mindful drink is made with common brain-fueling ingredients like kale, spinach, ginger, and lime, as well as brahmi, an ayurvedic herb used to improve memory and anxiety, and gotu kola, a plant used in Chinese medicine to boost brainpower.
NoHo
One night a month, the lower level of Von, an unfussy bar just off the Bowery, ditches the booze and turns into Listen Bar, an alcohol-free zone where all the bartenders are musicians who curate the playlist. Founder Lorelei Bandrovschi started Listen after a friend dared her to go a month without drinking -- a month during which she discovered (1) there's a serious lack of nightlife options that aren't all about getting drunk, and (2) not drinking is pretty great. While it doesn't have a permanent home yet (they're fundraising to make that happen), Listen hosts monthly themed parties that always sell out. All of the drinks are dedicated to a non-drinker muse, and they're crafted by big-name mixologists, including Jack McGarry, the sober owner of the Dead Rabbit, which was named best bar in the world in 2016. The menu also categorizes drinks by dietary restrictions, and includes non-alcoholic beer and kombucha on tap.
East Village
Located off Tompkins Square Park, Mother of Pearl's Polynesian theme -- complete with totem pole bar stools, banana leaf wallpaper, and hanging plants galore -- lends a fruity, and fairly healthy, twist to its mocktails. The bar program is lead by mixologist Jane Danger, previously of legendary Manhattan cocktail bars like Death & Company and Please Don't Tell, and includes five "virgin isles" to choose from (priced at $12 each). The Forbidden Fruit is made of orange, grapefruit, and lemon juices with ginger, turmeric, and oregano, but if you want something a little bolder, go for the spicy Pepper Keenan, with pineapple, pomegranate molasses, lime, bell pepper, jalapeño, and agave.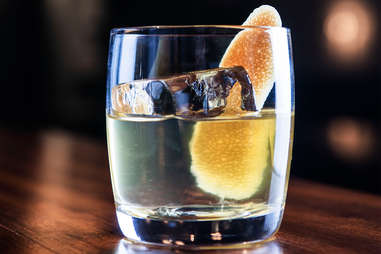 Greenwich Village
This bar is not an alcohol-free zone, but it does something that no other traditional bar on this list does: It puts the boozeless options at the top of the menu. At $16 each, these beverages are not cheap, but they are delicious. The menu changes regularly, and includes descriptions of the drinks that are more entertaining than helpful. Doyenne, a mix of carbonated clarified comice pear and Mount Olympus tea, is like "sipping on pear juice while walking through a Greek grandmother's herb garden," while Serendipity is "a savory tropical sipper for when you're in an Old-Fashioned frame of mind" made of clarified tomato and clarified passionfruit, served with a grapefruit twist.
Williamsburg
At this all-day cafe known for its brunch (and particularly its Instagram-famous hazelnut maple praline pancakes), the booze-free drinks are crafted with the same amount of care as the traditional cocktails. Visit at any time of day, sit at the solid-plank walnut bar top and choose from nine "zero proof" options, which change with the seasons. Currently on the menu: the Blackberry Julep, a mouthwatering combination of shiso, blackberry, vanilla, and sherry vinegar; and the zesty Gold Crush made from the non-alcoholic spirit Seedlip Grove mixed with turmeric, ginger, honey, lemon, and Aztec chocolate. Served hot or cold, it's the perfect year-round drink: a hot toddy in the winter or a refreshing summer sipper.