If there's one thing you can always count on, it's your fingers. But if there are TWO things, it's your fingers, and the fact that a shton of awesome new beer bars are going to open in NYC every month. These are the eight absolute best of the last 30ish days. Antler Beer & Wine DispensaryLower East Side This rathskeller's co-owned by the two dudes behind the shuttered King's Head Tavern, and serves up great crafts like Baladin Super and Bronx Pale Ale, plus a selection of organic wines, and an extensive menu of "Southwestern- and Chinese-inspired comfort food" like cauliflower mac and cheese & a hot-wing sandwich stacked with hot sauce-braised chicken, bleu cheese spread, and carrot/celery slaw.
Bed-Vyne Brew Shop
Bed-Stuy
The younger brother to nearby Bed-Vyne Wine, the BBS is a combo beer bar/ shop/ music venue that features 10 swapped-out-daily craft beer taps for on-site consumption or growler-style takeout, as well as rare and elusive (stiff arm!) seasonal bottles like Avery Rumpkin: a Colorado pumpkin beer that's aged for six months in dark rum barrels with a whopping 18.53% ABV.
The Brew Inn
Greenpoint
Remaking what used to be the owner's mother's old Polish restaurant space (hot dog!), this neighborhood beer bar features an extensive menu anchored by the Kielbasy "Reuben", a Polish-inflected take on the classic, featuring grilled kielbasy, pickled cabbage, Manhattan Island dressing, and melted Swiss on rye. Eat it while you take down a 30-deep NY-centric tap list featuring the likes of Alphabet City Brewing Co's Easy Blonde Ale, Southern Tier's 2XIPA, and Captain Lawrence's Liquid Gold.
Glorietta Baldy
Bed-Stuy
Joining a family of bars that already includes Mission Dolores and The Owl Farm, this hops sanctuary is a haven for beer dorks, thanks to a draft list that ranges from Two Brothers Heavy Handed Cascade to Narragansett Lager, as well as ultra-rare and oddball selections that're part of their "bottle of the month" feature, like Sagra Bohío, and a Mikkeller/Anchorage collab called 'AK Alive!'

Hops & Hocks
Bushwick
Think of Hops & Hocks as an upscale mini-mart that specializes in craft beers and charcuterie. It's owned by the same folks behind Stinky Bklyn and sports 17 taps, a build-your-own six-pack component, and the "ham bar", a counter with two-to-three cured pork legs, as well as a healthy selection of accoutrements like mustard, pickles, and a variety of cheeses.

The Jeffrey
Upper East Side
Co-owned by food blogger/lawyer Andy Freedman and the owner of Long Island City's Alewife is the proverbial public house triple-threat with an espresso counter for the morning rush, a seasonal beer garden, and a full, non-garden bar stocked with a laundry list of brewage, like bottles of Hof Ten Dormaal Barrel Aged Project #9, casks of Bear Republic Racer X, and 20 rotating drafts, as well as small plates like house-made Sriracha peas & nacho-flavored popcorn. Also: there's a cocktail lab class Thursdays through Sundays!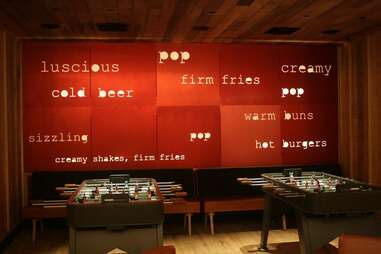 Pop @ Pod
Midtown
With the former chef of Flex Mussels and Oceana adding four varieties of mussels to the already-well-known arsenal of burgers that Pop has perfected throughout the years, this all-wood-paneled beerery also features a full bar, 10 taps filled with micro-brews like Pennsylvania's Voodoo, and a nonet of creative "beer cocktails", including (whoa...) Guinness Cream Soda.

The Sampler
Bushwick
The first thing you see when you walk into The Sampler is its library-like stacks-upon-stacks of beer bottles lining shelves that they use a sliding ladder to navigate. There's also 18 beers on tap, a growler station, a Bottle Wall of Fame, and $8 a-pop for a four-beer flight where you can mix, match, or have the bartender surprise you.