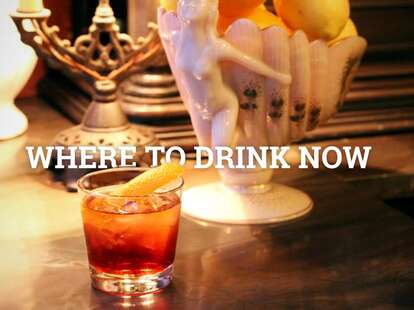 Since House of Cards wasn't going to binge-watch itself over the holiday break, you literally had zero-time to explore a whole bunch of killer cocktail bars that just opened up. Now that you've got time (and a huge crush on Zoe Barnes), we're breaking down nine must-hit newcomers and setting out some guidelines for what to order when you get there. Check it out:
Attaboy (click here for address and deets)
Lower East Side
The space that once was Milk & Honey is now in the hands of Sasha Petraske students Sam Ross and Michael McIlroy, who kept the closed-circuit camera-and-buzzer entry, but 86'd the reservations-only policy with a focus on more fun... without sacrificing beverage quality.
Essential Cocktail: There's no menu, which means you either 1) order a vodka/diet tonic like your friend, or 2) stab your VDT-ordering friend and get the "Bartender's Choice".
Hudson Malone (click here for address and deets)
Midtown East
From a native New Yorker and longtime 'tender behind the stick at the original P.J. Clarke's, Hudson Malone (named after the dude's two sons) has a drank-in look that makes you feel like you've been coming for years.
Essential Cocktail: The Boulevardier, with bourbon, Campari, and sweet vermouth. A throwback classic done expertly.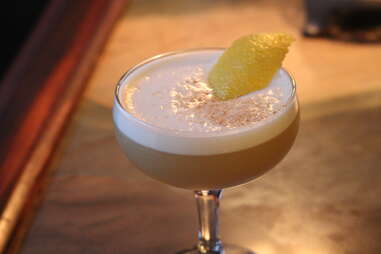 Louie and Chan (click here for address and deets)
Lower East Side
Looking like an Italian trattoria, Louie and Chan offers up a small bar up-front doing artfully prepared Italian aperitifs and cocktails (plus Italian classics and wood-fired pizzas for sustenance), also keep an eye out for their intimate downstairs lounge doing asian influenced cocktails .
Essential Cocktail: The Louie Louie. It mixes rye, amaretto, lemon juice, and egg white for a Winter-ready flip, garnished with nutmeg.
Featherweight (click here for address and deets)
East Williamsburg
Weather Up alum Johnny De Piper takes the lead on this new, no-nonsense cocktail den in Williamsburg, where a boxing motif largely ends with the mural outside. The drinks are worth going a few rounds with, though, thanks to inventive twists on classic recipes made with top-flight ingredients.
Essential Cocktail: The Scallywag. This guy's a Caribbean-inspired blend of overproof Smith & Cross rum, fruit juices, and house-made almond syrup, punched-up with a dose of Scotch and bitters and served tall in a Collins-style glass.
King Cole Bar & Salon (click here for address and deets)
Midtown West
Revamped by the dude behind The Lion and Bill's Food & Drink, KCB&S is the spot where the first-ever Bloody Mary was served (though back in the '30s, it was known as the 'Red Snapper'). You can still order the $25 classic, sip in front of their famed King Cole mural, and ask the bartenders about the riddle that's hidden in the painting.
Essential Cocktail: It remains the Bloody Mary, served here heavy on the Worcestershire and light on the horseradish.
Wallflower (click here for address and deets)
West Village
This shoebox of a spot comes from the team behind Mother's Ruin on Spring St, and features former Daniel barkeep Xavier Herit behind a really tiny bar doing all kinds of awesome, including bottle-carbonating cocktails and chipotle-infusing spirits.
Essential Cocktail: The Betty Draper, a ready-for-Winter, gin-and-calvados special with Sherry, celery juice, apple bitters, and awkward feelings towards that neighbor boy Glen.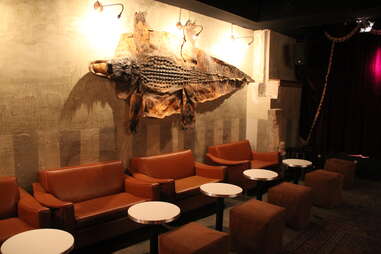 Botanic Lab (click here for address and deets)
Lower East Side
Apotheke alum Miguel Aranda brings his mastery of spices, rare ingredients, and... skinning alligators?... to this subterranean lounge in the heart of the Lower East Side, hidden below Casa Mezcal. Find the separate entrance and you'll get to enjoy a blend of high-concept cocktails with entertainment from DJ Bobby Nourmand, who's held down sessions at The Box and Le Bain.
Essential Cocktail: The Tonka Bean Manhattan, an esoteric riff on the classic, using a hard-to-find South American pod -- a favorite of Grant Achatz and other molecular chefs -- that gives the drink almost unreal vanilla, almond, and spice notes.
Golden Cadillac (click here for address and deets)
East Village
The city's craft cocktail movement meets the glam, golden, and Galliano-drenched '70s at this thematic spot at the nexus of the universe (1st and 1st). Look past the stretch of the concept -- fried Monte Cristo sandwiches, blender drinks featured prominently on an illustrated menu -- and you'll find some serious chops behind the bar, where outrageously named drinks (El Guapo, 86 Long Island) are surprisingly great. Oh, and if you like Playboy, don't miss the wallpaper in the bathroom (Spoiler Alert! It's all vintage Playboys.).
Essential Cocktail: The Golden Cadillac (duh!), a glorious concoction of Galliano, coconut cream, creme de cacao, and orange bitters.
Burning Waters (click here for address and deets)
Greenwich Village
From an Apotheke alum, this new cocktail outpost brings creative takes on Latin spirits to a Greenwich Village strip better known for dingy beer bars. The underground space is centered on an L-shaped bar stacked with fresh citrus, house-made cordials, and hard-to-find spices and liqueurs that all go into sexily named cocktails like the Just the Tip (tequila, Southern Comfort, lime, and agave syrup) and The Cusco Connection (pisco, coca leaf liqueur, lime, and syrup from an Amazonian fruit called camu camu). Also: flaming drinks!
Essential Cocktail: The Just for Angus. It puts a Latin-spin on the Manhattan, with Don Esteban Cacao Liqueur adding a subtle chocolate note to the classic.