Just when you thought holidays couldn't possibly get any better than Arbor Day (amirite??), in strolls Burns Night, a cultish Scottish holiday you're totally allowed to celebrate in NYC provided you are A) willing to drink Scotch, B) willing to wear a kilt, and C) willing to drink... other Scotch. Here's a primer on the greatest holiday you probably had no idea even existed:
Fact 1 - Burns Night is a celebration of Robert Burns on January 25th
Often referred to as the "National Poet of Scotland", Robert "Rabbie" Burns was the 18th Century Scottish writing man -- know that song you sing on New Year's, "Auld Lang Syne"? Burns wrote it. Boosh. Soooooo, each year on January 25th, Burns' birthday, Scotsmen around the world gather for special "Burns Day" events to celebrate his life, show their Scottish pride, and throw a top-notch rager. Everybody is an honorary Scotsman on Burns Night, whether you're wearing a kilt or not (hint: you should).
Fact 2 - They've been celebrating in NYC for over 150 years
In case you don't know the complete oral history of every statue in Central Park (loser), there's been a statue dedicated to Burns-y in CP since 1880, not to mention two of the oldest Scottish organizations in the world (The Burns Society, 1871, and New Caledonian Club, 1856) have prominent chapters in the Big Apple -- three of the reasons we've been celebrating this mother for so long.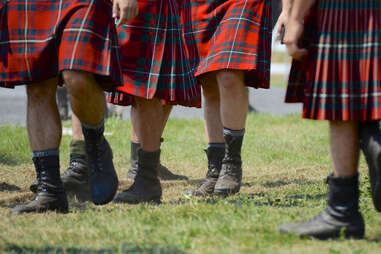 Fact 3 - There may be some haggis involved
You know haggis, that Scottish delicacy of sheep's brain, heart, lungs, and spices boiled in its own stomach. Mmmm.
Fact 4 - Kilts are the approved dress code for a Burns Night party
That said... if you (ugh) already wear a kilt to work every day, or are allergic to tartan, don't worry, there're plenty of other non-shin-baring ways to get authentic (Scotch, we're talking about drinking Scotch).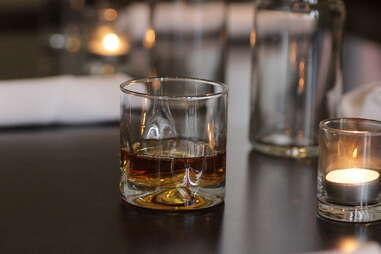 Fact 5 - Most drinking happens during a series of toasts
And all of said toasts celebrate various Scottish topics like haggis, women ("lassies" in Burns-speak) and Burns' poetry. Examples include "Address to a Haggis" ('ello haggis!), "A Toast to the Lassies", and the all-important "Selkirk Grace":
Some hae meat and canna eat,
And some wad eat that want it,
But we hae meat and we can eat,
Sae let the Lord be thankit.
Now that you've got Burns Night, here're four of the best Burns-tivities to check out this January 25th:
Saint Andrews – This decidedly classy $75 prix-fixe Burns Night supper in Midtown features three courses of Scottish specialties like Cock-a-leekie soup, haggis (you know it's served with neeps 'n' tatties), and multiple Scottish whiskies.
Highlands – The ever-popular Scottish gastro pub in the West Village offers a four-course menu for $55 and two separate evenings of "Burns Night" festivities, complete with a bagpipe player and readings of Burns' work.
New York Caledonian Club – The historic Caledonian Club is a great place to experience a more traditional Burns Night supper ($150 for non-members) complete with cocktails, ceilidh (Scottish folk-style) dancing, and lots o' haggis.
Astor Center – Astor Wines & Spirits, home to one of the largest selections of rare booze in NYC, is putting a special $79 spin on Burns Night with a sampling of 20 craft Scotch whiskies, three Scotch cocktails, a selection of Scottish foods (haggis included, of course), and in-store liquor discounts.