Take a Night Off Drinking at a Sober Party in NYC
Absence of Proof is helping New Yorkers have booze-free fun.
Photo by Jutharat Pinyodoonyachet for Thrillist
Photo by Jutharat Pinyodoonyachet for Thrillist
Welcome to Thrillist 50, your guide to fun and adventure in 2023. Think of it as your comprehensive roadmap for checking out exciting events and new attractions coming over the next 12 months, going on bucket-list trips, reconnecting with yourself and your community, expanding your mind, and of course, experiencing the flavors we're most excited about this year. There are so many reasons to live like there's no tomorrow. Start here.
With some of the world's best bars and a party scene that thrives way past midnight, New York City's iconic nightlife is a huge draw. Several nights spent club-hopping and drink-sampling would barely scratch the surface of all the things to do after dark in the city that never sleeps.
But when the endless parties and opportunities to catch up over cocktails becomes overwhelming, a new event series called Absence of Proof is offering a place to hit the dancefloor and meet new people without the pressure of having a boozy drink in hand.
Like so many, Elizabeth Gascoigne moved to the city determined to take in all that NYC nightlife has to offer. She'd head out just about every night to a different party or bar to meet up with friends—and all the excess quickly took a toll.
"I loved all of the energy that New York has, but I just felt like it was not sustainable," Gascoigne says. "I ended up deciding to stop drinking because it wasn't serving me, but I still wanted to experience the great party scene here."
After seeking out lower-ABV alternatives to a night out and growing frustrated by lackluster mocktails at traditional nightlife venues, she found there weren't a lot of fun options out there for people like her who chose not to drink.
So she started Absence of Proof, a series that's bringing New Yorkers together over non-alcoholic drinks for fun parties and other events. Her first events launched in August at the Meatpacking District coffee shop, Kobrick Coffee Co. By day, people gathered in the greenery-filled space to work on their laptops, but when Absence of Proof took over with evening pop-ups, dozens of young people showed up to sip zero-proof drinks and revel in a night out without the threat of a hangover the next day.
The events range from traditional parties with a DJ, dancing, and plenty of opportunities to mingle with other guests to celebrations centered around an activity like ice breaker games or a cocktail-making class.
Gascoigne's latest parties will take place every Friday during January at Sechey, a non-alcoholic bottle shop in the West Village. The events will be held in a speakeasy-style space beneath the shop, bringing yet another trend from the booze world to those who choose not to drink alcohol.
Just like at a standard bar, Gascoigne crafts a menu for each event that caters to different palates. Some drinks are light and refreshing while others are more concentrated and flavor-packed, and there are even some booze-free options that play into current drink trends like spicy margaritas or espresso martinis.
This month, attendees can enjoy drinks made with Ritual Zero Proof, but menu options are nearly endless thanks to a great variety of non-alcoholic spirits, beers, wines, and even canned cocktails on the market.
Gascoigne says the events draw people who are sober for a variety of reasons, but the majority of those who attend do actually consume alcohol in their day-to-day lives but are looking to take a break from the booze.
"A lot of people come in hesitant and unsure what to expect," she says. "But I love when I hear people leave saying, 'I had a really fun evening. I'm gonna feel great tomorrow morning, and this has shown that I can have fun without alcohol.'"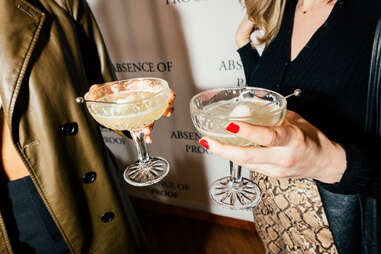 While each event is more popular than the last, Gascoigne hopes to expand Absence of Proof even further to bring zero-proof parties to cities across the country. From party-centric destinations like Miami and Las Vegas to wellness havens like Los Angeles, she says there's a market for sober fun in just about every city.
"The number one question I get on social media is when I'm coming to LA or other cities across the country," she says. "That's my goal for the new year. I just want to show as many people as possible that you can still be cool, have fun, and you don't have to consume alcohol."