How to Conquer New York's First-Ever Alamo Drafthouse
Cole Saladino/Thrillist
Cole Saladino/Thrillist
New York was promised its own Alamo Drafthouse a long time ago. The Austin-based chain of dine-in movie theaters first planned to open in Manhattan in 2012... before the plan fell through the following year. Then a Brooklyn location was all set to swoop in this summer... before construction snags delayed the opening. The proposed theater was starting to attain the mythical status of the Second Avenue subway, a project promised for so long that Mad Men cracked jokes about it in Season 6. But on Friday, you can finally feast your eyes on the city's first Alamo Drafthouse, which somehow appeals to movie nerds, food snobs, and historically savvy goths all at the same time.
The Downtown Brooklyn location is housed inside City Point, a sleek new complex that also contains a Century 21 and not-yet-opened Target. Take the elevators up to the fourth floor and you'll quickly find the Alamo Drafthouse lobby, carpeted in patterns copied from the Overlook Hotel in The Shining. After picking up your tickets at one of the automated kiosks or box office, you're welcome to pose as King Kong in front of a recreated backdrop of Kong's famous fight atop the Empire State Building.
Move straight towards the back and you'll stumble upon the House of Wax, which is not your typical movie theater bar. Or typical bar, period. The House of Wax is a throwback to a peculiar old exhibition called Castan's Panopticum. Castan's was kind of like the Madame Tussauds of the 1870s, if Madame Tussaud ditched all the Katy Perry figures for death masks and gruesome medical models. There are entire walls dedicated to diseases and fetal abnormalities, plus wax statues molded after cool dudes like Fritz Haarmann, a notorious German serial killer. No other Alamo Drafthouse has a collection of curiosities like this, partially because Castan's relics are incredibly hard to come by. The sideshow fell out of fashion in the 1920s, ironically thanks to a new form of entertainment: film.
Alongside all the wax guts, the bar boasts a cocktail menu crafted by Vincent Favella, whose resume includes Huckleberry Bar and Ward III. Favella has divided his creations into three themed categories: the anatomicals (house cocktails), pathologicals (classic cocktails), and geographicals (adapted cocktails). But if you're more into beer, try out one of the House of Wax's 48 taps. Every single one is from a New York brewery -- for imports, you'll have to stick to bottles or cans.
At its seven theaters (with capacities ranging from 40 to 188 seats), Alamo Drafthouse plans to show a wide range of new releases as well as old throwbacks. Those are chosen by Cristina Cacioppo, the branch's creative manager and programmer. Cacioppo already has several series planned, but she told Thrillist she's especially excited about Fist City, a collection of action movies that'll kick off with the Jean-Claude Van Damme classic Hard Target.
"For some reason nobody really shows action movies in repertory," she says. "That's one thing I've always wondered about. I feel like action movies are kind of treated like they're disposable garbage, when they're actually some of the most fun things to watch in a crowd."
The theater will also run Shouting at the Screen, a series of blaxploitation movie screenings hosted by Wyatt Cenac and Donwill, plus Alamo Drafthouse favorites like Terror Tuesday and Weird Wednesdays.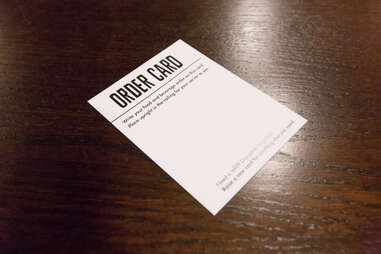 During the actual showings, guests can order entrees and snacks created by executive chef Fernando Marulanda. Marulanda has cooked in the kitchens of Tavern on the Green and Per Se previously, and now, he's elevating movie concessions. Local sourcing is a big deal for him, which is why you'll find OddFellows Ice Cream and Toby's Estate Coffee on the menu in addition to things like lamb burgers, ropa vieja beef tacos, and a whole slate of boozy milkshakes. To order any of them, simply jot your order down on the paper provided at your seat and a server will stealthily run by to pick it up.
If this sounds like your new go-to movie theater, you should probably go ahead and sign up for Victory, the Alamo Drafthouse rewards program. It'll earn you points towards free popcorn, drinks, and movie tickets -- but sadly not the surreal Turkish posters for 48 Hrs. that adorn Alamo Drafthouse's walls.
Sign up here for our daily NYC email and be the first to get all the food/drink/fun New York has to offer.
Kristin Hunt is a freelance writer for Thrillist, and is currently accepting Turkish movie poster donations. Follow her: @kristin_hunt.