You probably shouldn't tell your parents that you're going out in Alphabet City, because they will either think it's still 1986 and assume you're doing heroin, or they are much cooler than you and already live there, and then you might run into them at 7B and that'd be totally embarrassing. FOR THEM. Point is, there might not be a neighborhood in the city with a better range of low-key dives, cocktail havens, and everything in between. Here're the 15 best. Come get some.
Recommended Video
Thrillist's Best (and the Rest): What You Actually Need to Know About Natural Wine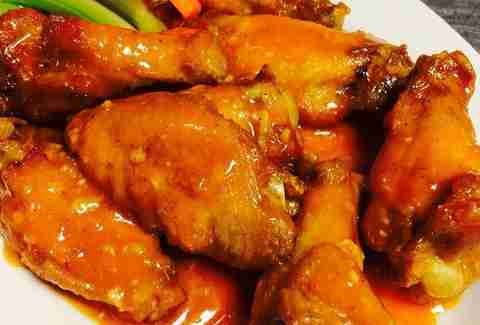 28 Ave B
The craft beer selection is above par, but it's the super-cheap wing nights and the crazy number of screens that are worth coming for. It's kind of like a TGI Fridays (it's one of six locations around the Greater New York area), but with less flair, and more Ave B locals screaming at the Jets. 
 
Best for picking someone up: The Summit Bar
133 Ave C
A top-flight cocktail bar with a crowd that's always down to get down, Summit's a relatively quiet spot, which makes shmoozing the babe sitting on one of those velvet banquettes easier. That and the daily 5:30-7:30pm oyster happy hour. Because oysters make people horny! God it's so true.
96 Ave C
Owned by Thrillist's very own beer contributor Zach Mack, ABC's got 12 rotating taps (and growler fills to-go), plus a bottle shop in front with 350 craft varieties. If that's underwhelming to you, 1) maybe you'll be swayed by the homemade "brown bag" daily lunch specials with a fresh-made sandwich and chips, and, 2) you need to tell us about the bar with 351 craft varieties. Also: free Internet!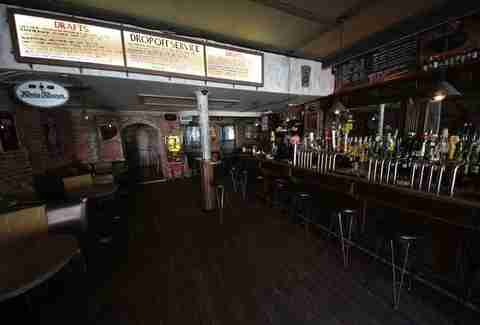 211 Ave A
The nightly $3-5 craft beer happy hour goes until 8pm, and from Stuy Town suits to local weirdos, there's always a fantastic mix of people at this local stand-by.
 
132 1/2 E 7th St
You have to walk through a mass of garbage cans to get there because it's downstairs behind neighborhood classic Niagara, but we promise the inside is actually really romantic. This is mostly because the space is so tiny you have no choice but to get real close, but also because there's good music, great cocktails, and very little of the attitude one might expect from a secret intimate basement cocktail lounge hidden behind trash.
Best bar games: Ace Bar
531 E 5th St
With two pool tables, two dart boards, pinball, Big Buck Hunter, and, most importantly, skee ball, there is so much room for activities, except if 600 other people had the same evening plans as you. They might. 
 
81 Ave A
It's quite a bit smaller than its East Village cousin, and although the decision to go there is not a bad one, once you're in that private room with a belly full of sake and all the Jordin Sparks in the world, all bets are off.
Best for live music, cocktails, and the finest damn BLT you've ever had in your life: The Wayland
700 E 9th St
This bar is the best of the Best Bars of Alphabet City. Confused? You won't be once you try the exceptional cocktails, or the double-smoked, slow-cooked bourbon and maple syrup pork belly BLT, or experience one of their secret magical lobster parties. Plus, lively bands are here four nights a week, almost every week. 
 
Best for outdoor seating, giant steins, and pretzels: Zum Schneider
107 Ave C
Head here for big ol' steins of beer, a constantly festive atmosphere even when everyone isn't wearing lederhosen, and authentic Bavarian schnitzel, spätzle, and wursts. When it's nice out, those rickety tables are in high demand, so you'll have a much better chance of scoring one when it's cold, if you don't mind wearing one of their blankets.
197 E 3rd St
DJs spin a mix of hip-hop, R&B, '80s, funk, and soul on Fridays and Saturdays, so in theory, NMP is excellent for dancing, but sometimes it's so packed that you can only really shuffle in place. But those nights also come with a shot and beer special, so who's to say you'll know the difference? 
 
7 Ave A
The two-for-one happy hour goes until 7pm, but even after that the 24oz Tecates are still frighteningly cheap. They show weird old VHS movies, and the bathroom, which seemingly hasn't been cleaned since people regularly watched VHS movies, is basically not to be used.
225 Ave B
Head barman Joaquin Simó is a straight-up pro, concocting you drinks based on where your palette lies on a matrix menu that goes from "refreshing to spirituous, comforting to adventurous". The door to the second-level bar is kind of hidden, so just keep an eye out for the yellow liquor store awning.
 
190 E 2nd St
It's a tiny place with a very global wine list and the occasional live jazz band. The reasonably priced Italian fare is legitimately incredible but no sweat if you get there after hours -- there's a late-night menu for when the kitchen closes.
108 Ave B
The bar scene in Crocodile Dundee was filmed here, probably because it's the epitome of a dive bar with its metal jukebox, tall boys, Big Buck Hunter, and just enough Alphabet City grime. 
 
Best place to meet a stranger sitting next to you at the bar: Boxcar Lounge
168 Ave B
"Civilized" is not typically used to describe an Alphabet City bar, so it won't be used here, either. But Boxcar Lounge is notably tame and friendly. That might just be because the weeknight happy hour lasts until 10pm, though.
Sign up here for our daily NYC email and be the first to get all the food/drink/fun New York has to offer.
Carrie Dennis is an Associate Editor for Thrillist and all her friends were once strangers she met at the bar. Introduce yourself to her on Twitter @CarrrieDennnis.