Unlike other brunches dominated by activities like lying to your mom to keep her from questioning your life choices, Auchentoshan hosted an invite-only brunch at the Wythe Hotel featuring burlesque, magic, meat, whisky, and an implicit "no moms allowed" rule.
Allow this picture to invalidate your belief that you've experienced a truly great omelet station prior to RIGHT NOW.
Some enchanted evening, you may see a stranger, you may see a stranger across a crowded room... (the stranger is the meat).
Unfortunately, oranges were harmed in the making of this photograph, but we'd like to imagine that the Blood and Sands they died for served as ample memorial.
No, you would definitely make a goofy face too.
This man, on the other hand, would not.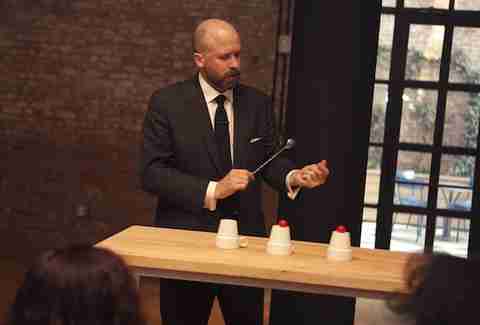 With a history dating back to 2500 B.C.E., the cup and balls may actually be the oldest trick in the book.
Life is a cabaret, my friend. Even when you're wearing plaid.
All in all, a pretty magical afternoon.