The World's Best New Cocktail Bar is just one stop on this Tales-inspired NYC crawl
You may or may not have known that Tales of the Cocktail spent last week ensuring the streets of New Orleans were filled with even more interesting facial hair and Sazeracs than normal. But you probably didn't know that New York watering holes took home whatever the bar equivalent of "tons of beads" is, after netting the titles of Best New Cocktail Bar in the World, Best Restaurant Bar, International Bartender of the Year, and more. You're damn right Best Bar Mentor is on there. And you can cover them all in a quick crawl pretty easily. You can commence cocktailing at either end of this list and it would work just fine, but we're starting at...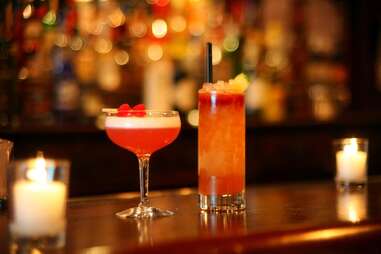 Stop #1: Clover Club in Cobble Hill
Awards: Best American Cocktail Bar, Best High Volume Cocktail Bar, Best Bar Mentor: Julie Reiner

What you need to know: Clover's been one of the most-lauded bars in the country since opening in 2008, and here it still is. Presuming you're either 1) doing this crawl with people, or 2) are a total dangerous badass, start things off with a punch like the Tennessee Ruby Punch packed with rye, Amaro, raspberry and ginger syrups, and just-enough blood orange tea.

Then what?: They have a bacon tasting at brunch to ensure you don't starve on the 10min walk to the Borough Hall 5 train you'll be taking to the Bowling Green stop.
Stop #2: Walk about 5mins from the Bowling Green Station to The Dead Rabbit on Water St.
Awards: World's Best New Cocktail Bar, World's Best New Cocktail Menu, International Bartender of the Year: Jack McGarry

What you need to know: It's still less than a year old, the menu is deeper than the blue sea and actually enjoyable to read, and some of their cocktail glasses are equipped with "mustache guards". More importantly, the UK had swiped International Bartender of the Year five years running before these dudes came to town.

Then what?: Grab some olives with garlic and mountain herbs, or Cadbury's drinking chocolate from their grocery on your way out, don't get distracted by FiDi shenanigans (note: not an actual bar... yet!), and head to the Whitehall R to the Prince St stop.
Stop #3: Saxon + Parole, which is just two blocks North and a few blocks East of that Prince St stop.
Award: Best Restaurant Bar

What you need to know: The space is gorgeous and the clientele generally meets the same criteria. Get the Manhattan on tap -- it's made with leather bitters -- or the bucket of four bottled champagne Negronis, if things are getting festive/you just love buckets for some reason. Also grab a burger, as you should really experience the "restaurant" part of "Best Restaurant Bar".

Then what?: Considering you're approaching your last stop, you could get back on the N or R to 23rd St, but realistically, this is what cabs were invented for.
Stop #4: The NoMad Hotel -- never mind all those people eating, just head straight for the bar
The Award: World's Best Hotel Bar

What you need to know: You may not have thought about rolling through here for cocktails before since the bulk of the attention has gone to the restaurant, but now you owe yourself a crowd favorite like the Satan's Circus, before you finish everything off with bar manager Leo Robitschek's personal favorite the Old Alhambra with Islay Scotch, Chambray Blanc vermouth, East India Solera Sherry, and crème de cacao.

Then What?: Bed. Well probably pizza, then bed.