Bespoke Cocktails Are a Myth (But You Can Still Enjoy Customized Classics in NYC)
Dutch Kills

| Cole Saladino/Thrillist
Dutch Kills

| Cole Saladino/Thrillist
Right around the millennium, New York City was hit by the custom cocktail trend. Instead of ordering off the menu, those in the know were encouraged to share their preferences: Spirit-forward or refreshing? Smoky, tart, herbal, spicy? Whiskey, vodka, or rum? Scorpio or Sagittarius? With little to go on but a flavor profile and a 10-second conversation, bartenders were whipping up "bartender's choice" cocktails designed specifically for your palate and proclivities.

Twenty years later, nearly everything can be made just for you. Instagram advertises custom hair care and custom vitamins; bespoke suits are can be ordered online. Millennials -- the prime demographic for $20 custom cocktails -- want to be special. We want to be seen. We're desperate for our data points to mean something about us, to tell us what we like, or who we are.

Like every other "custom" product, the bespoke cocktail has been formalized, monetized, and become so mainstream that we have to wonder if it's even custom anymore. With seemingly few flavors that will appeal to the average drinker, has the "bartender's choice" become nothing more than the same few off-menu items bartenders already know like the back of their hand?
I'll find out if custom cocktails are really as bespoke as they claim to be, or whether the best bartenders in New York are merely matching you with a cocktail from a menu in their mind -- instead of on the bar.

The method: Make the same order at five reputed custom cocktail bars, chat up the bartenders about their craft, and see what each spot stirs up. I could request a single plum, floating in perfume, but instead I'll keep it simple: A Manhattan (traditionally made with rye whiskey, sweet vermouth, bitters, orange peel, and a maraschino cherry), whiskey optional. Oh, and I'm in the mood for a summertime twist.
Cocktail #1: The Cobble Hill
Attaboy
Lower East Side
Attaboy -- a speakeasy-themed bar behind a metal door labeled only AB -- is the heir apparent to the late Sasha Petraske's Milk & Honey, where Petraske pioneered the "bartender's choice" in 2000. In 2013, two of Milk & Honey's former bartenders reopened the space as Attaboy.
Inside, the bar is dark and tropical and intimate, with tiki mugs and bartenders in Hawaiian shirts. I'm not presented with a menu; Attaboy has no menu at all, offering exclusively bespoke cocktails.
I order my Manhattan, not married to whiskey, summertime. Haley Traub, my bartender, gets to work smashing a big block of ice with the back of a spoon.
"It's the Cobble Hill," she says, presenting my cocktail up, in a coupe. "Light, citrusy, vegetal, refreshing. A nice summer Manhattan variation."
The Cobble Hill is a rye whiskey cocktail, with the Manhattan's sweet vermouth replaced with dry vermouth and Amaro Montenegro, then finished with bruised cucumber. But it's not, in fact, made just for me; the cocktail was created by Sam Ross at Milk & Honey in 2009.

"Every drink we put out has been tried, tested, and workshopped," Traub tells me. "We're never just pulling stuff out of thin air. Nine times out of 10, anything we whip up on the spot isn't gonna be good."

And my drink is good -- caramel-colored, with vanilla notes from the Amaro Montenegro. But Traub has made this cocktail a million times before, and that doesn't feel very custom.

"We put the same drink out all the time, because we know it's good and we know people are going to like it," says Traub. "We're not flying by the seat of our pants."

How bespoke was it? Pajamas with your initials embroidered on them.
Cocktail #2: The Manhattan Punch
Garfunkel's
Lower East Side
Garfunkel's, another pseudo speakeasy, is hidden on the second floor above a different bar, and accessible through a door that's made to look like a bank vault.
After an apologetic glance at the man who has to let me in, I order my drink (Manhattan, summer, not married to whiskey) and Jason Stamm, the bartender, reaches for an aged rum. He stirs it with over-proofed rye, cream sherry, Lillet Blanc, orange liqueur, and orange bitters, then serves the whole thing up in a Nick & Nora glass with a cherry at the bottom.

"It's got nothing to do with summer," Stamm says, "but you asked for a Manhattan, so I'm going to put in a cherry."
Summer-wise, the rum does offer the suggestion of a daiquiri, and the drink is a little sweeter than a Manhattan, from the sherry and fruity aperitif. While I sip it, another customer's custom request comes in: Gin, but make it weird.

Stamm goes downstairs for a bottle of cream, which he mixes with green Chartreuse to make a neon twist on a Ramos Gin Fizz. Weird, indeed. He treats custom cocktails on a case-by-case basis: When it's crowded, he'll mix up an old classic; when it's quiet, he has the time to be creative. "If I was busier and didn't want to run down and get the cream," he confides, "I would have just made her a Last Word."

Inspired by Ms. Gin-But-Make-it-Weird, I ask Stamm about the worst custom cocktail order he's ever received. "A non-alcoholic martini," he says, clearly still a little miffed about it. "I said, 'Do you want chilled water?'"
How bespoke was it? A felted wool portrait of your beloved Pomeranian.
Cocktail #3: The Mexico City
Ward III
Tribeca
At Ward III, the space is big and bright-ish, thanks to the windows and long summer twilight. I recite my familiar order and am surprised when Gregory Moreno, the bartender, reaches for a bottle of Mezcal.

Swapping the whiskey for the mezcal and the vermouth for Amaro Montenegro, he adds Ancho Reyes, a spicy liqueur, and a dash of both orange and xocolatl mole bitters. It's stirred, finished with the classic Manhattan orange peel and, finally, served up: Moreno christens it the Mexico City.
The Mexico City is smoky and spicy, worthy of being sipped outside, in the sun. It's unrecognizable as a Manhattan, but it is truly bespoke.

"I first thought of a mezcal Manhattan," Moreno says, "but I explored it a little more. This is the first one I've ever made."
I'm even more surprised, then, when he tells me that Ward III has begun to move away from custom cocktails. "The city has changed, and the mark of a good cocktail bar is to put out a consistent product," he explains. "So we've just been focusing on quality over..." he pauses. "I don't want to say a gimmick."

I have another gulp of my drink, trying to taste the gimmick. I like mezcal, but would I have been happier if I just ordered a Manhattan?

"I try to steer people away from bespoke cocktails, because a lot of the best cocktails have already been made," Moreno says. "There's so much to love about the classics. If somebody wants a gin drink that's tart and refreshing, well, that's a Gimlet."

How bespoke was it? A three-piece pantsuit from Savile Row.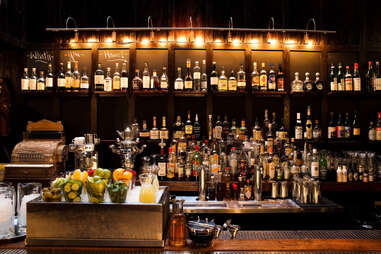 Cocktail #4: The Cobble Hill, Part 2
Dutch Kills
Long Island City
This long-standing Queens cocktail bar shares DNA with Attaboy: Sasha Petraske opened it in 2009. The big wooden doors are marked with its name, as well as a neon sign that happily informs me it's a BAR.

When bartender Joey Faranda first hears my order, he takes a moment to think. Then he reaches for a pint glass and a big block of ice and a long spoon -- just like at Attaboy. As soon as he starts bruising the cucumber, I know I'm headed straight to Cobble Hill.
"The custom cocktail [trend] has been building for years," says Faranda. He sets the drink in front of me served in a coupe -- just as I expected -- and garnished with a cucumber. "Customers expect you to do something different. We try to provide a unique experience."

When I take a sip of my second Cobble Hill, I find Dutch Kills' version is significantly more floral, with a true cucumber note. It's the best drink I've had so far, and the closest to completing the near-impossible request of making a Manhattan a summery cocktail. Is it really unique though, if I got the same drink at Attaboy?

"Everything in our family has started in our classics," Faranda explains. "People don't always understand that you're not going to make something up for them on the spot."

And what about someone who wants something totally custom? Something that's one-of-a-kind, made only once, just for me, the most special girl in the world?

Cocktails, Faranda says, should never be made just once. "Unless it's a really bad drink," he clarifies. "Then you shouldn't make it twice."

How bespoke was it? A bottle-of-Merlot wedding favor with the couples' faces on it.
Cocktail #5: The Made-Up Manhattan
The 18th Room
Chelsea
Last up is The 18th Room, a speakeasy-themed bar halfheartedly hidden behind a coffee shop. Inside, the decor is dark and deco-inspired, with mirrors and velvet and glints of gold. Behind the bar, Brandon Bartley looks a little steampunk with a white vest and a nose ring.
I dutifully recite my order: I like Manhattans, I tell him, but I'm not married to whiskey. And I'm looking for something with a summery twist.
"We never repeat cocktails," Bartley tells me as he measures out Dad's Hat rye, white vermouth, sweet vermouth del Professore, and manzanilla sherry.
Unlike the rest of the bartenders, he claims that he can create an infinite number of completely custom cocktails: "A lot of bartenders say they make custom drinks for their friends, but you have to do it over and over again, every night, five days a week, four hundred dockets a day," he says. "And you have to make them interesting, because people are paying you $18 for something special."
Bartley serves me something special on the rocks, garnished with a peach slice and a sprinkle of saffron. It's purportedly the most "bespoke" drink I've had, but it tastes almost exactly like a Manhattan -- decidedly spirit-forward, with the familiar rye and vermouth, plus a little sweetness from the sherry. I wonder out loud if, for $18, his custom cocktails ever get sent back.
"Sometimes you make a good cocktail," Bartley answers, "but it's not what they had in mind. We're really making drinks on the fly."
How bespoke was it? A beer koozie with your company's name on it.
Although The 18th Room is the only bar committed to making truly "custom" cocktails, they haven't served me the best -- or the most surprising -- drink. It turns out, even the best bespoke bartenders in the city turn back towards the classics when stirring up special orders. And for good reason -- when you're paying over twenty dollars for a drink, they want to make you something they know you're going to love.
Will it make you feel as special to drink a "custom" cocktail that's been pulled from a bartender's existing catalog? Maybe not. But I can promise you this -- after five custom cocktails, you'll feel very drunk.
Sign up here for our daily NYC email and be the first to get all the food/drink/fun New York has to offer.