Cool Off With These Summer Spritz Menus in NYC
There's a spritz out there for you.
We're in the dog days of summer, and therefore, I embrace a spritz of any kind. While walking down my block, it's the one felt from my corner fire hydrant that seems to have had a spray cap on non-stop for the past month. And when it comes to cocktails, I'll take an Aperol Spritz, a refreshing combo of Aperol, prosecco, and soda (for the uninitiated).
The classic Italian cocktail has surged in popularity in America over the past few years thanks to a 2017 marketing push by Aperol's parent company, Campari. But the drink (and its corresponding hashtag #spritzlife) isn't beloved by everyone. For food writer and stylist Rebekah Peppler, who authored the book Apéritif: Cocktail Hour the French Way and last summer's legendary takedown on the drink, "neither my taste for or opinion on the Aperol Spritz have changed," she told us recently. But that doesn't mean she's against all spritzes. "I love a spritz, just not one made with Aperol -- that's unlikely to change since I've given up on trying to acquire this particular taste."
To appease those looking for more variety, "summer spritz" menus have abounded, including both Aperol and non-Aperol focused varieties. "The spritz, as a category, has always had its rightful place in any summer of any year for people who are looking for something refreshing," says Peppler. "Bottom line is that it's pretty difficult to screw up a spritz, so keep it loose and drink what you like."
So grab your mask and spritz it up at one of the following spots while defending your love or loathing for the Aperol sort. And if you choose to enjoy outdoor dining, please do so responsibly.
West Village
The beloved Greenwich Village bar, Dante, recently opened a second location further west on Hudson Street dubbed Dante West Village. Here you'll find a special Summer of Spritz menu with 11 dedicated drink options for spritz lovers everywhere. Sip through the heat with a Mediterranean tonic, spicy Fresca, Champagne Ramos (pictured above), or summer 2020 spritz with rosé, mezcal, pineapple vinegar, and passionfruit.
How to order: Outdoor seating available for up to parties of 10 or order via website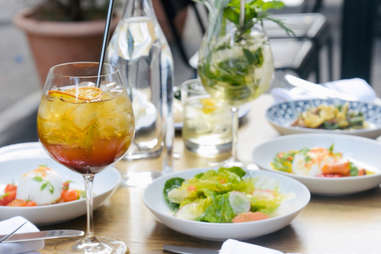 Flatiron
Chef Stefano Secchi's highly acclaimed Italian restaurant with a focus on house-made pasta has a new addition to their summer experience along with outdoor dining: a seasonal spritz menu. Choose from the Tramonto spritz with vodka, Aperol, grapefruit, prosecco and soda; the Basilico with tequila, cucumber, basil and soda; or classics like an Aperol or amaro spritz.
How to order: Outdoor seating available, book via Resy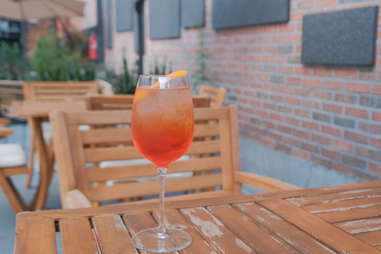 Williamsburg
The Mediterranean-inspired offerings of Ten Hope Outdoor Garden are available in a 2,500-square-foot vine-laced patio that's got you covered with umbrellas. In addition to shareable plates that include summertime dishes for day and night, a rotating menu of spritzes include an Aperol Spritz; the Italicus with bergamot and rose petals; the St. Germain Spritz with a sprig of rosemary; and the Marie Brizard Pink Grapefruit Spritz with a hint of juniper.
How to order: Outdoor seating available, book via OpenTable
Williamsburg
At this neighborhood spot from chef Guy Kairi, dine on a burger or NY strip steak along with plenty of seafood options like wild oysters, lobster rolls, clam pasta, and grilled halibut. Pair it with a drink from their summer spritz menu that's available by glass or pitcher: an Aperol Spritz; a house spritz with fresh-squeezed grapefruit juice, cava, and Aperol; and a watermelon spritz with watermelon juice, bubbles, and Aperol.
How to order: Outdoor seating available, book via OpenTable or order via ChowNow (get 15% off alcohol with code 15OFF)
Little Italy
Gelso & Grand's spritz options include an Aperol Spritz; a lambrusco spritz; the Mulberry Spritz with mint and lemongrass-infused Aperol; and the Rosé Sangria Spritz with grapefruit, prosecco, lemon, and Aperol.
How to order: Outdoor seating available, book via OpenTable or order via Seamless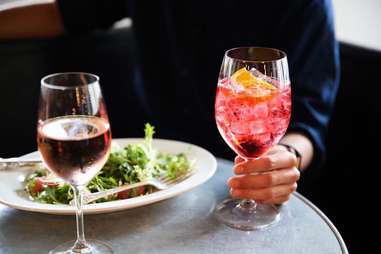 Harlem
Specializing in Italian cuisine, Vinateria has a newly debuted summer spritz menu featuring selections like a rotating daily spritz; a pear and ginger spritz with pear nectar, ginger juice, dry curaçao, aromatized wine, and cava; and a plum spritz with plum brandy, lemon, blood orange, and cava.
How to order: Outdoor seating available, order via website, Grubhub, Seamless, Uber Eats
Park Slope
Sicilian comfort food pairs up with a special spritz menu that includes the classic Aperol Spritz, in addition to a bianca spritz, rosé spritz, and limonata spritz.
How to order: Outdoor seating available, call 347-223-4176 for reservations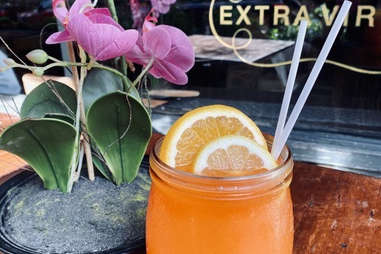 West Village
This West Village spot of 16 years from restaurateur Michele Gaton and executive chef Joey Fortunato is a neighborhood and brunch favorite with Mediterranean-inspired dishes. While there isn't a dedicated spritz menu, the summer of 2020 might have you reaching for a spritz with a (much) heavier pour. If so, go for Extra Virgin's 32-ounce frozen Aperol Spritz with a hint of orange juice that's also available for takeout and delivery.
How to order: Outdoor seating available, order via website, Caviar, Grubhub, Seamless
Sign up here for our daily NYC email and be the first to get all the food/drink/fun New York has to offer.